Chris Wormley couldn't help but smile.
It was easy with the energy, enthusiasm and love the students at Mifflin Elementary School showed when he stopped by on Tuesday to deliver gift bags filled with school supplies and books.
"I think the biggest thing for me is I'm in a position to give back, so why not give back, why not help out any way I can," said Wormley. "At the same time, it's an opportunity to put a smile on kid's faces.
"I think I had more fun than the kids did today."
Wormley distributed the gift bags, done in conjunction with The Education Partnership, to the students, stopping by the cafeteria and auditorium to meet with different classes.
"It means everything to be able to do this," said Wormley. "I love to see them smile. I love to see them get excited. They were chanting and all excited about me being at the school."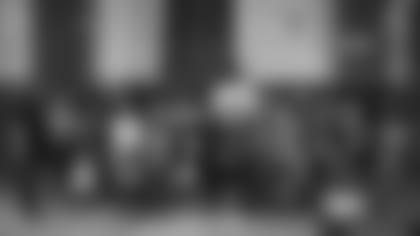 It wasn't just handing out the bags, though. Wormley spent time with the kids, fielding questions and even some fun comments from them.
"This wasn't even a question," said Wormley. "I think it was a kindergarten or first grade student and she didn't have a question she just said, I like unicorns. And that was what she had on her mind. That's what she felt in her heart, and she used her platform to let me know that she likes unicorns.
"But there were some really cool questions about how long I've been playing football, the team aspect of it. I tried to relate it back to what they're doing in school and how we prepare for games. I tried not to bore than with X's and O's of football, but to relate that back to studying for tests and once they get their grade back, seeing what they did wrong and try not to make those same mistakes again."
Wormley also posed for pictures with the kids and just had fun getting to know them, something he missed doing last year when the pandemic kept players from being able to do in-person events.
"The things I've done before with the Steelers have all been virtual," said Wormley. "This was the first time I actually got to be in the classroom, be with the kids and interacting with them was the best part of the day. They got some really cool school supplies, and they got some new books for the classroom. But the engagement and those interactions, I know a lot of them had missed out on the previous year and a half and I did too."