The Steelers and Giant Eagle have a partnership that has benefited the Pittsburgh community in numerous ways for years, but this year they took it to another level when they worked together as one to host the Heinz Field Vaccination Clinic.
Starting in early March, Giant Eagle pharmacists administered the COVID-19 vaccine at Heinz Field to those who live in Pittsburgh, throughout Western Pennsylvania and beyond, including teachers, frontline workers, the vulnerable and those at high-risk.
Through the efforts of hundreds of pharmacists and volunteers more than 55,000 vaccines were administered.
"We've had a great partnership with Giant Eagle for many, many years now," said Steelers President Art Rooney II. "When it came time to getting these vaccinations to people, and trying to do it on a larger scale, it was a natural partnership for us. It was great that we got that many vaccines administered.
"We had a great reaction. A lot of Steelers fans were happy to come in here and see a little bit of the stadium while they got their vaccine, so it worked out great from that standpoint."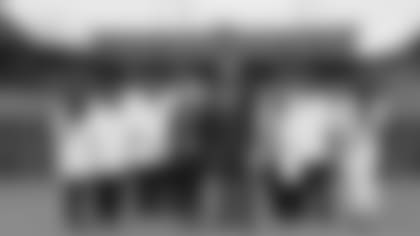 Rooney, along with Giant Eagle, Inc. President and CEO Laura Karet, were at Heinz Field on Wednesday morning as the clinic's operation wrapped up to thank the pharmacists and volunteers for their dedication to making the community safer.
"Getting an amazing community service like this done doesn't happen without the collective effort of literally hundreds, if not thousands, of people who put their heart and soul and energy and sweat, and sometimes tears, into pulling off this major logistics event," said Karet. "They took time off their own personal schedules. They took time away from their own families to do good for the community. There is nothing that gives me more satisfaction than being able to say thank you to the people that are willing to do that.
"It's a really happy moment because we've been able, collectively with the Steelers, to help so many people in our communities. We feel tremendously proud of the work we together have done to bring these vaccinations to so many people. We've been friends for a long time. I think it's because our values and the way that we work between Giant Eagle and the Steelers are so similar. We care so much about taking care of people and others. When there is a call to action, we get stuff done. Giant Eagle does that, the Steelers do it. I think it's a true example of Pittsburgh grit and determination."
The Steelers and Giant Eagle continue to encourage people to get vaccinated if they haven't already to help continue on a path to normalcy.
"Our best chance of getting back to normal, whether it's going to a game or going to a restaurant, whatever you want to do, is to get the population vaccinated," said Rooney.
For those in the Pittsburgh and Western Pennsylvania area still looking to be vaccinated, walk-ins are being accepted at all Giant Eagle pharmacy locations throughout the area, with information available at gianteagle.com.