Over the past few weeks, Steelers players have given back to the community in a time when the need is the greatest.
They have opened their hearts, helping those who need Christmas joy.
Players such as JuJu Smith-Schuster, Stephon Tuitt, Avery Williamson, and James Conner have ensured that the holidays will be bright for so many.
"I am so proud of these guys, but I will say this, I am not surprised by it," said Coach Mike Tomlin. "They embrace what it means to play for the Pittsburgh Steelers. That standard has been set long before them and by legendary Steelers who have embraced being members of this community and still are members of this community today. We just follow their lead and try to bear the torch."
Below are the stories of what the players have done, with the most recent addition being the difference Smith-Schuster has made.
JuJu is making Christmas merry and bright
Thursday, December 24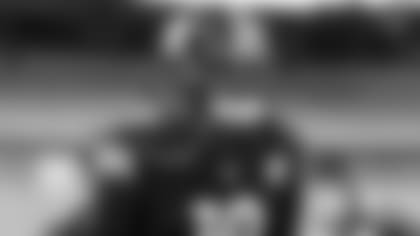 JuJu Smith-Schuster loves this time of year. He is a kid at heart, and Christmas is a time for kids.
But what he loves most about it, is the opportunity to give back to others.
Smith-Schuster hasn't been shy about spreading Christmas joy, getting involved in two major endeavors over the past week.
"It's always a blessing, whether it's win or lose, I think giving back is bigger than football," said Smith-Schuster. "I think football does give me the platform to be able to give back. Whether it's Pay Away the Layaway, giving back on Thanksgiving, giving back for Christmas.
"It's always been a part of my heart. It's been held in my family as a tradition. We did it back in Compton, we did it here in Pittsburgh. At the end of the day, it's all about the people."
First Smith-Schuster and the JuJu Foundation paid off over $25,000 worth of Christmas gifts and essentials for more than 170 families through Pay Away the Layaway at Burlington Stores in Pittsburgh and Compton, California.
Smith-Schuster was on-hand to greet some of the families, brightening their Christmas in ways they could have never imagined.
"I am truly blessed to be able to give back to families in Pittsburgh and California during the holidays," said Smith-Schuster. "We hope paying off these layaway balances will cause a sense of relief and lift the spirit of all of these families."
He didn't stop there. Smith-Schuster gave over 200 kids through the Boys & Girls Club a total of $20,000 in gift cards from Walmart for Christmas. While he couldn't be with the kids in person, he provided a video message for the kids, who were beyond excited.
"This holiday, I wanted to share a small gift with all of you," said Smith-Schuster. "I hope this will bring a sense joy and happiness to you and your families this holiday season."
For those receiving the gift cards it will go a long way as 2020 has been tough on many families due to the COVID-19 pandemic.
"The partnership between Boys & Girls Clubs of Western Pennsylvania and The JuJu Foundation continuously provides not only support in such a time of need for our youth, but also unforgettable opportunities and experiences for our members, 70% of which come from single parent households," said Dr. Lisa Abel-Palmieri, CEO of the Boys & Girls Clubs of Western Pennsylvania. "We thank JuJu and his team for bringing holiday cheer to our members and their families during such a difficult year."
Tuitt gives back with meaning
Monday, December 21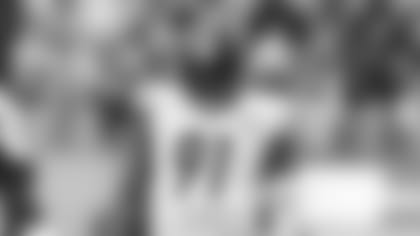 At 6-6, 303 pounds, Stephon Tuitt is anything but a softie.
On the football field, that is.
When he is off the field, it's a whole other story.
Tuitt has a major soft spot for those in need, especially those who touch his heart closely because of where he has come from.
That is why Tuitt is once again making the holidays merry and bright for many in the Pittsburgh area.
This year Tuitt has teamed with multiple organizations, including the Women's Center & Shelter of Greater Pittsburgh, Macedonia Family & Community Enrichment Center (FACE) and UPMC Children's Hospital of Pittsburgh.
"I usually do a lot this time of the year, with the season winding down and pushing for the playoffs, it's a time to not forget," said Tuitt. "We are in a blessed bubble. I am doing a job of a lifetime for me. I am so blessed to do what I am doing. At the same time, I came from a situation that motivated me to make it here and I will never forget people in those tough situations. If it wasn't for my situation I went through, I wouldn't be here today.
"I personally advocate for people in higher positions to show guidance. It's not always financial, but guidance and helping somebody have an opportunity to see a way or a path to change what they might be able to do in life. Those people you helped might go back and help others in their community. That one by one ripple effect and help others in the future."
Of the many things Tuitt has done this year, one is providing a holiday dinner for those at the Women's Center & Shelter, as well as providing Steelers pajamas for all of the kids. It's his way of giving back to people who experience domestic violence, something he witnessed in his own household growing up.  
"My situation growing up wasn't ideal," said Tuitt. "Even though I had two parents in the household, there was domestic violence. There was some guidance, but not consistent. As I get older now and have the opportunity through football to see more, talk to more people, have doors open up I got to see how it can affect the household. I had to grow up and be the man of the house at a very young age with my three other brothers. I had to be almost a father figure at an age no kid should be. I learned early on responsibility, that you have to make decisions you don't want to make for the greater good. Those were then instilled in me. I practiced those and grew too. With that and the accomplishments in football, once I learned something, and understood it, I would take the nugget and seed it to my family, or another family, or someone in my shoes.
"I went from a situation that is not ideal, one a lot of people don't come out of, and making it and creating a way that is a pathway for many to follow.
"For the women at the shelter, you know their situation is not the best because they are there instead of their home. They don't want to be there, but they are strong for taking the step to be there. They are tired of the situation they are in. It's wonderful there are people helping them. Being from that environment, we didn't go to a shelter, it was covered up. These women are taking the step to help their children. It's progress. To change your environment is scary. But there are people out there to help.
"I jumped at helping them because I can relate to my past. All of the things I am a part of are because I can relate, I know how you feel. Don't look at my situation now and think something else. I lived the moments. I have to understand that was then and it can be better. I want the women to know that. They are the strongest women to get out of their situation. Nobody deserves to be in that situation. We are all equal and all should be treated that way."
For those at the Women's Center & Shelter, having someone like Tuitt, a strong, well-respected male in the Pittsburgh community, care about them makes a world of difference.
"It makes an incredible difference to the families that we serve and to the staff as well," Nicole Molinaro, President and CEO of the Women's Center & Shelter. "It lets them know they are not alone, that there are people who really care about what they are going through. In the case of the Steelers who are donating, what it means is there are men who 110 percent know that abuse is wrong and people in the shelter do not deserve the behavior they have been subjected to and it's wrong. What it does is gives them strength, knowing they have the community behind them. They always know they have the staff, but they have the community, they have celebrities, professional athletes reach out and let them know they are not alone.
"Domestic violence has increased in severity and frequency during the pandemic. What we have seen is an increase in the violence, and an increase in the severity of the violence. We have seen absolutely heartbreaking situations that our clients have experienced. Nobody wants to come to a shelter. The only reason you come to a shelter is because you are in great need and that need is you are in fear for your life and you don't have any resources. Add on to that a pandemic when people aren't supposed to be leaving their houses, let alone living in a community setting, you have to really be in need to come into a shelter during a pandemic. And our clients are. They are very much in need of this. The abuse they have experienced over the past year has been heartbreaking. There is no other word for it."
And heartbreaking situations are ones Tuitt just can envision. He just wants to help and help as many as he possibly can.
Tuitt provided gift cards from Giant Eagle for families served by Macedonia FACE, an opportunity for them to provide a comfortable holiday meal as well as get other necessities at a time when many are struggling to make ends meet.
"During the course of everything else that is going on in the world, he is taking time to be concerned about other people," said Tinisha Hunt, Chief Program Officer for Macedonia Family & Community Enrichment Center. "I think it's very touching that he shared his story to give back to other families that may be in that same situation.
"Initially we were looking at one family this year to be able to help, and we found out it could be up to 15 families he was helping with groceries. New referrals come in all of the time for people who need help. Being able to have something else that can help alleviate the pressure over the holidays it warms my heart, it warms all of our hearts. Especially given the new order from the state where there may be people who worked in restaurants and now they aren't going to get hours, or may be able to work now.
"Just listening to individuals who may have had it all together, listening to them talk about how the stress and pressure has worn on them over the numerous months, I can't imagine what it was like on families who were strained before the pandemic. I can't stress it enough, there isn't any household not feeling some sort of pressure at this time."
Tuitt knows he can't alleviate the pressure on everybody who is suffering, as much as he would love to, but he never stops trying. He has been working on providing toys for kids through Children's Hospital Family Care Connection Center, where he is providing items and others can purchase toys as well to go help the kids.
"You don't understand until you have your own kids what it means to help," said Tuitt, a father of two. "Once you have your own and you go visit the hospital, you form the connection. I can't imagine what it's like for the parents. They are strong, sharing encouragement with their kids. They have hope and bring the peace. I can relate to a parent I see now having their child in the hospital. Me being able to help the parents out who are already spending a lot of money, being in the hospital can drain you. Bills still need to be paid. I would sacrifice everything I had for my kids to be healthy. That is what those parents are going through. For me to provide a little joy, that is what I want to do."
Before you think that's it, think again. Tuitt hasn't stopped with all of that. He reached out and helped Steelers Hall of Famer Jerome Bettis when toys he was collecting for local kids were stolen, has made donations to the Greater Pittsburgh Community Food Bank, is proving assistance to Holy Family Institute in Pittsburgh and he is helping Casa San Jose, which helps Latino immigrants in the Pittsburgh area acclimate to their new home, but also provides much needed resources, especially during the COVID-19 pandemic.
"When you say America, it's a blend to me," said Tuitt. "It's every race. My family are immigrants. My grandmother is from the West Indies. My grandmother doing that showed me the opportunities you have in America. Helping the Latino community is showing we are all in this together. It's an opportunity to help in the pandemic. Some of them don't even have homes. People look down on them. That bothers me. These people need a place to stay and have food."
While Tuitt feels blessed to be able to help, there is one thing he is missing. Being able to give back in person. He recently did a Zoom call with Macedonia FACE and wasn't able to be at the Women's Center & Shelter in person. It hurts him to not have that one-on-one interaction, but he knows he will one day soon.
"When I got a chance to go in person with Macedonia previously, I almost cried doing that," said Tuitt. "I was talking to them and kept putting myself in the situation, understanding there were moments where I wished as a kid growing up in the circumstances we were in that there was opportunity to have someone come in and help us like that. 
"I am hands on. I love smiling. I am serious with my job, but when I can be myself, I love that opportunity. This is killing me just being able to do it on Zoom. We get to be face-to-face I love that. You see the connection. The emotion. At the end of the day it is a pandemic and we have to follow the guidelines the NFL set. I just want these people to have a chance to heal and be happy."
A need like never before
Saturday, December 19
The need this year is like nothing anyone could have ever imagined.
It started in mid-March when the COVID-19 pandemic hit and cars sat in long lines at the Greater Pittsburgh Community Food Bank, so many finding themselves in need for the first time as the Pittsburgh area shut down and many were laid off or furloughed from jobs.
To this day, the need is still unprecedented. People are struggling to put food on the table, they are suffering financially with some businesses still shuttered because of the pandemic, and some jobs never returning.
And if there is one thing we know, when people are suffering in the Pittsburgh region, the community steps up. From the time the pandemic began many in the city have helped out, including the Steelers, and that continued this week when Coach Mike Tomlin and running back James Conner both hosted turkey giveaways for Christmas for the Greater Pittsburgh Community Food Bank, with all of the fixings and then some.
"I am excited about having an opportunity to give back," said Tomlin. "It's an honor to be able to do it and just being cognizant of how tough the times are. It's something that is needed. All of us who are blessed have the obligation to share those blessings with others. That is something that I, along with my family, embrace."
Tomlin has hosted his turkey giveaway in Pittsburgh's Homewood neighborhood every year, but this year it definitely was a bit different. The distribution was held outside, more of a drive-up one than in person distribution he has done in the past. And because of the COVID-19 pandemic, he wasn't able to attend in person, something he really missed doing.
"I can't express how much I miss an opportunity to interact with those people, and to wish them Happy Holidays and to get to know them," said Tomlin. "Over the years I have established some really good friendships doing events such as this. The familiar faces are something that I have really come to enjoy, something my family has come to enjoy. We were saddened that we couldn't be there in person this year for sure."
While everyone missed him, his gesture was something that went a long way.
"We know the holidays are a particularly challenging time for the families we serve, but with the economic effects of COVID on top of that, so many families are facing even more challenges now than ever before," said Lisa Scales, President and CEO of the Greater Pittsburgh Community Food Bank. "We couldn't be more thankful for the partnership that makes these events possible. We're disappointed in not being able to see Coach and James in person, but we would rather they be safe and are thrilled they are continuing to support the families. We are so grateful for their efforts. We will make sure the families receiving the turkeys and side dishes are aware of who is making this possible.
"The need dramatically increased in the middle of March, practically overnight we saw a dramatic increase in need. We would get a couple of phone calls a day from people in need of assistance. We would start getting calls from 100 people a day starting on March 16.
"The need decreased a little bit over the summer, but just the last two weeks we have seen a dramatic increase, which is why we are so grateful to Coach and James for supporting families by providing the turkey and side dishes."
Conner, also couldn't attend his in person and also worked with the United Way of Southwestern Pa., held his drive-up distribution in Pittsburgh's West End and shared a video message with the recipients.
"A lot of people calling for help now have depleted their savings, they rely on family, they have hit rock bottom, they don't have food," said Scales. "They have pride, have held out, don't want to ask for help. It's difficult for people to ask for help. We want to think we can manage on our own and we don't need help.
"My message to people in need of food is we are here for you in your time of greatest need. Please don't hesitate to reach out. We have a strong food supply. We are here to serve you and we are ready and able to provide you the food assistance you need."
Williamson provides a gift that keeps on giving
Thursday, December 17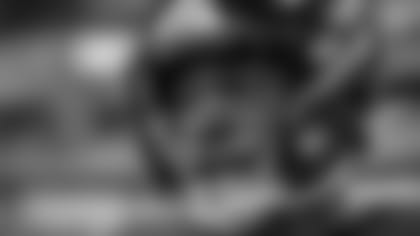 The smiles were heartfelt.
The tears were filled with emotion.
And the words, they were hard to muster without getting choked up.
Because at a time when the need is so great, having someone step up and help, sometimes there are no words to even express the gratitude that is felt.
And that was exactly the case when local families served by the Women's Center & Shelter of Greater Pittsburgh and the YWCA of Greater Pittsburgh learned on a Zoom call with Steelers linebacker Avery Williamson that he would be providing each of them with an $800 Amazon gift card to purchase items for themselves, their kids and whatever they need during a trying time.
Williamson, who has only been in Pittsburgh for a short time after being traded to the Steelers from the New York Jets on Nov. 2, worked in conjunction with Beyond the Basics, Inc., a foundation run by Patriots linebacker Brandon Copeland, who he played with in New York to help the families.
"It's an honor to be able to help," Williamson told those on the call. "Once you see people's faces and hear their voices, it means a whole lot more. This means a lot. It inspires me to do a lot more, not just at the holidays, but throughout the year. I am glad I could do it and wishing you all a Happy Holiday. I hope this helps."
Help them, yes, it will do more than that. The one message that both the Women's Center & Shelter and the YWCA shared is that it will empower the women, something that is so needed with the struggles they face.
"We know that our clients overall, and those in need of shelter, have been financially abused," said Nicole Molinaro, President and CEO of the Women's Center & Shelter. "We have moms with kids and adult women alone who have been financially devastated. They really have to build from scratch. Christmas and gift giving usually falls to the bottom of the priority list, which is devastating to them. Being able to provide for their kids is just incredible.
"It's wonderful to be able to give gift cards. What gift cards do is allow moms to shop for their kids. It's empowering. So, what gift cards do is give twice. The mom is able to buy for the kids. Children like very specific items. To empower mom to get what they want in a time of financial and emotional struggle for them is priceless."
Her words were echoed by Angela Reynolds, the CEO of the YWCA.
"Many families want to do for their children," said Reynolds. "The way he is doing this, he is empowering the families to make decisions on their own and support their families the way they see best. It's been a rough year for all of us, it's been a rough year.
"In a lot of these situations the families didn't have choices. There are so many things in their lives they can't control. To give them an aspect in their life they can, it's powerful. What that does for self-esteem, for their own value, that is a key and it's not to be taken lightly."
Williamson has already felt a lot of love from the Pittsburgh community since he first arrived, even if it isn't all coming in person during the pandemic. He said it's that love and support that made him want to do something right away in the city.
"I thought it was a good opportunity since I am here now to help out some families in need," said Williamson. "The city supports the team a lot so I thought it would be a good thing to help out families who need it, especially this year being really tough with COVID. I figured that I can definitely help out families. I am sure a lot of people are struggling with the lack of work and things like that.
"I couldn't imagine being in their shoes. I remember as a kid I was always looking for something from my parents at Christmas. I couldn't imagine not having anything. I hope it helps them provide something for their children. It means a lot to me. I am glad I am able to provide something small to some families and impact them anyway positive."
While he referred to it as 'small,' what Williamson has done is anything but small. The need for both organizations has gone through the roof due to the COVID-19 pandemic, and the saddest aspect of that is the amount of abuse the shelters are seeing has also increased greatly.
"It makes an incredible difference to the families that we serve and to the staff as well," said Molinaro. "It lets them know they are not alone, that there are people who really care about what they are going through. In the case of the Steelers who are donating, what it means is there are men who 110 percent know that abuse is wrong and people in the shelter do not deserve the behavior they have been subjected to and it's wrong. What it does is gives them strength, knowing they have the community behind them. They always know they have the staff, but they have the community, they have celebrities, professional athletes reach out and let them know they are not alone."
One of the families through the YWCA who received the gift card including a father who was out of work for a time because of the COVID closures and a mother who was diagnosed with breast cancer who just want to do what they can for their kids. Now, they have that opportunity.
"It means a lot. It would mean a lot at any point and time, but it especially means a lot now," said Reynolds. "Many of the families we serve are living paycheck to paycheck. There are privileges many people take for granted, and some of our families are saying, how do I keep the lights on, how do I pay my mortgage, the rent, take care of my children. The families have children, so this support is so important.
"Now dealing with the pandemic, the families are not just dealing with the pandemic, but they are also dealing with life. To find out someone cares about you beyond the people you reached out to for help means so much. It takes a lot to reach out for help when you are struggling. A lot of people wait until the last minute. We tell them there is no judgement, it's hard to make it in this environment. To reach out is hard, but to have someone you don't know reach out and help means a lot.
"It also means a lot for my team. They are doing their best for their families, but when someone else steps up and says they want to help you with that, I want to say the work you are doing makes a difference, our staff benefits from the fact that the families are being supported."
While Williamson reached out to those in Pittsburgh first, he isn't stopping there, also giving back in his hometown in Cleveland, Ohio. 
"I am glad I am able to bless people in tough times," said Williamson. "I feel like I have done well, and I am making sure I am not holding it all. You have to bless other people as well."