Amidst the black and gold on Sunday at Heinz Field when the Steelers play the Jets, pink will clearly be seen. There will pink Terrible Towels, hats, player's spikes, gloves and other equipment. There will pink banners and ribbons.
It's all part of the NFL's commitment every October to honor breast cancer awareness month, which includes survivors being honored before the game.
But for running back Le'Veon Bell, pink is much more than a color worn in October.
"It's not just a color, it's a culture for me because of the family I lost to this disease and the people, the extended family I have met, survivors, friends and family members," said Williams. "It's definitely not a color, it's a culture."
Williams' life has been drastically impacted by breast cancer in the most tragic of ways. His mother, his biggest fan and most-loving supporter, Sandra Hill was diagnosed with breast cancer in 2004. She fought a long, tough battle, but eventually the disease took her life in 2014. But that wasn't it. He also lost four aunts, all of his mother's sisters, to the horrific disease.
It wasn't easy for Williams, it never is losing someone you love so much. But he turned his pain into a passion for helping others, for bringing awareness year round to a disease that he is determined to help find a cure for.
Williams has the tips of his dreadlocks dyed pink and has had his toenails painted pink, something you don't expect from a football player but you can understand why. Shortly before his mother passed away she went into hospice care. Williams' daughter painted his toenails pink, and when his mother saw them during a visit she liked them. So he kept them. During training camp he wore sandals to serve as a reminder of what the battle is all about.
"When I drop my head and I look down and I'm feeling sorry for myself, I know that my mom and my aunts are looking over me and, like, it could be so much worse," said Williams. "I instantly get a smile on my face, pick my head up, and I go about my work."
Williams started the DeAngelo Williams Foundation, something that is two-fold for him. It helps fight literacy, but the main thing is it helps in the fight against breast cancer. He had a team of "Williams Warriors" participate in the Race for the Cure in Charlotte each year, and the foundation has donated over $500,000 to the Susan G. Komen Foundation and additional funds to other charities fighting breast cancer. Williams is also one of several Steelers players who will be taking part in Cause & Effect, a program through the NFL and the Players Tribune which gives players an opportunity during Week 13 of the NFL season to wear specially designed cleats for a cause near to them.
"It's not just October. It's all year. It's 365," said Williams. "That is why I did the pink nails, the pink hair. It's because it's a 365 fight. It only comes to the forefront one month for various companies and sponsors and things like that. They designated it for October, but the disease doesn't go away the other 11 months. It's just not in the forefront. I understand everybody is fighting a battle with something, I always pull for everyone fighting a disease, but my battle is breast cancer.
"Well after I am done with football I am going to continue the fight."
Williams hope is that others don't have to face the same tragedy he did. That others don't lose loved ones to the disease. That one day, there will be a cure and pain will not be felt by others.
"I miss my mom every day," said Williams. "Not a day goes by that I don't want to pick up the phone and call her. People don't last, but memories last. That is what I always fall back on, the memories. She was there for me good, bad, or indifferent.
"I would do anything to give those memories away and just have her. But right now the memories are what get me through." The NFL's "A Crucial Catch"* *campaign will be in full effect this weekend, and Steelers' players will be among those sporting pink for the cause when they host the New York Jets at Heinz Field on Sunday.
The campaign, which is in its eighth year, runs in conjunction with the American Cancer Society to raise awareness for the importance of having regular mammograms.
Williams will be featured in a PSA that will be shown during the game broadcasts on Sunday.
Fans will receive a pink Terrible Towel, sponsored by Ford and UPMC, and breast cancer survivors who were already selected by Magee Womens Hospital of UPMC and the American Cancer Society will also be honored on the field before the game and lead the Terrible Towel Twirl.
As part of the Breast Cancer Awareness initiative, Ford, UPMC Cancer Centers and Magee Women's Hospital of UPMC will be presenting a $10,000 check and Ford will present a "Warrior Quilt" to Susan G. Komen Pittsburgh Foundation in a special on field presentation.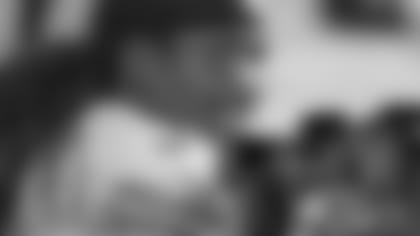 ](https://shop.steelers.com/steelers-breast-cancer-awareness?utmmedium=referral&utmsource=Steelers.com&utm_campaign=BCA)
Among the pink items that will be visible during the game will be special game balls with pink ribbons, pink kicking tees, pink coins for the coin toss, pink apparel worn by players including cleats, wristbands, gloves, sideline caps, chin straps and quarterback towels. In addition coaches and sideline personnel will wear special hats and pink ribbon pins. Other pink ribbon elements include pink goal post padding, Gatorade towels and pink ribbons on helmets.
Game-worn pink merchandise and footballs will be autographed and auctioned at NFL Auction (nfl.com/auction), with 100% of proceeds benefitting the American Cancer Society. All NFL Auction proceeds from the sale of breast cancer awareness items during the month of October will go to the American Cancer Society. Special pink merchandise is also available for sale at Steelers Breast Cancer Awareness Gear. All of the Steelers and the NFL's proceeds from pink product sales go to the American Cancer Society.