Levi Wallace has dealt with a lot in his five seasons in the NFL, but in 2022 something completely different came his way.
Wallace was hit with Bell's palsy, a neurological disorder that causes temporary paralysis or weakness on one side of the face when one of the nerves that controls muscles stops working. It's something that comes on without warning and its impact can range from being simply annoying to making it tough to function.
Wallace's first noticed it in October, the day before the Steelers were set to play the Philadelphia Eagles, when the left side of his face felt frozen. He wasn't able to smile, wasn't able to have full motion, and one of the worst side effects, wasn't able to close his left eye.
"It was definitely different," said Wallace. "It's so random, and you know what I am talking about."
Wallace asked people who have dealt with Bell's palsy about the timing of how long it took to recover, all of the side effects and more.
The hard part was, it's so unpredictable.
"It was a challenge," said Wallace, who said he still felt minor side effects even until the end of the season. "It just took some getting used to. But I never wanted it to be a crutch in my performance. So, it was what it was."
To his credit, Wallace played right through it with some adjustments. He wore a dark face mask to shield some of the light, as not being able to close his eye, or even blink, was tough.
"I thought it was going to withhold me from playing the season or affect me," said Wallace. "Honestly, I think when I got the dark face mask I looked cooler."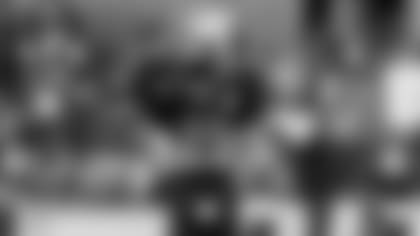 All kidding aside, Wallace knows he couldn't have gotten through it without everyone having his back.
"I had a lot of support from my teammates and coaches," said Wallace. "Whatever I needed, especially that dark face mask to not let the sun come in as much. They do a great job supporting here. Not too many people know I played with Bell's palsy and was still recovering from it a little bit at the end of the season. It was definitely an interesting season. I knew it wasn't more than I could handle, and I know that God was never going to give me more than what I could handle. Just a blessing to still be able to play with that impairment throughout the season."
Wallace, who signed with the Steelers as an unrestricted free agent in the 2022 offseason, finished last season with four interceptions, three of them coming after his Bell's palsy diagnosis. His play got stronger as the year wore on, a product of being more comfortable in the defense as time passed, but said the key is to never just feel 'comfortable.'
"It never stops," said Wallace. "You can always continue to grow. A bunch of the guys are looking forward to this offseason and moving forward, and you want to keep building that camaraderie and trust off the field.
"I want to do more of what I did when I was in Buffalo. We used to go out to dinner every week at different restaurants. One, it gives you a chance to learn the city, but two just get to know guys and go hang out and enjoy a meal with each other. That's one of the things that keeps you going late in the season and propels you. You're not pointing fingers at each other because you trust each other in those hard moments. And you know that the other guys have got your back, too. And so I think that's what really builds a team.
"We did a couple of times last year, but I definitely want to build on that. Even staying in touch with each other in the offseason and visiting each other, just learning families and stuff like that. I think that's super important when it comes to having team chemistry."
The offseason isn't going to be valuable just for building chemistry for Wallace, but also for looking back at how different AFC North football is vs. his first four seasons playing in the AFC East.
"When I came in, I didn't know how teams attack Pittsburgh in recent years and how I fit into that the scheme of things," said Wallace. "Even coming to a different division where it's super run heavy, you have way bigger backs and play smashmouth football. The AFC East is more spread out and an air attack so a change for me. Lots of things I've got to focus on in terms of my development here in the AFC North.
"And now there's tape on me out there. Teams aren't going to be surprised, thinking I can't catch or something or I don't want jump a route. I am just building off of that and showing where I can take my game to the next level and seeing how teams attacked me this year, how the AFC North saw me this year, and moving forward in that aspect."