For Steelers players, going to Saint Vincent College means the start of training camp, the start of football season, as well as a lot of hot, sweaty days battling it out on the football field.
For Alejandro Villanueva, going to Saint Vincent College is a lot more. For him it's a special place, a place he has embraced as part of his Catholic faith that brings him comfort and peace.
It's that love of Saint Vincent College that made Villanueva the perfect choice to deliver the school's commencement address on Saturday to the Class of 2019.
"This is a very special place, and I don't mean the beautiful campus, wonderful staff, monastery or basilica- but this gym," Villanueva told the graduates at the beginning of the speech. "This gym is a very special place for me. You see, every single time we cancel practice due to the weather, we come in here. So, every single time I come to the gym, I have a feeling that it's going to be a great day.
"For all of you who do not yet appreciate the joy of work being canceled – the graduates – this is a very special moment."
It was the first time Villanueva delivered a commencement address and joked that he didn't feel pressure because he didn't remember a lot from the address when he graduated, even though as he said it came from the 'Commander in Chief.' He said it was a beautiful message and inspired his class at West Point to 'go out and fight for our country.' But he couldn't remember what the message was.
What Villanueva did was share his life experience as an Army Ranger to inspire the graduates. And inspire he did.
"Life is like reading a tough book. As you read it, sometimes you'll read a page or a paragraph where you have to stop and ask yourself, 'what in the world did I just read?'
"Similarly, I think we all try to make sense of life as best we can, and over time, it becomes a collection of chapters and anecdotes that ultimately come together to shape your outlook on life. Good experiences shape you in a way, bad experiences shape you in different ways. The reason I use this cheesy cliché analogy of reading a book is because English is not my first language, and I've always struggled with reading comprehension.
"Growing up, to better understand what I was reading, I would summarize each confusing page or paragraph into a sentence that would help me understand and connect ideas better. These sentences in real life are nothing more than life lessons. And from my collection of experiences, I'd like to share some of the notes I've taken in life and hope you find them useful."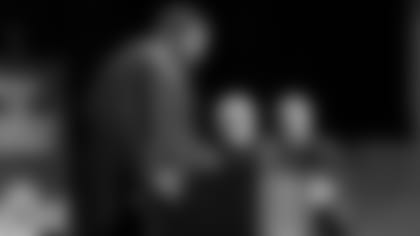 Villanueva shared with the graduates something he doesn't always talk about publicly, his experience as an Army Ranger, experiences that molded him into the man he is today.
"My first mental note that I specifically remember was at the age of 21," Villanueva continued. "It is by far the weirdest mental note I've ever made, but without a doubt it is the most useful. It took place in the middle of Ranger school in the mountains of north Georgia during one of the worst winters of the past 100 years. It snowed in Atlanta for two or three days straight, which was very unusual, and forced the instructors in our course to make us walk throughout the night to avoid freezing. There was snow on the ground everywhere, and we walked in the woods for 10 days. Five days walking, a day of rest at base camp, and another five days training in the woods with nothing more than a heavy sack. It rained as soon as we left on the first day, but after that, it was nothing but snow. The standard two meals a day obviously was not enough, especially for some of us bigger candidates, and it was pretty wild to watch your body wrestle with being cold, sleepy and hungry. I found out that cold is by far the most debilitating weakness of the mind, followed by sleepiness, and finally hunger. We would march through the woods in formation, and when the weight of the sack became too unbearable, we would bend at the waist to rest our shoulders. During this rest, our eyes would shut, and we would go into a very deep sleep. We were so tired that we would actually dream that we were sleeping and dreaming, experiencing dreams inside of dreams. When you wake up after a minute, you'd look around and see nobody. It was a very powerful way of finding out how strong your mind really was.
"After completing the first five days of mountain patrols, we came back to base camp where we showered and ate warm food. As you can imagine, the food was delicious and the feeling of sleeping in bed was so comforting that it made you sleep with a smile on your face. I would go on for another month and a half, for a total of three months, before I graduated and was sitting in my house in Columbus, Georgia when I remembered a simple mental note I made to myself in the midst of my misery. As long as I'm warm, fed, and have slept a couple hours, there's absolutely nothing in the world that I can possibly complain about. Of course, not even a week went by, and I started complaining about absolutely everything. But, the mental note stayed with me as a pretty important reminder that every single endeavor, activity and circumstance outside of those three is nothing more than a series of created expectations in my life to include pain. I could control my outlook on everything simply by changing my attitude or my perception of the world. While it is almost impossible to live life constantly reminding yourself this and living in perfect contentment, it was good for me to know that at one point, I was able to realize this."
He also shared his experience in the NFL, and the realization that you are competing against yourself on a regular basis.
"I made the mental note to myself that in life, you're only competing against yourself. There is a saying that in the NFL, the day you sign your contract is the happiest and saddest day of your career. You think you're happy to achieve a milestone, but all of a sudden, when you look around, you realize that the thing you fought so hard for does not really change any of the things you expect it to change. It summarizes many of the challenges we face today in society that not only stem from our competitive nature, but also from our inability to see that our lives, though interconnected, are definitely different from one another."
While being an Army Ranger makes you one who many depend on, Villanueva also told the graduates that it's okay to depend on others and to be someone others can depend on by giving back.
"I've learned that we, as humans, are meant to depend on one another," said Villanueva. "As hard and difficult as it may seem, I don't think anyone here will not find satisfaction in giving back to others. Giving without recognition is the most fulfilling. Giving to a person that is harder to like is the most rewarding. Giving without hesitation is the most authentic. Never be ashamed to reach out for help in times of need – only be ashamed if you do not do more for others. Our strength and skills individually are meaningless. Our cooperation and trust in one another is what made us successful as a species."