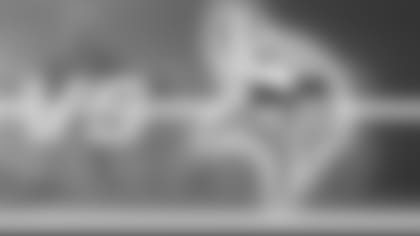 ](http://www.steelers.com/adPromo/clickThrough/processClick.io?adPromoID=95922)
 STEELERS vs. VIKINGS SUNDAY, OCTOBER 25 2009 KICKOFF 1:00 P.M. HEINZ FIELD VIKINGS QUOTES
Coach Brad Childress: It was a good football game and a good football team we just played. I had to cross off a 7-0 football team for a 6-1 team. It was important for us to cut loose. It was a game of swings. I'm proud of my guys for fighting back. I hate the result, but I thought they put themselves into a position to win that football game. Hats off to Pittsburgh. They found a way to make a couple plays. At halftime, you look at the yards, the first downs, the penalties, and the rushing yards, it's a dead even match. The fact is it was 10-7 just like it started 3-0. So I thought our guys had a great approach to start the second half in this environment. Like I said, I'm proud of them. It's important to learn from this and put it behind us. My guys aren't afraid to learn from any mistakes there were and go to Green Bay and go to the bye 6-1.
 
Re: Steelers making long plays for touchdowns
They were kind of fluke deals. We've been good with our turnovers and to think that'd we'd come to this game and have two fumbles for touchdowns going the other way. Like I said, hats off to those guys. You never know which of those 70 plays are going to end up being a play. I'm proud of the way the guys competed. Like I said, they don't like the result. It's been a resilient group from the standpoint of coming back and we want to improve. And they will improve from this game in this arena.
 
Re: Peterson's passing game
I think if you can get him in air and he's good enough to be able to turn from the quarterback and catch the football. If you can get him to turn his face on defenders, and he has a chance to wiggle and use his physical skills as a check-down guy, he can be a threat there as well. We do a decent job of looking up high, took enough shots down the field, hit some, then used discretion to bring it down.
 
Re: Favre being sharp in a tough environment
I thought he was.  I think it took all of us, offense and defense, to calibrate to the arena. We'd like to get that up to speed a little bit quicker. All in all, we put ourselves in a position to win the football game. That's what's disappointing, not discouraging, but disappointing.
 
Were the fumble and interception by Favre frustrating because there was nothing you could do about it?
That's football. When things like that happen, you feel like you have him blocked up. When you're sliding in the pocket, things happen.  
 
Re: Emotional loss due to the exciting plays of the game
It's fraught with some screaming and yelling, and not necessarily at the TV set for me, but for the participants, everyone who was on the field that had a shirt on.
 

On both their returns, did you get close to the ball carrier and think, "I don't want to put my body on the line"?
The fumble - I was running behind him and I was hoping he would try to scoop it and the ball would flop around and maybe I could jump on it. And when I picked it up I was going to try to punch it out. And the second one, I had the pick; it was kind of no-man's land. I can take on the blocker, but if I take him on low, they throw a flag on you for clipping. Or I can try to tackle both of them, and who knows? It's unfortunate, both of those happened, but give those guys credit for making a play.
* *
*Will you talk a little bit about the performance of Percy Harvin and what you see?
It was outstanding. I don't know what else to tell you. He's a playmaker. Every time he touches the ball, he can take it the distance. The first kickoff the game, he has no fear. He is full of speed. He has what I call "football savvy"; just understands the game. You can take a guy that's 6'5", put him at receiver-and I've said this over and over again- he'll play like he's 5'8". You take a guy who's 5'8" who's got football savvy and knows how to play, he'll play like he's 6'5". Percy, he doesn't have the height, but he has everything else. He makes up for it. He's fearless, he's hard to tackle, he's built like a running back, he has great hands, he's smart. The only negative is that he's a rookie, if you want to call it that.
 
Besides the turnovers, what was the toughest thing about the Steelers' defense, scheme-wise?
They play the same scheme they always play. It really comes down to physically, or beating them at what they do. You play a running team, you have to stop the run. You play a team that plays the 3-4 the way they do, their backers, the outside rushers, and [Troy] Polamalu plays all over the place. They're physical. To be honest with you, I think we did an excellent job in our third down package. I don't even know what the final percentages were. People can say what they want. It's like after we played Green Bay, they say "We should've blitzed more, they should've blitzed." They blitzed a bunch. They blitzed almost every snap today. We had a lot of success against that. We didn't get points, and that's a win for them. But that's what they do. They give you a lot of looks. I knew they were going to blitz. You don't know exactly where they're coming from. It's loud, it's a tough environment. They thrive on that. And they'll do it next week, whoever they play, they'll do it and they'll do it well. You just have to make one more play than they do. With Casey [Hampton] as a nose tackle, it's tough to run on them. It's tough to run on them period, because there's a lot of guys, it's 3-4. They bring Troy in and they give you a lot of looks. But I thought we played fairly well. We didn't get a lot of points. We had those turnovers, especially when you return them for touchdowns, they made a huge difference. But they were as good as I thought they would be. And we just didn't make enough plays.
* 
*What are your emotions going to be heading into this next game against Green Bay at Lambeau Field?
We need a win. They're going to say the same thing. And that part, I'm just glad the first game is over and done with. My career with Green Bay speaks for itself, and the games that I played in Lambeau Field - it's a special place. That won't change. For three hours, I'll be on the other side. Do I know what that's going to feel like? I have no idea, because I've never been on the other side. But I know that our team needs a win, and it's going to be a tough place, as it always is, a tough place to play. A lot of excitement. But it'll make for a good story this week, "Favre going back", but it's about our team. And that's really what I'm focused on. I'm just glad that playing those guys at least once is over and done with, and we can kind of get on with what we're doing. It's going to be a tough game for us. They're a good football team, and we knew that last time. It's always tough to win in Lambeau.
* 
*Are you surprised to have the no-call in the third quarter, when you got the shove from LaMarr Woodley?
I'm going to lobby for any call, don't get me wrong. But sometimes, unless I see a replay, I really don't know. You guys are probably better suited until I see the film. But had they thrown it, I wouldn't have been upset.
* 
  *Ben Leber
 
Re: Team's reaction to the loss.
There's no one hanging our heads in here. We fought hard, and we're going to continue to fight hard.
 
Re: Thought process after kickoff return for touchdown *Everybody's mindset on the sideline was, 'We're going to win this game. We don't know how we're going to do it, but we're going to win this game.' I think everybody, collectively, thought that. That's why right now the locker room is disappointed. We're not down on ourselves, we're just disappointed because we really felt like we had the game in our hands right where we wanted them. We were making some big plays. We just came up short.
 
**Re: Penalties
We've been pretty good all year. You can't say that maybe their crowd got a little loud. Maybe there was some miscommunication, I don't know. I can't really say, but defensively we had some dumb penalties that kind of crept up on us. We'll get those things corrected. Those are kind of emotional penalties, and that's going to happen in an emotional game.
 
Re: Steelers' touchdown right before halftime
It was tough. We still had a half of football, so we weren't thinking too much about it. We just came in and made some adjustments at halftime, and I thought we came out defensively and played a pretty solid second half. 
 
Re: Coach's message after the game
We're still very upbeat. We're still 6-1. We have a big, tough game next week – on the road again. I think we learned a lot from being on the road here, in a hostile environment. We'll take those lessons into next week. I think we're going to put this game behind us pretty quickly and move on to Green Bay.
 
Visanthe Shiancoe
 
Re: Adjustments after shaky offensive start
Protection wise, finding the gaps and their defects when it comes to passing. Just playing more aggressive. 
 
Jared Allen
 
Re: Steelers' time of possession in the fourth quarter
We've been in some crazy games all year. What are you going to do? You win some, you lose some. We lost that one. Their defense outscored our defense, that ended up being the game. 
 
What were you thinking on the Keyaron Fox interception?
Just tackle him – let us go down there and at least get a chance to stop them again. We had time-outs. He returned it for a touchdown. Not much else you can do. We held them to 13 points, that should be enough to win.
 
Benny Sapp
 
Re: Rotation of defensive players *They involved everybody in the rotation. 
 
*Assess the passing defense against Roethlisberger
It's a team thing. I think the team held up pretty good against these guys.
 
Other than two big plays, the pass defense held up well. How did you do that?
Everything works together, from the lineman to the secondary. Everything came together and we came out and did what we had to do.