Coach Mike Tomlin has quietly been doing a food distribution in the Pittsburgh area for years, his desire to do nothing more than help others in the city he calls home. It's something where he gives from the heart, where he wants to show his support for others who might need a little support this time of year.
"I want to help the community where I live," said Tomlin. "It's also an opportunity to teach my children the spirit of giving. I want them to be active givers. I want them to understand their blessings and I want them to understand the obligations that come with those blessings, which is to share with others."
On Friday night Tomlin hosted a Christmas food distribution for families selected by the Greater Pittsburgh Community Food Bank, a chance for him to interact with the recipients, spend time chatting, and provide a much needed boost at a crucial time of year.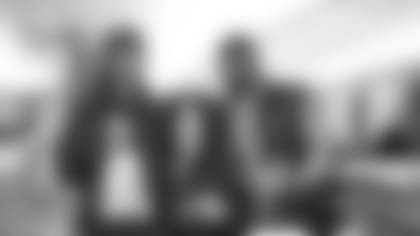 "Our families really appreciate the support they get from the community in general, but when it comes from somebody they really look up to and hold as an idol in a way, it becomes even more special," said Beth Burrell, Communications and Public Relations Manager for the Greater Pittsburgh Community Food Bank. "For these special distributions the families get really excited. Sometimes they bring their kids out, sometimes they bring mom and dad with them. It really becomes more of a community event than a food distribution.
"The families we serve are facing additional struggles and costs the entire winter and holiday season. They are trying to provide just as much a holiday for their kids as any other family. That only adds to their insecurities. You might have families skipping a meal, so kids can eat, so they can buy gifts for their kids. It's even more appreciated this time of year."
Tomlin's wife Kiya and son Dino joined him at the distribution, making it a true family affair.
"The more we can teach our kids that community is important, that taking care of one another is important, the stronger our community will be," said Burrell. "I applaud him for making it a community event, a full family event. I know our families get excited seeing him, and when he brings his family it makes it even more special."