His smile is ever present. Every time you see safety Shamarko Thomas, it's there. After a tough day, ask him how he is doing and he will tell you with a smile, just great. When he was battling injuries earlier in the season, the smile never wavered. After one of his workouts, when sweat is pouring off of him, he is smiling.
It's not something he thinks about, it's just something that is a part of him, something his late mother always encouraged him to do.
"She told me smile at adversity," said Thomas. "There is a storm, but sunshine at the end. So I just smile at adversity."
It's not always easy, though. Especially not with the adversity that Thomas has had to face in his life. Most people would be angry, bitter, and mad at the world.
But not Thomas. He just keeps on smiling.
---
Shamarko Thomas' mother was just 15-years old when he was born. His biological father was never really in the picture. There was no relationship between the two.
Too young to care for him herself, his mother gave him to his paternal grandmother to take care of for the short term.
When his mother turned 18, she took over sole responsibility of raising Thomas, moving from Champaign, Illinois where he was born, to California. It wasn't easy, though. There were ups and downs and the young Thomas saw things happen to his mother that no child should ever have to witness.
"I saw my mom get beat on," remembered Thomas. "She was a hard working woman but a lot of people took advantage of her and hurt her. Friends robbed our house. I saw her cry tears I never saw her cry before when that happened. They took everything. The next day she smiled and went to work and worked hard.
"I saw my mom go through a lot of trials and tribulations and it made me so angry inside."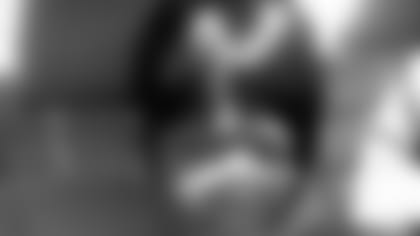 But things started to turn somewhat for the two of them. She met Abdul Shabazz, who was in the Navy, and the two were married while Thomas was in middle school. It was a chance for Ebeth Shabazz to give her son a better life, and expand their family, as the couple had five more children.
It wasn't easy for Thomas to trust his new stepdad. He had seen too much happen to his mother already in life, from physical to emotional suffering, and he just didn't trust men. But a bond eventually formed between stepdad and son, one that grew out of the love both had for football and flourished when Thomas started to play after they moved to Pensacola, Florida.
"I didn't get along with him until the game of football came along," said Thomas. "He played football in high school and he brought that to me when I was young. That's how our bond got closer. Before that, I didn't like him, I didn't trust men around my mother because I had seen what others did to her. We grew our bond that way.
"He definitely motivated me. I started playing Pop Warner football and I scored a couple of touchdowns and made a few tackles and I was thinking I did really good. He said that's not enough and I was really sad. Then he explained to me that you always want to have more, you always want to do more. He would challenge me to score more. That created our bond and he put that work ethic in me."
---
Despite his strong work ethic, despite the guidance and love he had for his mother Thomas found his share of trouble. The family had moved to from Florida to Virginia Beach and Thomas got in with the wrong crowd.
"I was chilling with gang members, dudes who sold drugs," said Thomas. "My mom couldn't keep an eye on me. She was working at McDonalds and raising six kids and she couldn't keep an eye on her oldest son with all of that.
"My mom was a great lady. I saw how she worked so I thought the only way to get out was do something fast. The street life, drugs and all of that is the fast life. That was my mentality. It was being around the wrong crowd."
Thomas was on a slow path to disaster. Many who get involved in that lifestyle find themselves incarcerated. Others, even worse, as the dangers can easily lead to them being killed.
Lucky for Thomas, though, others intervened and helped him get on the right path.
"I had two situations," Thomas explained. "One was my freshman or sophomore year of high school. It was my crew vs. their crew in a street brawl at a park. Officer (Adam) Bernstein, the school correction officer, saw me and was like what are you doing. I told him going to lift weights. I lied to try to get out of the situation.
"He sat me down the next day and told me I had a lot of talent but was going to waste it and end up in jail or dead because I wanted to follow the crew. He didn't want that for me. We shed tears.  
"The other time, and a lot of people don't know this story, I was chilling with older guys. They robbed a house. I wasn't doing it, but it was guilt by association. I was in the back of the police car thinking my whole career was going to be over. I saw my momma cry and shed tears. I saw my mother in a lot of pain. I wasn't formally arrested, but that changed my life too.
"It was no more being that person who was following what others were doing. I wanted to be a leader then."
---
Thomas loves football. He has a passion for the game that drives him to get up at 5 a.m. every day and be at the practice facility year round before the crack of dawn. He doesn't believe in taking days off. He doesn't believe in not giving his all.
But there was a time when the world seemed to be collapsing all around him and he seriously thought about giving it all up.
It's a story that is almost impossible to believe. A life so touched by tragedy that it's unthinkable.
Ebeth and Abdul Shabazz's relationship had come to an end while Thomas was still in high school and he was disappointed in the way his stepdad had treated his mother. The two didn't have the best relationship, but deep down Thomas still cared about him, still loved him. But he was hurt, hurt by how his mother had been treated.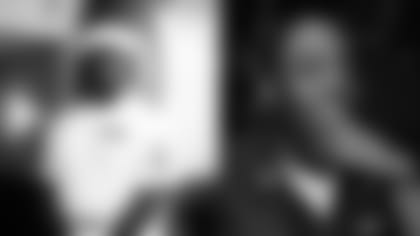 Then, on July 10, 2010, Thomas got news that he never expected. His mother called him to tell him his stepdad had been killed in a motorcycle accident in North Carolina. Shabazz had just picked up a new part for his motorcycle and was on his way home when another driver lost control of their car and crashed into him. Despite having a helmet on he didn't survive.
"I remember the day I got the call from my mom," said Thomas. "I dropped to my knees and prayed and asked why. I was sad because I wasn't able to tell him how much I appreciated what he did. He might have thought I hated him, but I didn't. I just couldn't be around him because he hurt my mom. It hurt me to the core I couldn't tell him that I love him.
"My mom always said everything happens for a reason and God won't put you through things you can't handle. It was hard but I knew God had a plan and a purpose."
As time went on, it had to be tough for Thomas to figure out what the plan was as he watched his mother struggle to put food on the table for six kids, struggle to get by every day.
"She hustled to scrape up anything," said Thomas. "I remember not having stuff for Christmas. She went to the Salvation Army. She did whatever it took. If we didn't have a big Thanksgiving dinner, she brought home McDonalds to make us happy. She wouldn't eat to feed us, she went through a lot."
But she smiled, even smiled through pain never shared with anyone.
---
Thomas and his mom talked all of the time when he went to college at Syracuse University. He smiles when he thinks about the stories they shared, but there was one conversation in particular that he remembers.
"My mom called me and told me she loved me, that I was her chosen one and if anything happened to her to chase your dreams and take care of your family," remembered Thomas. "She wanted me to do my best to make it. I assured her I would."
He had no idea how fast those haunting words of, 'if anything happened to her,' would ring true.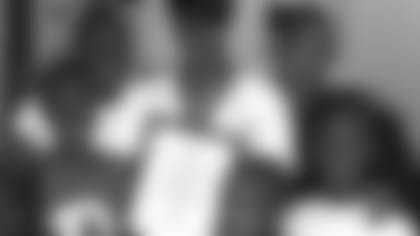 Thomas would wake up a day later, on the morning of April 18, 2011, to see messages on his phone. He got a call from a cousin who asked if he knew what happened. He had no idea what was going on. He told him to call home. What Thomas would learn was the unfathomable, his mother had died.
"Everything just went black for me at that moment," said Thomas. "I was throwing things around. I was so upset. My friend Chris McKenzie lived in the apartment upstairs and could hear me yelling and came and helped me. I wanted to quit football, quit college, go home and take care of my family. It was horrible."
She died from hypertrophic cardiomyopathy, a condition which makes it hard for the heart to pump blood. Thomas said she was the only one that knew she wasn't feeling right, but she never shared it with anyone else, never got all of the help she needed.
"My mom knew," said Thomas. "That is the thing about her. You didn't know the pain she was going through because she would just smile. She never told us what was wrong with her. I always tell everybody before she died you never knew she was going through heart problems because all she would do is smile. That's what motivated me and kept me strong. I was going through my thing and she would say Shamarko just keep going and keep smiling."
Thomas headed home to Virginia to help with the arrangements for her funeral, to say a final goodbye, but the smile, it was near impossible to muster. The person he loved the most in the world, the one who no matter what was always there for him, she was gone. And now it was up to him to hold the family, which included five siblings, together.
"At the beginning I asked God why me," said Thomas. "I did everything right. I knew I had to grow up fast.
"I remember coming home and seeing my baby brother. I could hear him crying but couldn't find him. He was in the dining room, around all of her pictures, crying and throwing up. All of the pain I was going through, he was going through it even worse. I told them I got this, I got you all forever. Even if I didn't make it in the NFL, I would get my degree. It made me grow up as a man. It wasn't about me."
But when he went to the funeral home, when it all became reality, it all hit him like a ton of bricks.
"The first time I saw my mom in the casket my mindset was she isn't gone. That day when I saw the casket everything hit me. I was crying, arguing with everybody, even my family. I just wanted to quit."
Thomas' former guidance counselor at Ocean Lakes High School, Leslie Allard, stepped in with life-changing advice.
"She told me you can't be angry, everything is planned," said Thomas. "I told her I wanted to quit and she told me would your mom want you to quit. Do it for her. That turned it around. I did everything for her then. It was just straight focus. It was about her."
---
The decision was a group one. Ebeth Shabazz's mother would move from Chicago to Virginia Beach to care for the five kids while Thomas finished college. He would help out as much as he could, but getting his degree and hopefully a shot at the NFL was what the family needed.
Thomas pushed himself like never before. Already a dedicated worker, he took it to the next level to make sure his dream would come true, being able to care for his family. On the field, off the field, and in the classroom where he earned his degree in child and family studies, he was a relentless worker.
He was drafted by the Steelers in the fourth round in 2013, giving him the avenue he needed to care for his family. Today three of his siblings live with him and go to school in Pittsburgh. He takes care of them, does everything he can to make sure they are having a good life. The other two are still with their grandmother, attending school in Virginia Beach, and Thomas looks out for them too. Thomas also has three kids of his own. He is there for all of them, dedicating his life to his family and his dreams of giving them more.
"It's motivation," said Thomas. "That is what keeps me waking up at five in the morning, striving to be the best, always trying to be successful. I want to show them and give them a better life than I had when I was younger.
"I realize life is not about enjoying yourself with your friends, it's about leaving your mark, inspiring others. That is what I want to do. I am not here to have fun, I am here to take care of my family. I watch guys like Kelvin Beachum and he is young and I wonder why he is so mature. He puts God first. I watch Troy Polamalu and what he does. I want to do that and put my family and faith first.
"It's not a sacrifice, it's about leaving a mark. It's building every day. I put everything in God's hands. I feel like I have more to do. I don't think I left my mark yet."
---
This Sunday Thomas will head to Heinz Field when the Steelers take on the Kansas City Chiefs. For him it's a time to let go of the stress that life brings with it, three hours when it can all evaporate.
"Football is definitely easy," said Thomas. "That is my stress reliever, that tunnel vision focus that you can block everything out and play the game you love. Without football I wouldn't be here today."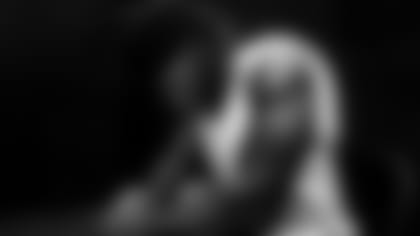 But before the game starts, before the Terrible Towels are waving, he will go through a personal ritual. 
"I have a moment where I pray to my mom and dad, cry, and get ready for the game," said Thomas. "I read her obituary at my locker. I talk to them while I am in the game. I always think about them. Everything I go through in life I pray to my mom and stepdad every day. I realize now he definitely knows I loved him and appreciated him and she always knew I loved her."
After that he will take the field, carrying with him their memory in the form of tattoos, both of their names plus an angel for his mother. There is also one of a dark rose, symbolic of his life's journey.
"The dark rose is the dark tunnel I had to go through in life," said Thomas. "I am going to get out of there and see the light."
And with that, Thomas smiled. No doubt in heaven his mother was smiling too, beaming with pride because her chosen one has definitely left his mark and is seeing the light.