By Teresa Varley
Steelers.com
Victoria Davis was all smiles after going through the first segment of an eye examine and was happy as can be to be sporting her fun pink glasses.
"It's important to have it done so you can see," said Davis of the eye exam. "I like my glasses. When I take them off I don't see as well."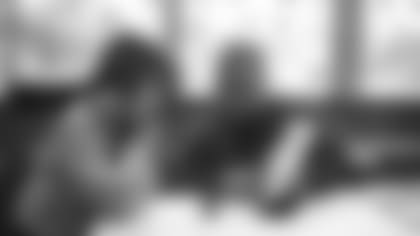 Davis was one of over 100 kindergarten students at Franklin Primary Center in Munhall who had their eyes checked as a part of a program organized by Steelers quarterback Charlie Batch and Eyeglass World and the LASIK Vision Institute as a part of their "Live With Vision" campaign.
Batch greeted the students by telling them how important vision is for school and the pursuit of good grades so that you can read books and see what's on the blackboard. He also encouraged them to be honest if they were having problems seeing during their eye exams.
The Best of the Batch Foundation got involved with the program because it is geared toward providing eye exams and free glasses to children nationwide.
"A lot of kids don't know if they have an eye problem or not and if they don't know it they can't relay it to their parents," said Batch. "What we are trying to do is bring it to them, have them go through the testing and let them know if there is a problem or not."
Batch was the first one to step up and have his eyes examined, proudly walking away with 20/20 vision.
"I've always had great vision," said Batch. "I like to say I have cat vision, that I am 20/10. My mother did a good job making sure I had tests when I was younger. I never had any problems."
Many of the kids screened though weren't as lucky as Batch as follow-up appointments were recommended for some of them who might need glasses based on the screening.
"That's why I am involved with it," said Batch. "We are trying to raise the awareness to help the children and parents and let them know these are signs that there might be problems. If we can raise the awareness right now it will be a great start as they continue their education."