By Teresa Varley
Steelers.com
Steelers players are thankful and appreciative for everything those in the United States Military do for our country, but that doesn't mean they aren't going to bring their A-game when it's time to go head-to-head with a group of soldiers at video games. 
"Whenever there is competition, we get competitive," said Trai Essex. "We never like to lose."
And they didn't. Players took on members of the Army's 336th Military Police Company form Pittsburgh, currently stationed in Baghdad, Iraq, in a game of Guitar Hero as a part of Pro vs. G.I. Joe. And it was the Steelers that came out on top, with their performance of "Play That Funky Music White Boy" making them a winner.
 
The two groups were able to play against each other thanks to a webcam, with the troops in Iraq being seen on the big video screen in the Steelers team meeting room, while they could see the players having a great time rocking out.
 
Ben Roethlisberger was lead guitar, Willie Colon lead singer, Essex on drums and Darnell Stapleton on bass for the first round. Wide receiver Hines Ward joined in, taking his turn on guitar, while the team's running backs – Rashard Mendenhall, Willie Parker, Mewelde Moore, Carey Davis and Justin Vincent, and defensive end Travis Kirschke listened in and said their hellos to the troops. Troy Polamalu came in to support both sides, dressed in a full camouflage sniper outfit.
 
"Anything we can do to help those guys over there we will do," said Essex, whose father was in the Air Force. "They are sacrificing a lot and we understand that. What we do on the football field is miniscule compared to what they do over there fighting for our country. Anything we can do for them is an honor. It's an honor and privilege for me to do this. I feel humbled knowing they are over there serving for us."
 
The offensive line playing Guitar Hero or Rock Band isn't something unusual, as they have their own little group that gets together on occasion to compete, although they admit they are a little out of practice right now.
 
"I was a little hoarse, but I had to step up for my guys," said Colon, who took a little heat from his teammates for his vocals. "I felt good about my performance today. We play normally. Sometimes we don't practice as much as we should and it showed today. We will be on our game next time.
 
"This was great, though. Those guys are over there protecting our homeland and making sure we can play this game. If we can take time out to play Guitar Hero why not do it."
 
It wasn't just the troops that got a morale boost. Family members of those playing were invited to the Steelers facility so they could see them on video and after the games have a chance to talk one-on-one with them.
 
"I know it's hard for them to be away from their families and it's just as hard for the families to be away from their loved ones," said Roethlisberger. "It's good to have the opportunity. It's a lot of fun. To be able to interact with these guys and see the joy on their face is a lot of fun. It's great to laugh with them, interact. It's fun. We know what they are going through to protect us."
 
And while there was plenty of laughter, there were also tears when family members saw their soldier son, husband, brother or sister on the screen and then got to talk with them.
 
"This is incredible. It's an awesome opportunity," said Perry Miller, who was there with his wife Tammie and son Brent to watch their 20-year old son Devin take part in Iraq. "It's very exciting for us. We are so glad to see him. For him it's incredible. He is a huge Steelers fan. He gets so animated watching games at home.
 
"This is incredible. We didn't expect anything like this. It's really something. To see him and talk to him is great. We haven't seen him in a few months, it's really something. It's great."
 
Amanda Bernard of Greensburg was decked out in black and gold and thrilled to watch her 21-year old husband Matthew on screen and talk to him, not having seen him since late July.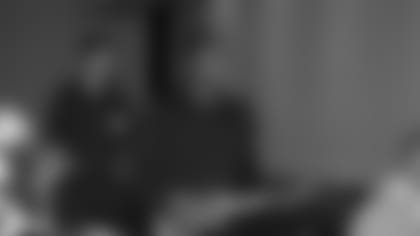 "It's great to see him on there," said Bernard. "I talked to him in the morning and he was so excited. He has been talking about it for weeks. It's great for them. There is so much going on. It's so hard for them over there. Getting to do this gives them something to look forward to, something new to do to get away from the chaos. It's great for us too because we see them on the screen and do something as a family together."
 
Pro vs. GI Joe is a non-profit organization founded to bring the troops stationed overseas together with professional athletes and other celebrities in the states to play video games via the Internet. It also reunites family members of the troops taking part via webcam.
 
"It's great for the troops," said Addie Zinone, who has been in the military for over seven years and co-founded Pro vs. GI Joe with her husband Greg. "First they can't believe they get to play a video game which is a lot of fun. Then they get to go head-to-head against professional athletes on an even playing field. They have head phones on so they can talk trash. Some people might be nervous, but they are talking about something they have in common. They can relax and talk about the game.
 
"It also gives the athletes a chance to say thank you to the troops. They are real excited. For those few hours they have a good time."
The organization has done the event with multiple teams, but playing against the Steelers was so popular that the troops had to compete against each other just to take part.
 
"It was amazing to give back," said Deshea Townsend, who played in the second set of games alongside James Farrior and Heath Miller. "Just to make guys smile who are serving our country is great. It gives you a little insight into what they do, how a little something just brightens their day. It's such a sacrifice they make to give us freedom and we can't do enough for them."

No matter how competitive the players were and how much they wanted to win, being able to say thanks to the troops and bring them some happiness was the number one goal and it was certainly achieved.
 
"To bring a little part of home to them and have them get to play against us, it's an awesome feeling," said Ward. "We appreciate what the troops are doing and the freedoms they provide for us. It's great to give back and give them a sense of peace and to get away. They are doing a lot there, for them to take time out of their schedule and play Guitar Hero with us is special."
 
If you would like to help keep the program going, please take a moment and visit **Pro Vs. GI Joe** and make a donation.
To view the full photo gallery, click on Pro Vs. GI Joe and go to Events.