Bye Week EntrySunday, January 9
The Steelers now know who their opponent will be next week as once again they will take on their AFC North rival Baltimore Ravens. The two teams split the regular season series.
"Records are wiped clean," said quarterback Ben Roethlisberger. "It doesn't matter who you are playing or what's going on.
The Steelers held an early afternoon practice without knowing who their opponent would be.
There was some good news today as we learned former running back Jerome Bettis and center Dermontti Dawson are finalists for the Pro Football Hall of Fame Class of 2011. Bettis is a finalist in his first year of eligibility and Dawson is a finalist for the second-straight year.
Had the chance to talk to Jerome shortly after he left church services on Sunday morning nd he was excited about the news. Later in the afternoon also talked to Dawson, who had been spending the day visiting family and didn't know he was a finalist either.
They are two great players and two great guys who both deserve a spot in the Hall of Fame. Click here to read what they had to say.
The players are off today so things are much quieter here at the practice facility.
It should come as no surprise that James Harrison and Troy Polamalu were among the players that were in today.
Defensive end Aaron Smith is among the ones here, working out in hopes of playing in the post-season. Punter Dan Sepulveda, who is on IR, is also in.
Not sure what the weather is like where you are, but we got snow overnight. You can check out some pictures of the practice fields now covered in snow.
Enjoy watching football this weekend. It will be interesting to see how things play out and who the Steelers next opponent will be.
In the meantime, you can check out some leftover pictures from the bye week.
Snow covers the practice field.
Antwaan Randle El shooting pool with ....
...offensive tackle Jonathan Scott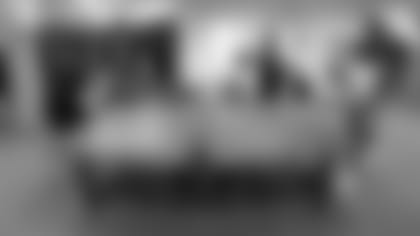 While others play ping pong.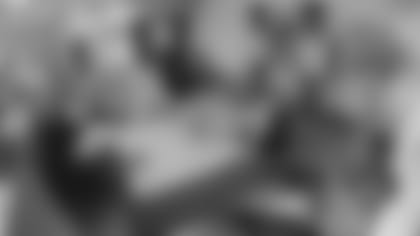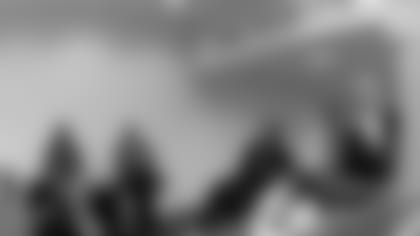 Players relax in between meetings.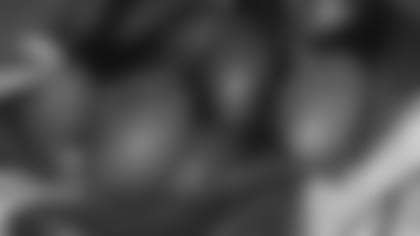 You can't have practice...without footballs.
Practice was inside again on Thursday and that was a good thing as it was cold and there was some snow early on (with more expected in the evening).
Ben Roethlisberger and Chris Kemoeatu had fun at practice on Thursday, exchanging jerseys with Roethlisberger wearing #68 and Kemoeatu wearing #7.
"He just took my jersey and gave me his," said Kemoeatu. "It's a little snug in the stomach area, but we had a good day."
Wearing a quarterback's number meant a little extra work for Kemoeatu, though.
"He did make me call a couple of plays today," said Kemoeatu. "I messed up. I realized how hard it is to call the plays.
"But the offensive line protected me. They kept calling me 'seven' when I called the plays."
The team ended practice about five minutes early and that was met with cheers from the players, as they have Friday and Saturday off.
"I am going to rest, rest my body and get prepared for Sunday to come back in here and learn the game plan," said rookie receiver Emmanuel Sanders.
Another rookie receiver, Antonio Brown, has similar plans.
"I am going to relax and get some treatment and get re-focused and ready for this game," said Brown.
On Sunday it will be back to work for the black and gold, and when Mike Wallace was asked by a media member in the locker room about not getting to watch the Wild Card games on Sunday, he had no problem not being in front of the television.
"I would rather be preparing for a game than watching one any day," said Wallace. "We are still in it. It's way more important than watching another game."
As players were heading out of the locker room for a two-day break, nobody was happier than Antwaan Randle El, who was carefully holding on to a homemade pie he was planning on enjoying – made by no other than teammate David Johnson.
"It's a family recipe," said Johnson. "Last year around Thanksgiving I knew I wasn't going to be home to have some so I got the recipe. I took some to the tight end dinner and they loved it. A couple of other guys tried it and they liked it. It's really good. Everybody likes it."
Johnson didn't give up the secret family recipe, but did give a hint of what goes in to what is called dream pie, referred to as millionaire pie by others.
"It has pineapples, pecans, cool whip, lemon juice and graham cracker crust," Johnson shared. "The recipe I have makes three, so any time I make it I make three all at once."
Since it was Randle El who asked Johnson to make the pie, he got his own while the other players shared the other two. And there weren't any leftovers…maybe next time.
Antwaan Randle El all smiles with his pie.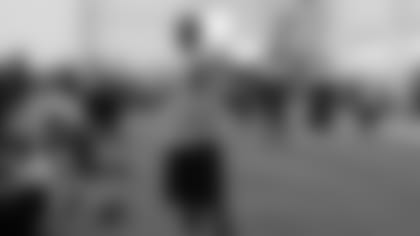 Crezdon Butler before practice.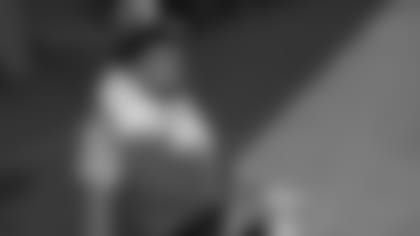 Chris Kemoeatu thinking about wearing the #7 jersey.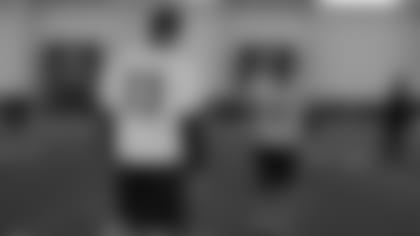 Jeremy Kapinos and Shaun Suisham kicking things around.
Pat Noone keeping things moving.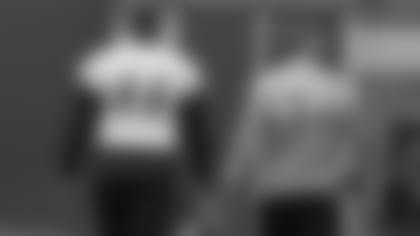 Tony Hills and Chris Hoke head to practie in the snow.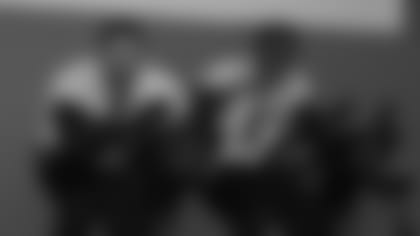 Matt Spaeth and David Johnson warming up before practice.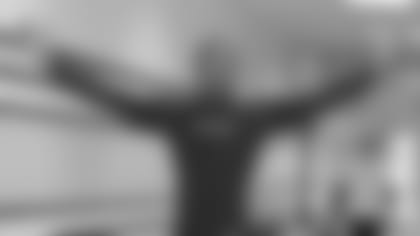 Mike Wallace having some fun here....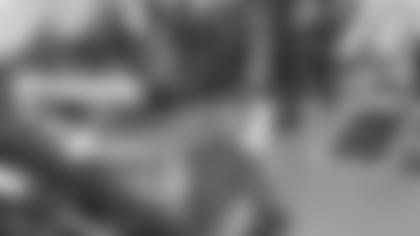 but Wallace getting serious in the weight room.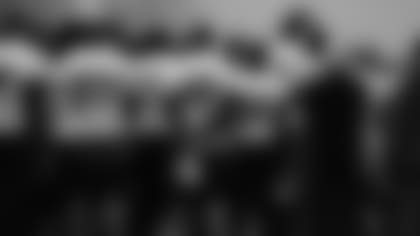 And practice is over for the week....
The Steelers maintained the same routine as Tuesday, practicing mid-morning at their indoor facility.
And while plenty was accomplished during practice, there were also a few light moments, especially when some teammates overtook guard Chris Kemoeatu and started giving him birthday punches as he celebrated his birthday on Tuesday.
"I thought they were going to do it earlier but they waited and did it during practice," said Kemoeatu. "They did catch me off guard. We always catch whoever's birthday it is off guard. One guy pushes him in and we get our punches in.
"Yesterday was my birthday. We have a whole bunch of birthdays. Mia has one up there today."
And despite his size, Kemoeatu was outnumbered and the birthday punches came.
"I definitely lost," laughed Kemoeatu. "There were 10 other guys beating up on me."
After practice I caught up with Ziggy Hood for what I thought was a one-on-one interview with him, but a few of his buddies showed up along the way. While we were talking Nick Eason popped behind Hood – who didn't realize it for a few seconds – and then Eason did a few dance moves off camera. A few minutes later Ryan Clark joined the interview, sharing his singing talents with us. Hood, though, wouldn't sing.
"I can't sing, but I can listen," said Hood. "I am a great listener."
All kidding aside, Hood is looking forward to his first NFL playoff action next week.
"I am telling my parents this is the most exciting time right now," said Hood. "I am pretty sure there will be more, but I am doing everything I can to prepare and give everything I have got when it comes to Saturday.
"Nobody wants to go home. You want to make it to the big dance at the end. That is what I am doing, getting my footsteps right, putting my boots on and we're going dancing."
You can watch the entire interview, including the guest cameos by Eason and Clark, by clicking on Ziggy Hood Interview.
James Farrior plans on watching the playoff games this weekend, but is going to enjoy them and not be scouting their potential upcoming opponent.
"I'll watch all of the games," said Farrior. "I am still a football fan. I will be checking them out.
I won't be analyzing. You just watch it. The coaches will have the game plan stuff ready for us next week."
Farrior said he is making sure he lets his body get some rest during the bye week, but joked that the younger players don't need any rest.
"The younger guys don't have a clue…they are supposed to be out there working hard and practicing like it's training camp," said Farrior. "Those guys don't need rest - they can run around and do all of the stuff we can't do."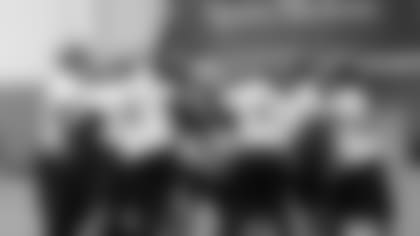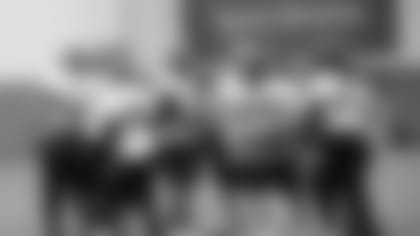 Above birthday boy Chris Kemoeatu gets b-day punches from teammates and then breaks free...below he waits to catch a bottle of Gatorade.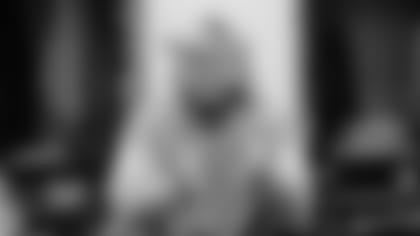 Casey Hampton, James Farrior and Hines Ward during practice.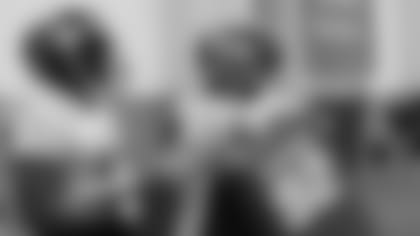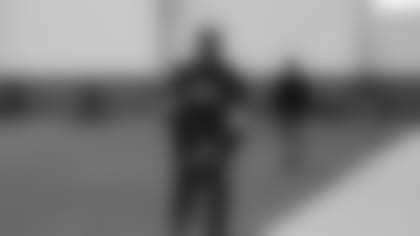 Kirby Wilson getting things set for the RBs.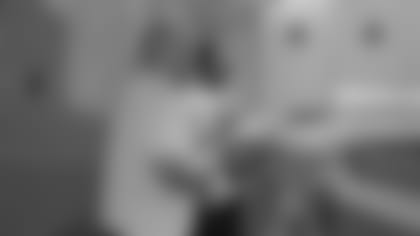 James Daniel and Matt Spaeth
Monday was a bit quiet with the players off, but Tuesday was anything but that from early on until the end of the day.
The atmosphere was extremely upbeat, with players having fun in the locker room shooting pool and playing ping pong after practice.
We had a chance to catch up with Aaron Smith for a one-on-one interview for the website. Smith has been working out on his own while the team has been practicing for the last few weeks, but today he had on his jersey and was running and stretching during practice.
"It was nice. It was like a little teaser but it's nice to be out there with the fellas, put the helmet on, and run around a little bit and be active with the group," said Smith. "It was a joy.
"When you watch your friends and teammates out there you want to be able to contribute. It's hard to feel you are not doing your part to help them win games."
Most of you have probably noticed that Brett Keisel is sporting a now "legendary" beard and mustache. He started to grow it before the start of the season and as things went well during the year, he vowed not to shave it until the season came to an end.
Just because the playoff beard is good luck, it doesn't mean Keisel is enjoying it as he shared with me outside of the training room after practice.
"I was telling Troy (Polamalu) at the game my mustache was down and I kept biting hair in my mouth piece. It's getting to the point where it's a little aggravating. But I am a team guy and I have been doing this for the team so I will carry it on through.
"I am hoping to keep it all the way to the end, go back home to Wyoming and show my family there how beautiful this thing is."
Keisel said that the beard isn't a hit with his newborn daughter Grace.
"She already gets mad when I put her on my shoulder and the beard gets in her face and drives her crazy," he said. "One of these days I will get to hold her and it won't be up in her."
His son Jacob has gotten used to the beard and he is wondering if he will even recognize him when he finally does shave.
"I think he will wonder who I am but it will be fun," Keisel joked.
A highlight of the day was getting our official AFC North Champs gear today. Thanks Tim for sending the goodies our way and to "Chin" for passing them out to all of us on the South Side. We appreciate it.
Check out the gear and if you haven't gotten yours yet, you can order them from the Steelers Online Store.
And since we had no pictures yesterday ... here are a few for you today.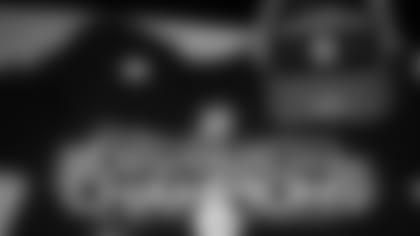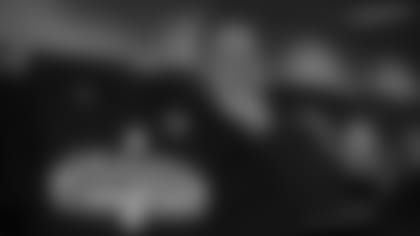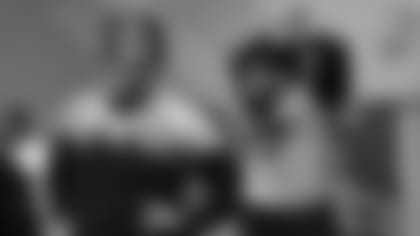 Aaron Smith talks to Larry Foote.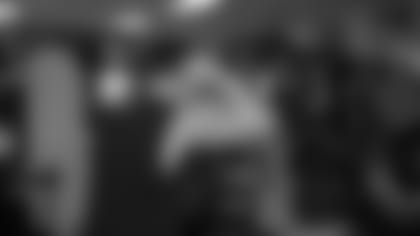 Smtih shows off the muscles for the camera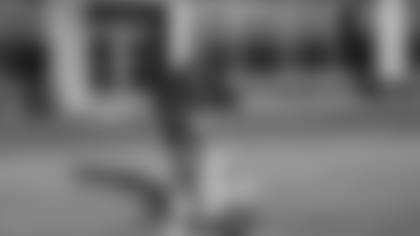 Practice was inside, but still getting the outdoor practice fields ready.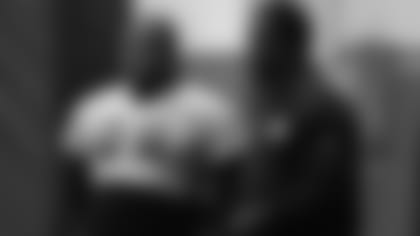 Casey Hampton and John Mitchell chat.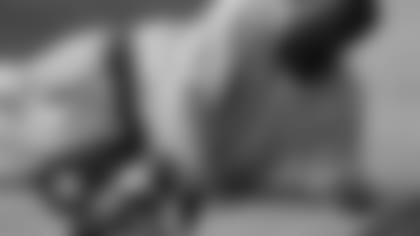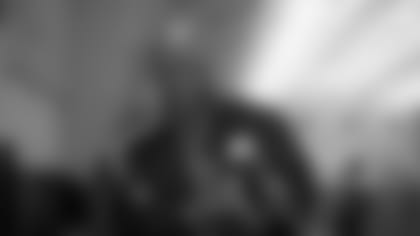 Maybe John Mitchell can take some pics for the diary....
It's the most wonderful time of the year, because in Pittsburgh, it's playoff time and that means time to start a playoff diary, bringing you a little of this and that.
Things were relatively quiet at the team's practice facility on Monday – even the media room was dark all day - as the players had a well-deserved day off after winning the AFC North and securing a bye with a 41-9 win over the Browns the day before.
But there were some players who did make an appearance. Among them was defensive end Aaron Smith, who was working out and is trying his best to get back for playoff action. It's just a matter of time for him and will he have enough to fully heal. But as far as effort, there is much more that Smith could be doing. The guy is kicking butt and wants to join his teammates for the playoffs, but knows he has to be smart too.
It was family day for a few players. Brett Keisel stopped by, sporting an AFC North Champs hat, with his son Jacob (smartly snagging a cookie in the cafeteria) and beautiful baby daughter Grace. Larry Foote was in the training room with his adorable daughter Jayln, one sweet little girl.
Other guys stopped in, including Anthony Madison who had a big interception against the Browns, Doug Legursky, who filled in at center when Maurkice Pouncey left the game injured, as well as Ziggy Hood, Jonathan Scott (check out what he had to say about his first-time in the playoffs by clicking here), Ryan Mundy and an array of others. Max Starks and Dennis Dixon, who are both on injured reserve, weren't letting an off day get in the way of their rehab as they were hard at work in the weight room.
Rookie Stephenson Sylvester was also around, talked about advice he has received from veterans, and you can tell he "gets it" from these words.
"To go about our business is not to talk about it; it's just to do it," said Sylvester. "You learn that from the veterans, just go out there and do your job and everything else will take care of itself."
While things were quiet, but busy, at the South Side facility, Heinz Field was buzzing with workers still moving equipment and turning the building back into a football field after the NHL's Winter Classic was played there on Jan. 1. They have their hands full, but you know come January 15, the building will be more than ready for the Steelers to play.