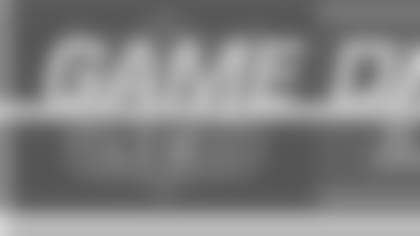 STEELERS VS. JAGUARSAFC WILD CARD PLAYOFFSaturday, January 5, 2008at Heinz FieldKickoff 8 p.m. on NBC **
STEELERS PLAYERSJANUARY 3, 2008
Cornerback Deshea Townsend
Can you blitz more from the secondary?
If they get in a third-and-short situation, blitzes don't matter. We have to make sure we get them in situations where it's long-yardage situations. That always starts on first and second down plays. They have some tendencies that we looked at. We saw a lot of things that we did wrong with a lot of gaps and stuff like that. I think it should be a better game this time.
Every team has tendencies in 16 weeks of the season. You have to go out there and see something and try to react.
Did you see those after?
They were there then. We saw a lot of them. A lot of times we can put our finger on the mistakes we made. When you see that it gives you some hope on what you can do better next time you see them.
Do you change what you do or do you just do what you do better?
That's always the case. Each player has to always do what they do better. Nobody played a perfect game but we have to go out there and try to play the perfect game. We have to do the things that make us a very sound defense and that's play together. You have to know where your teammate is going to be and trust that he is going to be there. When we play like that we're tough.
Will you find yourself in more one-on-one coverage if you have to bring the safety down?
We keep our safety down. We are always eight in the box no matter what it is. It's always one-on-one.
What do you think about their receivers?
They're good receivers. From the high point of the ball, they are big, tall receivers. We see Matt Jones take it off a couple of guy's hats. We see Reggie (Williams) gets hit hard in the end zone and red zone area but he is still catching the balls. (Dennis) Northcutt is a quick slot guy. He can get open and keep the chains moving. They pretty much have everything with their receivers.
Does the loss to Jacksonville still bother you?
It didn't bother me. It hurt. Trying to have that undefeated home season and have them come in and do what we try to stop every week and that is the run. Those boys played a great game, they played an excellent game. I tip my hat to them. We're just fortunate enough we have another opportunity to play them.
Do you have to do things differently or execute better?
There are tweaks here and there. We have to execute better. That's something we will do. We'll be cool. It will be a good game.
Why has David Garrard been so successful for them?He is real accurate. He is real efficient. He knows the offense. It's a great set-up over there. You have two running backs, two monsters that can get you out of certain situations. At any given time Maurice (Jones-Drew) or Fred (Taylor) can break one from two yards to 100. It really doesn't matter.  Their receivers, the offense as a group, are all on the same page.
Running back Najeh Davenport
Are you more of a runner that fits into the Steelers style because you are a bruising runner vs. Willie Parker's quick strike ability?
I never thought of it that way. I pride myself on moving the chains, getting a first down and moving the chains.
Is Ben close to the point of Brady and Favre where the coaches can put the ball in his hands and say here win it?
I think he's there.  He's proven, he had a great year all year, but I'll tell you that's not our identity.  Our identity is to run the ball, that's what we've been doing up to this point, if we can't run the ball then mix it up in the passing game.  Last time we played Jacksonville I think we were put in that position where we fell behind early and forced us to go to a pass mode and we had some success, but we definitely can't shy away from our identity of who we are.  So, whatever it takes to win, if we're out running the ball good we're going to stick with the run and if we can't run we got to pass the ball to get some yards through the air.
Talk about revenge and facing a team you lost to a few weeks ago:
Not revenge, just a matter of you left some plays out on the field and you wonder to yourself 'wish I would have did this different, I wish I would have did this.  It's always a lot harder playing a team two times during the year because you know their personnel and you definitely don't want to make the same mistakes you made in the first game.  So there is an adjustment period there, but at the same time they got to come back here to Heinz Field.  Saturday night I know our crowd is going to be rowdy and excited for it so we definitely got to build off that and try to go out there and execute our game plan better than we did the first time we played them.
Why do you think you've had so many slow starts and how do you avoid them?
We've had some slow starts, but in St. Louis we came out and we were gunning so it's just a matter of playing consistently, but it's not our huge mistakes it's just more technique sound I think we've got to be technique sound.  I mean the first two plays we ran we didn't get any positive yards because there is more technique issue more than anything.  I think if we just execute our technique skills and understand the game plan I think we'll be fine.
What about having you and Santonio healthy together for a change?
That's a plus.  Having all your guys healthy, but who's really 100% healthy right now.  Late in the season, playoffs, like I said, there is no tomorrow so that's what makes the magnitude of the playoffs even greater and a lot of people, a lot of players who never played in it they're going to see Saturday night what you mean by that.  But I'm excited, I look forward to playing the playoffs.  Hopefully we can go out there; Santonio and I can make plays for our team and go to the next round.
My health is just like everybody else's health.  We're all sore, we're banged up like I said it's a matter of laying it all on the line for one game and go from there.
Did the week off help you?
Yeah, it helped me.  Helped me tremendously, there is no need to go out there and play in a game that really didn't mean anything.  So he held a couple guys back and like I said this is a big game for us because there is no tomorrow and this is where our goal quest that we set on to try and win this world championship and next on our list is Jacksonville.  We got a great team coming to our back yard and we got to find a way to win the game.
Is momentum a stronger force in the playoffs because each play carries with it a higher importance?
I think so, you definitely want to start peaking and playing well going into the playoffs, but you remember the Super Bowl we were a six seed we were the hot team coming in and went on to win games, but I was on the team that was 15-1.  You win so many games, you get out of synch sometimes you miss games.  It's almost like hit or miss you really don't know, you just want to start playing well and come Saturday night 8 o'clock that's when our quest begins.
Is the running game a key to the game this weekend?
I think it's always a part of the plan.  Obviously when we're successful we get the running game going early and I think that is our job this week just to try and start fast and not dig ourselves a hole this time around.
With Trai Essex in this week, will you be in more to block?
I don't think a whole lot more, I don't think my job is really going to change from any normal week.  Trai is going to step in and do a good job we all have faith in him and I don't think it's going to change a lot.
Are you going to spread it out and do some no huddle and just do whatever it takes to get through this?
Yeah because if you don't then you will be sitting at home the next week.  We are going to do whatever we have to do to win the game.  We know we have our hands full because they have a great defense, great defensive front so we're going to try to find something that works against them.
Do you see why your quarterback is close to closing the gap with the other elite  quarterbacks in the league?
I think so, he's had a great year.  He's already led to us to one Super Bowl and we'll see if he can pull some of that magic out.
Are you glad you have another shot at Jacksonville after that game a couple weeks ago?
Well, you know it depends on how this turns out. They're a good team that part I'm not too excited about, but if it works out and we get the 'W' yeah then we'll feel good about it.
What does change as far as intensity and crowd atmosphere in the playoffs, what's different?
I think the speed of the game gets a little bit faster, could be hard to believe a little bit at this point in the year, but I think it picks up a little bit guys kind of feel a sense of urgency to go along with each game and I think that's where it comes from.
Is it fun, do you find yourself with a little more adrenaline?
Yeah I think so, I think after 16 weeks of the regular season you're kind of pushing through it toward the end but now you're kind of juiced up a little more here waiting till the season starts.
Does being an underdog at home motivate you?
I don't think it has anything to do with the way I approach things.  Some guys need it for some motivation.  We all approach things differently in the playoffs knowing that if you don't put it all on the line and get a win it's going to be all over with is motivation enough for me.
Are you going to reflect on the possibility of your last home game in a Steeler uniform?
Yeah, I mean you know it's sad. I'll have to take a moment at some time during the game to enjoy it.  You know, to think back when the game is over on my last time on the field stuff like that man, you just take it and enjoy it.
Is there any point in which the door will be shut and locked to the possibility of coming back with the Steelers?
I don't even look at it in that way.  I think if it was going to happen, it would've happened.  Doors never close but there is a point when reality sets in.
Is it a sad time for you, do you reflect about the past?
Oh I think you have to, 10 years here kind of forces you to reflect a little bit.
10 years, that is a big chunk of your life:
I'm 31 so a third of my life has been here in the 'burgh definitely a big chunk of my life.
Talk about the past a little:
Yeah, a lot of playoff teams, a lot of good times, a lot of good teams it has been fun here.
How about the game, this is a chance to get back at the only team to beat you at home this year:
Yeah I mean they put it to us, we didn't play good ball they played great ball.  We were lucky enough to make it somewhat of a game there at the end, but it really wasn't.  I think we have to go out there and play better, it's nice when you say it but you still got to go out there and prove it.
Is there any one key to beating the Jaguars?
I don't think there is any one key, I think us playing better and being able to accomplish what we're trying to accomplish.  Run plays, pass plays and being more competitive out there not as about to break out leg like Kendall Simmons right there.  Play in and play out we need to play better on a more consistent basis on offense.
Wide Receiver Santonio Holmes
Are you OK physically to play this week?
I think so I think I'm ready to go this week.  I haven't been having any problems even the past couple weeks.  It was just a fluke thing that happened in the Ravens game when I went down for the ball the defensive back game through to try and break up the play and ran into my leg.  I'm fine after that I came back in the game a little bit, but to finish out the rest of the season I got to stay healthy.
It's been a while since you and Hines have been on the same field together?
He just asked me the same question, I think it's going to be real exciting firing on all cylinders hoping we all can communicate well with Ben and continue working just like practicing together today and make sure we get everything corrected.