Steelers.com

The Steelers hosted 75 youth football coaches at a closed morning practice at training camp to give them an inside look at how the Steelers coaches teach players and conduct drills.

The event is part of the Steelers Youth Football Program and got rave reviews from those who attended.

"It's very valuable," said Ryan Speece, president of the Altoona, Pa. Youth Football League. "The coaches we brought over from our league we are able to see that even at the NFL level it boils down to the basics.

"This is a blessing in disguise to be able to come over here and see that it's football in its purist form even though there is a big difference between the guys and our kids. For the Steelers to reach out and help us is great. It's always like that with them."

The Steelers have a series of events throughout the year geared towards youth football, including the Gatorade Junior Training Camp and Coaches Forum, understanding the importance of where it all starts.

"We try to attend every event we can and encourage our coaches to," said Cliff Williams, president of the Mon River Pop Warner Football Conference and coach with Swissvale Golden Flashes. "We bring the information back and spread it to the other coaches in the organization. Every organization should take advantage of it. We are probably 20-40 percent better today because of the programs we have been involved with through the Steelers and USA Football."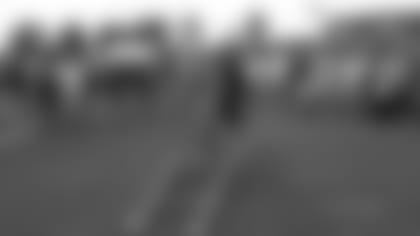 One thing that all coaches noticed watching the Steelers at work is the importance of players still enjoying what they are doing, even at the professional level.

"Football today is sometimes too serious," said Williams. "You see guys here still having fun. We try to keep it fun in Swissvale. We want it to be competitive, but it's kids 6-14. You want them to learn but you want them to have fun.

After the practice head coach Mike Tomlin spoke to the group on the field and thanked them for the role they play in shaping the lives of young kids. He also stressed that they continue to teach proper tackling techniques as that is a key to keeping kids healthy and safe on the field.

To help further the message linebackers coach Keith Butler, along with linebackers Lawrence Timmons and Arnold Harrison, who demonstrated the proper technique.

"We are two hours from Pittsburgh but everyone bleeds black and gold and to say I spent some time with the Steelers and this is what they are doing, they are learning the basics," said Speece. "They have a lot more detailed sessions, but the basics of football are still the same. It's important for us to be able to say this is what the Steelers are doing and they are pro players, while ours is just a fifth and sixth grade tackle football league."