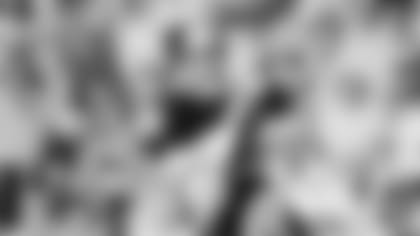 Another in a series of stories chronicling the 52 playoff games in Steelers history.**
They are the enduring characters of Super Bowl X, and maybe it's because each of them embodied a fundamental characteristic of his sport in his sport's biggest game of the year. Lynn Swann and Jack Lambert. Grace and violence. It's the combination that makes professional football a fan favorite, and the Steelers employed both in liberal doses to win the Super Bowl and therefore become the third different franchise to win this game back-to-back.
What football fans accept as fact today, some 30-plus years later, is based on the iconic images of NFL Films that still bring the highlights of this game into living rooms every football season, and that perspective is made more interesting when viewed in the context of those final weeks of 1975. Back then, Lynn Swann had sustained a concussion in the AFC Championship Game win over Oakland and was iffy even to be able to play in the Super Bowl, and Jack Lambert was not Wyatt Earp so much as he was only a second-year player who wasn't real comfortable with the reputation being assigned to him.
"I think some people are blowing that a little bit out of proportion," said Lambert during the run-up to Super Bowl X about his growing reputation as a man meaner than Mean Joe Greene himself. "Let's just say I'm an extremely aggressive ballplayer. I like contact. I like to hit people. That's what the game is all about. I've always liked contact sports. I think I got a bad-guy reputation at camp (in 1974). I really went all-out to make the club, and I got into a lot of fights. I think Mike Webster and I went at it about twice every day. We were both trying to make the club, and we both like to go all out."
As for Swann, this was how he gauged his chances to play in Super Bowl X exactly one week before the big game: "I'm not a doctor. I feel fine, but mentally I'm suffering. And if I'm suffering on Sunday, I won't be playing. Obviously, I want to play, but the doctor will make the decision. He looks at my eyes every day and he looks in my ears and he takes my blood pressure and he takes my pulse. I get nauseated now and then. The symptoms are the same as being drunk. It would be a shame to play 23 games this season and not play in the Super Bowl. But it's just a game. It certainly doesn't mean as much to me as my health and my life."
In 1975, the AFC was the NFL's dominant conference, what with the 12-2 Steelers, the 11-3 Bengals and the 10-4 Oilers all being from its Central Division, while 11-3 Oakland ruled the West, and 10-4 Baltimore swept 10-4 Miami to earn the top spot in the East. In the NFC, the Vikings and Los Angeles Rams both finished at 12-2, but Minnesota, being a three-time loser in previous Super Bowls, had made people skeptical of that team. The Vikings were the NFC's top seed in this postseason, but by virtue of their 10-3 win over the Steelers in the regular season finale, the Rams were considered their conference's team to beat.
That's exactly what Dallas did to the Rams in the NFC Championship Game, and by a resounding 37-7 at that, and so a Cowboys team most believed was still a year away, a Cowboys team that had missed the playoffs entirely the previous season, was matched against the defending champions. The Steelers were solid favorites going into Super Bowl X, and it seemed apparent they were the better team.
Even Noll didn't disagree. "Obviously, we're a more experienced team, and we've had more crises this year. The offense has performed better. We probably are a better team."
But even though he was coaching the favorite, Noll didn't tighten up, he didn't play the game not to lose. The Cowboys are remembered for playing that day in an unconventional manner, what with the reverse to Thomas Henderson on the opening kickoff, but the Steelers also were aggressive in their approach.
That reverse on the opening kickoff didn't result in any points, but the tackle Roy Gerela had to make along the sideline injured his ribs and impacted his performance the rest of the day. The Cowboys actually had a 7-0 lead thanks to a takeaway resulting from Steelers punter Bobby Walden fumbling a long-snap, and that unforced mistake allowed Dallas to take over at the Pittsburgh 29-yard line. On the next play, Roger Staubach hit Drew Pearson on a medium-range crossing pattern, and the Cowboys receiver did the rest himself to give Dallas a 7-0 lead.
The play Terry Bradshaw called to tie the game came on a third-and-1 from the Cowboys 7-yard line. Dallas was expecting Franco Harris, but Bradshaw called a pass play to tight end Randy Grossman that the Steelers hadn't used since the preseason opener, against the College All-Stars back in early August. This wasn't the only time the run-first Steelers would go against form, but more on that later.
Super Bowl X was a game that's outcome wasn't determined until the final snap of the ball, but it wouldn't have been so close if Gerela hadn't missed field goals of 36 and 33 yards, plus an extra point. But if Gerela hadn't missed those field goals, part of what made Super Bowl X memorable might never have happened.
Throughout the week leading up to the game, Cowboys safety Cliff Harris had been running his mouth about Swann probably being afraid to go over the middle because of the concussion sustained in the AFC Championship Game. Harris never got a shot at Swann, but he didn't waste an opportunity to taunt Gerela after that second missed field goal.
In one instant, Harris was laughing and mockingly patting Gerela on the helmet after the miss, and in the next instant he was on the turf after being flung to the ground by Lambert.
"I felt he jumped up in Roy's face, and that it was uncalled for, and somebody had to do something about it," said Lambert after the game. "We were getting intimidated, and we're supposed to be the intimidators. So I decided to do something. I wasn't trying to get anyone fired up. I just play emotionally. Jack Ham plays and never says a word. I yell and scream a lot.
"I tackle somebody as hard as I can, and then I get up and go back to the huddle," added Lambert. "I don't like the idea of people slapping our kicker or jumping in his face and laughing when he missed a field goal. That stuff you don't need. Sometimes, it's like in hockey – you take a penalty to get things juiced up."
After the game, Noll would say, "Jack Lambert is the defender of all that's right," but crediting Lambert's response to injustice for this Steelers win is an oversimplification. Instead, when asked for the game's turning point, Lambert himself quickly pointed to the punt that backup fullback Reggie Harrison blocked out of the end zone for a safety early in the fourth quarter that cut the Steelers' deficit to 10-9. Mel Blount, the reigning NFL Defensive Player of the Year, concurred.
"I never blocked a punt before in my life," said Harrison. "I charged in and hit the up-back with my arm. Then there was nobody in front of me, and (punter Mitch) Hoopes had just taken his first step. There was no way they could stop me. I tried to hit it down, so I could fall on it for six points. All I was thinking about was six points."
They didn't get six points there, but the two points came with a momentum swing that had the Steelers dominate a 12-minute span of the fourth quarter and take control of the game.
The Steelers defense threw a three-and-out at Dallas on the Cowboys' first offensive possession after the safety, and then the offense drove for a 36-yard field goal from Gerela to give Pittsburgh its first lead of the game, 12-10. On the second play of the ensuing Cowboys possession, Mike Wagner intercepted a Staubach pass, and another Gerela field goal made it 15-10. Then another three-and-out, keyed by L.C. Greenwood's sack of Staubach, got the Steelers the ball back once again.
In the previous postseason's three-game run to a championship, Franco Harris had rushed for 343 yards and five touchdowns, including a Super Bowl record 158 in the win over the Vikings. He had added another 232 yards and two more touchdowns in the playoff wins that got the Steelers to this Super Bowl, and the Cowboys had set their defense to stop him. With Harris close to the end of a game in which he would average only 3.1 yards a carry, Noll allowed his offense to be aggressive.
On a third-and-4 from the Steelers 36-yard line, the Cowboys were expecting Harris or some other appropriately conservative play-call designed to maintain possession, because they figured Noll's No. 1 priority would be to try to protect his team's 15-10 lead. Instead, Bradshaw went play-action and found Swann deep down the middle for a 64-yard bomb to make it 21-10.
The Cowboys closed to 21-17 as the Steelers played soft coverage, and then Gerry Mullins recovered Dallas' onside kick with 1:48 to play. But Bradshaw had been knocked out of the game with a concussion on the 64-yard touchdown to Swann, and the Steelers were having trouble running out the clock because Noll had no interest in putting the ball in the hands of a cold backup quarterback.
Pittsburgh gained little on three running plays, and Dallas used a timeout after each one, to set up a fourth-and-9 at the Cowboys 41-yard line. Because Walden already had fumbled one snap to lead to Dallas' first touchdown and almost had another punt blocked, Noll elected to run the football one more time. He preferred to take his chances with his defense rather than his special teams, even though a special teams play in the form of Harrison's blocked punt had turned the game in the Steelers' favor.
"We had already botched one punt, and they can score a touchdown on a blocked punt," said Noll. "I had confidence in our defense. We were giving them the ball with no timeouts, and I figured our defense could do it."
The defense did it, and when it was over and Art Rooney Sr. had hoisted his second Lombardi Trophy following his team's 21-17 win, Swann was hailed as the MVP for a performance that would come to define grace and athleticism by a wide receiver, and Lambert was anointed as the new sheriff in town.
"I don't like the word dynasty," said veteran linebacker Andy Russell at the conclusion of his 11th season with the Steelers. "We don't win things for that. We win for today. But I'll say one thing: The pro football being played today is the best that's ever been played. It's a lot better than when I came into the league 13 years ago. And we're the champions. So, draw your own conclusions."
D.Pearson 29 pass from Staubach (Fritsch kick)
Grossman 7 pass from Bradshaw (Gerela kick)
Safety, Harrison blocked punt out of end zone
Swann 64 pass from Bradshaw (kick failed)
Howard 34 pass from Staubach (Fritsch kick)