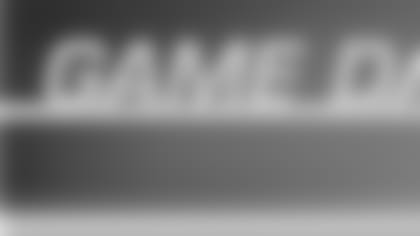 STEELERS at PATRIOTS SUNDAY, NOVEMBER 30, 2008 KICKOFF -- 4:15 P.M. ** STEELERS CONFERENCE CALLS VS PATRIOTS
PITTSBURGH STEELERS HEAD COACH MIKE TOMLIN
*
 
*Q: You guys know the Patriots well, can you talk about playing the Patriots up here this week?
 
MT: It's a big game for us. They're a good team. We're both in playoff contention. It's that time year, we look forward to it.
 
Q: What are your impressions of what Matt Cassel has done the last two weeks?
 
MT: IT's been impressive. He's thrown the ball for over 400 yards, he seems to be administering the offense well. He's including a lot of people, throwing the ball to a bunch of folks and doing a nice job of it.
 
Q: Do you game plan the same way now as you did last year when [Tom] Brady was at the trigger?
 
MT: Every year is different. We're making decisions, in terms of game planning, off of what we've seen from those guys this year on tape and it's impressive.
 
Q: How about what your quarterback has done the last couple of weeks? He's had a shoulder problem but he seems to have managed it well the last couple of games.
 
MT: The big thing for us, and for him [Ben Roethlisberger], is that we've taken care of the ball the last couple of weeks and that's why we've been successful. If we are going to be successful up there it needs to be the same this week.
 
Q: What do you think when you see the point totals the Patriots have allowed the last two weeks?
 
MT: That's kind of the story of the National Football League it appears at this point this year. There was more points scored this weekend, I think, than in the history of the game. I think it's more a sign of the times than anything.
 
Q: Not with your team though…
 
MT: That work is behind us. We've got big challenges that lie ahead this week. They are a potent offense and they are capable of ringing up the scoreboard as evident with what they've done here recently so we've got a lot of work ahead of us.
 
Q: You're obviously known as a team that likes to bring a lot of pressure in different ways with Dick LeBeau's system, how have you seen Matt Cassel handle that pressure in the last couple of weeks?
 
MT: He's handled it very well. He's making quick decisions. He's getting the ball out of his hands. Their use of the screen game is exceptional [and] I think that combats a lot of the pressure packages. He's doing a nice job.
 
Q: To that point what do you think of Kevin Faulk as one of the most versatile players in the league?
 
MT: Kevin doesn't need my endorsement. This guy does everything extremely well. He runs it. He catches it. He blocks. He's a special player.
 
Q: What have you seen from Jerod Mayo so far?
 
MT: He's very, very fast, very physical, he runs around [and] makes a bunch of plays for them. He's not playing like a rookie by any stretch, based on what we've seen on tape.
 
Q: When you look at what the Patriots present offensively who is a greater threat, is it Randy Moss or Wes Welker in their passing game?
 
MT: They can both beat you and that's really how we're looking at them right now. Of course they do it in different ways but they're equally as dangerous and [they are] two guys that we have to prepare to contend with.
 
Q: Are you surprised that a team would single cover Randy Moss?
 
MT: No, nothing surprises me in the National Football League anymore.
 
Q: What goes through your mind when a player on your team pretty much guarantees a win?
 
MT: That's old news. Let's talk about what's going on this week.
 
Q: That happened this week…
 
MT: Not to my knowledge.
 
Q: It was reported in a paper that the same player did the same thing this week. *
 
MT: I hadn't heard that.
 
*Q: Mike can you talk about these two teams getting together at this stage of the season and the significance of it. Do you place any extra value on the fact that these two teams are again making playoff pushes?
 
MT: It's all the same for us. We all get 16 opportunities to state our case for the playoffs. It [has] added significance because the playoff picture becomes clearer this time of year, but we take these things one at a time. This is a big game because it's the one that we play this week. We acknowledge that we're playing a great football team, so that's what makes it exciting.
 
Q: What kind of lesson can you take from last year's game?
 
MT: They're a different team than they were a year ago. We're a different team than we were a year ago. We just focus on what's going on here in '08.
 
Q: How has Ben Roethlisberger evolved as a leader on the team?
 
MT: He's a veteran football player. He's comfortable in his shoes, he knows he's a big component of what we do and how we play football and he's comfortable with that.
 
Q: How much progress has Santonio Holmes made?
 
MT: He's progressing nicely. I think more importantly than what you see inside stadiums is that he is coming to work every day and working extremely hard, practicing extremely hard and I think those are key ingredients to being a consistent player, one that we need.
 
Q: Bill Belichick brought up the comparison between Troy Polamalu and Rodney Harrison. From your perspective do you think there are a lot of similarities there?
 
MT: I've noticed both guys play with a great deal of passion and people feed off of the way they play the game. I don't know Rodney personally but at least that's the way it appears on tape. From being around Troy on a day-to-day basis I can see that's the case here.
 
Q: The running game has been such a strength of yours but you've had some injuries, how much has that compromised your offense?
 
MT: It hasn't. If we are going to be good we have to be capable of winning games in a lot of ways - running it, throwing it - and if we are going to be a complete offense, a complete team, we have to be able to do that. Ultimately it's about winning and losing for us.
 
Q: How is Mewelde Moore different from Willie Parker?
 
MT: Mewelde is a guy that maybe doesn't have the standout physical characteristics that Willie has, in terms of straight-line speed but Mewelde does a lot of things well. He can run it. He can catch it. He's a pretty good blitz pick up guy. He's been a pretty good addition to us, most importantly because he's a good teammate.   
 
Q: Can you talk about getting Heath Miller back in your lineup?
 
MT: It's good to have Heath back. I think that Matt Spaeth did a good job when he was down but everybody's aware of what Heath brings. He's a good in-line blocker and he's a good pass receiver. He's a good all around tight end and teammate.
 
Q: Can you talk about James Harrison and what he's meant for this defense? *
 
MT: James is a guy that plays with an edge. He's a passionate player. He doesn't make mistakes. He's been productive for us. He challenges his teammates in the groups and I think he's the catalyst for what we do.
 
*Q: If you're going to be defending a blade of grass is he the guy that you want to be holding that blade?
 
MT: I'll tell you we've got a few of those guys but no doubt he'd be among them.
 
Q: What do you think is the commonality between the Patriots and the Steelers in terms of their ability to turn it on late in the season? *
 
MT: I think consistency, good teams. Doing it in different ways but ultimately that's what this thing comes down to is being where you're supposed to be and seeing what you're supposed to see and making plays to close out football games. They've done it better than anyone over that time span.
 
*Q: How's the offensive line for Ben Roethlisberger now? It's come a long way since last season.
 
MT: We're a work in progress. We acknowledge that we're not perfect. We're growing and developing. We've got some new guys in that position that are having to step up for us. They've done a good job thus far but they've got a big test this week, particularly with those three men across the front in New England.
 
Q: I know the Patriots gave up a lot of points last weekend but it seemed to us that Vince Wilfork played a pretty good game last week. Have you looked at that tape, what did you like about what he did?
 
MT: I'm not going to get into the business of evaluating his performance. I'll say that those guys are very good football players. Not only him but [Richard] Seymour and [Ty] Warren - those guys are capable of controlling the line of scrimmage and we have a great deal of respect for them. We've got a lot of work to do if we are going to get those guys blocked.
 
Q: I know you said you don't want to evaluate Vince Wilfork, so can you just talk about the importance of a nose tackle in a 3-4 scheme?
 
MT: I think more than anything those guys need to be disruptive. They need to occupy multiple blockers and maintain the line of scrimmage and gap control. That's the basis of where it begins when you talk about describing the guys who play those positions.
 
Q: Are those guys sometimes tougher to find because there's not that many human beings that are that size with that agility on the planet?
 
MT: They are getting increasingly tough to find. That's why most of the people that have got a good one, they've found them in the first round of drafts.
 
 
PITTSBURGH STEELERS QUARTERBACK BEN ROETHLISBERGER
* 
*Q: What are your thoughts about how your team has been playing lately and also about going up against the Patriots who have put together a couple impressive games?
* 
BR: I think we went through—as most teams do, you go through some ups and downs. We can talk about it, the Patriots can talk about it; most teams can. You get hot for a moment and then maybe you go through a slide, some bad games. In this league it's all about when do you get hot. I think both the Patriots and us are playing very good football right now and I think that's why this is going to be a great matchup.
 
*Q: Can you talk about Matt Cassel stepping in for Tom Brady and what he's done so far?
 
BR: I love it. I've always taken the underdog role, and I think when he came in—and you always have a special spot in your heart for quarterbacks because you know what they go through. But, when he came in and early on, people started talking bad about him. They started talking about 'oh boy, how much we miss Tom'—and I'm sure they do miss Tom because he's something special. But, for him [Cassel] to put up the numbers and to play and win football games, I've really enjoyed it just for the fact that people thought he couldn't do it and he's been doing it.
 
Q: You mentioned missing Tom, but the Patriots are also missing a lot players on defense—Rodney Harrison, Adalius Thomas. Does the Patriots defense look different to you—maybe more vulnerable that it has been in the past?
 
BR: I think the difference is just the names. Like you said, the names aren't there that we were used to seeing in the past. They're still doing a lot of the same things. They're still running around. They're still moving, and you know what, they're the New England Patriots. They are who they are for a reason and they're very talented. They're just going to be a challenge for us—maybe one of the biggest challenges of the year for us.
 
Q: Can you talk about how tight the AFC is right now?
 
BR: This is that stretch of the year that you can't afford to split. You've got to play great football. This is when the veterans need to step up and the rookies need to see what it's about. Because the AFC is so tight, so many teams are separated by a game or half a game, or two games, you really can't afford to have that lull right now. That's why this game is so important to us as I'm sure it is to the Patriots as well.
 
Q: With the injuries your offense has had, has the last few months been sort of a growth process?
 
BR: I think the whole line is one of those special positions that you kind of need to have some cohesiveness; you need to know who's to your right and to your left. When you're rotating guys in and out it can be tough at times. But, we've had that same group of guys in there for the last couple weeks now and they're really starting to understand and know each other, and I think their play is reflecting that. Of course we miss the other guys, but in this league people have to step up and be ready to play and those guys up front have really answered the call and I'm proud of them.
 
Q: How different is it for you this year with the running game not being statistically up to what it was in the past?
 
BR: I think my stats aren't as up to par as I'd want them and they have been, and the running game—and I think our offense, we have kind of struggled throughout the year at times. But like I said, it's about when you get hot and when do you start to put things together. The last couple of weeks we've done a pretty good job offensively of scoring points and not turning the ball over and we just need to continue to do that.
 
Q: Can you talk about Heath Miller and what a weapon he is?
 
BR: Oh yeah. It was good to have him back last week and [make] him a part of the game. He's always good to have back on the field.
 
Q: What are your impressions of Wes Welker?
 
BR: [He's] pretty impressive. Just from watching him in the games and watching him on film, he's just a guy that seems like he's always in the right spot. He's always a bailout. He's kind of a combination of the running back check down, the tight end over the middle and slot receivers matching up on linebackers, so I think he brings so much to the table.
 
Q: How tough was it for you mentally to get through that streak of games where your numbers were probably worse than they've ever been?
 
BR: Well, it's the position that we play. You see every quarterback go through it at some point in a season or in their career. It's just something that you've got to push through. Like they say in basketball, when you're missing and you're not hitting anything, the best way to get out of the funk is to shoot your way out of it. You've just got to keep pressing forward and that's the biggest key.
 
Q: How different for you that first year as a starter when it came time for the playoffs? Was it a different animal?
 
BR: I mean, I was dead. You hit that wall and your heads spinning. You're not really sure what's going on. You're kind of running on fumes at that time, so it definitely affected me later in the year.
 
Q: What were your thoughts when Tom Brady went out and Matt Cassel came in?
 
BR: Well, Matt Cassel has been there for a while and he knows that system and it was just going to be a matter of time until he got his legs underneath him and felt comfortable out there.
 
Q: When a guy throws back-to-back 400 yard games, doesn't it make you think he's progressing faster than you would have imagined?
 
BR: Well, I'll tell you what, I'm not going to take anything away from him. I think he's a phenomenal quarterback, like I said before, and back-to-back 400 yard games, that's awesome. And nothing against Matt Cassel, but I don't think Tom is really worried about his job; I mean, it's Tom Brady. But he's doing an awesome job and that's what they've asked him to do and that's what he's done.
 
Q: The Patriots pass rush hasn't generated as many sacks as it did last year and Mike Vrabel is way down from 12 last year to 3 this year. Are they rushing Vrabel as much as they did last year or is he maybe playing a different role?
 
BR: That's a question you'd have to ask them—but it seems like they are using him in a lot of different areas, rushing. You know, he's a very heady player; he's very smart. He knows how to stop the run, he knows how to cover in coverage [and] he knows how to rush the passer. He's a Pro-Bowl caliber guy. Numbers are numbers, it's not about that, and I'm sure he'll tell you the same thing.
 
Q: As a quarterback, is he one of the guys you always want to know where he is to get a sense of what they're playing?
 
BR: Oh, I'll definitely know where he's at.
 
Q: How different will it be for you, as a quarterback, to not see Asante Samuel out there in the secondary?
 
BR: There're a lot of guys that they have [that are] injured. It's like I'm not seeing Adalius [Thomas] out there. I'm not seeing Rodney Harrison. It's just—guys fill in. We've seen them fill in on our team and guys fill in, in the NFL. The guys they have back there will do a phenomenal job, I'm sure, of filling in.
* 
*Q: What impresses you about your defense?
 
BR: Pretty much everything: to see them fly around, to see them confuse, to see them blitz, to see them stop the run. Coach always says 'give them a blade of grass, they'll defend it' and sometimes that's true. You give them a short field and they find a way to hold them to three points, so it's just impressive to watch our defense.
 
Q: What goes through your mind when a teammate pretty much guarantees a win?
 
BR: What goes through my mind? I don't know. Did one of us do it again?
 
Q: Same one.
 
BR: Same guy did it again? No. I don't know, to tell you the truth. You won't hear me do it. I don't know.
 
Q: Can you talk about playing with Hines Ward?
 
BR: Yeah, he really is. I've been blessed to be able to play with Hines now for five years. He's made me a lot better quarterback. Just the understanding and the level that we are on now, I think you'll see us communicating a lot better. You'll see us on the same page more than we've ever been, just because it's been five years together and we understand each other.
 
Q: What can you tell us about Mewelde Moore?
* *
BR: Well, I think Mo is a great running back. I think he's very good out of the backfield. I think he's good at picking up the blitzes and he's run the ball very well. I think he's a great compliment to Willie Parker and he's filled well when Willie's hurt.