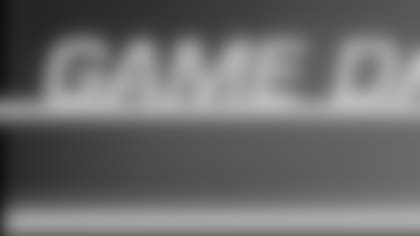 STEELERS AT EAGLES SUNDAY, SEPTEMBER 21, 2008 AT LINCOLN FINANCIAL FIELD - KICKOFF 4:15 P.M.**
Do you have an injury update on Shawn Andrews?
He is questionable.
 
If he can't go, what does that mean for your team?
It means that Max (Jean-Gilles) has to step in there; he did that in the preseason.
 
Do you have to adjust your game plan with a quarterback playing on a sore shoulder?
No, you are always going to try to get to the quarterback whether he has a sore shoulder or not. To say that you are going to try to get to him more with it, I don't think that is the case.
 
Do you think that would make them run a little bit more?
Yeah, possibly; they run quite a bit anyways. I know this; he looked pretty good out there with the sore shoulder. He looked like he was doing pretty well so I am sure that he will be fine.
 
Do you think that the NFC East is the toughest division? Why?
I think that we are probably going to need to wait until the end of the season. I know it looks like the teams in the NFC East are pretty physical. I think the toughest team you play is the team that you play that week. Right now, I think the Steelers are the toughest team. I don't get caught up in that other stuff too much.
 
In general, what makes it a tough division?
The teams; it's how they finish. It looks like there is some competition there and being that three-out-of-four of us went to the playoffs last year; we were the one that didn't. It is a compliment to the other three that they were quality enough to make it to the playoffs.
 
What do you attribute your quick start on offense too?
For the most part everybody is healthy, but a big part of it is Donovan being healthy for the first time in a while where he didn't have to go into the offseason rehabbing something. He is making plays mentally and physically and he is enjoying playing.
 
Can you talk about how McNabb protects the football?
In his career he has always done that; he has always been good with not throwing interceptions. You always knock on wood when you say that but he has always been good about that.
 
What problems does the Pittsburgh defense provide?
(Coach) Dick LeBeau is about as creative of a guy as you are going to find in this league. His players believe in what he does. He just does a lot of things with that 3-4 defense; he does as much with that 3-4 as anybody and then you add in there all of the crazy things that he does with his nickel and dime package; it is amazing that those players can digest it all. They do and they make very, very few mistakes there. They understand and execute it and they do it fast. He also has very good players there to do it.
 
That is how you can describe your own defense isn't it?
(Our defensive coordinator) Joe Johnson does a great job too. But Dick is a couple of years older.
*
*How does Dallas' 3-4 defense compare to Pittsburgh's and does it give you an advantage?
I don't think that it hurts; it's just that your rules are a little bit different there than they are with a four-man front. I don't think it hurts to have played it. They are different, however. At least your rules will be somewhat similar.
 

QUARTERBACK DONOVAN MCNABB
Talk about the strength of the NFC East:
I think it has been a growing process. When we had Joe Gibbs, (Bill) Parcells, Andy (Reid) and (Tom) Coughlin, everybody kind of looked upon it as being one of the toughest divisions in football; I think that was the start of it. I think that a lot of top picks have come in that can contribute early and some big-time free agent signings. Right now I think that we are at a point where all of the teams are highly competitive and are teams that people are watching across the league. Every week it is a battle; you have to bring you're "A" game. If you do that then hopefully you will end up at the right spot at the end.
 
How much of your success is based upon just being healthy?
I think that it is a small portion; a big portion for me but I think it is a small portion for us because a lot of guys have elevated their game. The offensive line has been playing well; our running back situation with (Brian) Westbrook, Correll Buckhalter and Lorenzo Booker; L.J. (Smith) is healthy as well along with Brent Celek; then at our wide receiver position we have been showing a lot of confidence in them because they have been working extremely hard. They have been making plays since training camp and minicamp. They are being rewarded by making catches and getting chances to make plays for us. I don't think that it is just that I have been playing well, or that I am healthy; I think that it is a collection of everything.
 
Did you feel that Dallas won the game on Monday or did you guys let one slip away?
We lost that game. We felt that we were the better team and that we should have won. Things happen in every game and you have to stay on the grind throughout four quarters. They did that and they came out with the win.
 
Do you think the Pittsburgh defense can give you more trouble than Dallas' defense did?
They have been playing well in the first two matchups. It is still going to be a tough game. There is not a drop-off in playing the Steelers. They are playing at a high level defensively; guys are making big plays for them. They look healthy so it is going to be a challenge for us on the offensive side. The same goes for our defense. They will be matched up with a two-headed monster at running back; Ben (Roethlisberger) has been playing well. He hasn't been asked to throw the ball a whole lot because they have been running the ball so well. I know that he is coming off of a shoulder injury so maybe there will be a little bit more pressure on their running game. It is going to be a test for all of us.
 
What did you expect from DeSean Jackson this early?
I think that looking at him and watching his progression, he has continued to work hard. If it is taking care of his body, if it is watching film, or spending extra time after practice perfecting his craft, that is one thing that you have to be satisfied with along with obviously making big plays in key situations. You have to remember that he is still a rookie and he has not hit the wall and hasn't suffered through the adversity yet. At this particular time he has been doing a great job; he has handled every situation well. The sky is the limit for him.
 
Did any of the veterans talk to him about his play the other night?
Well we discussed it; we discussed it after it happened and we discussed it on the way back and it is over now. Now we can focus on our next task at hand, going out and playing well against the Pittsburgh Steelers.
*
*Do you play in the toughest division in football?
I would say yes.
 
Why is that?
When you are playing against teams that have had the opportunity to make it to the playoffs and being very effective in the playoffs. You look at the Super Bowl champs (New York Giants) and it starts with them. They have been playing well in their first two matchups. The Dallas Cowboys play well; we have been playing well. The (Washington) Redskins played well last week; they didn't start out as well as they wanted to against the Giants but they have picked things up. Each week you have to be at the top of your game; you know it is going to be a battle. You want to be the team that comes out on top.
 
You have been with Andy Reid for 10 years now. How important is the coach/quarterback relationship?
I think that it is very important. I think that it is very important in translation for me to translate what he feels or what he is thinking to the offense as well as to the team. I think that it is just as important for that relationship to be there in everything that we set out to do. We all know that whatever positive happens, we get too much credit; for whatever negative happens with this team, we get too much criticism. We know that is part of the position and we handle it well. We just continue to stay side-by-side in everything that we try to accomplish.
 
How well do you know Ben and what do you think about his play?
I have known Ben since he was three; I pushed him in his stroller. I am just kidding. I have known Ben since his rookie year and we have been communicating back and forth since then. We are very big supporters of each other. Obviously winning the Super Bowl and getting that big check, he owes me some money. I am just happy for the success that he has had in Pittsburgh; he seems to be playing well.
 
Do you get jealous when a guy like him wins the Super Bowl so young?
You know I had my opportunity and hopefully I will have another opportunity. It is not about being upset with anyone; you are excited for them because it is a wonderful achievement. I know everything that you have to go through to get to a Super Bowl; to win it is that much harder. I think that they all played well to take some pressure off of Ben. I'm sure that he will tell you that he didn't play as well as he wanted to in the Super Bowl but the team rallied around each other and they played well.
 
How tough is it for a quarterback to play through an injury like Ben has?
I had a sprained shoulder in the offseason and it became national news; it is not that hard. You have to give it rest and you have to continue to strengthen it. When the time comes he has to be ready to go. I don't know the severity of his shoulder but I am pretty sure that we will see him this weekend.
 
What was your injury? Was it Type-1 or Type-2?
There was no type. That is something that really goes into the knee injury. As far as the shoulder is concerned, it is either tendinitis in the shoulder or it could be a labrum tear. I just had tendinitis in the AC joint. I don't know exactly what his entails but I'm sure he will be fine.
* 
*Yours wasn't separated?
No.
 
Your offensive coordinator recently said that you are going to be a first ballot Hall-of-Famer. What are your thoughts on that and on your first 10 years?
I have had a great 10 years. It has had its ups and downs; a lot more ups than downs. It has been a whirlwind. The things that I have set out to accomplish are obviously bringing a Super Bowl championship to Philadelphia. What better way than for Pennsylvania to have two Super Bowl champions in less than eight years. I would love to be a part of that; I'd love to be able to ride down Broad Street, hoisting up that trophy and hearing our fans cheering the Eagles chant.
 
What do you make about Terrell Owens still taking shots at you?
I personally don't care; it is nothing that will boost my ego or tear my wall down. I play football and if you need me to motivate yourself then so be it.