By Teresa Varley
Steelers.com
After a year filled with heartache and fear, with worries and concerns, with uncertainty and anxiety, Aaron Smith finally got to enjoy different emotions this week – happiness and joy.
 
Smith and his wife Jaimie received news almost a year ago that sent their world spiraling. Their son Elijah, who was five at the time, was diagnosed with leukemia. Tears were shed and prayers were said. There were good days when things were hopeful and bad days when the world seemed dark.
 
But light has returned to the Smith family. Elijah is now a happy and healthy six-year old with a bright smile and boundless energy. And that was on full display when the Smith family, along with a huge gathering of teammates, family and friends took part in the Light the Night walk for the Leukemia and Lymphoma Society as a part of Team Elijah.

"It's hard to describe the feeling," said Smith, a burly defensive end who learned how vulnerable he can be. "To be able to come out as a family and celebrate this with people who are dealing with the same issues and same things it's unbelievable to me and my family. I can't say how far we have come in a year. It's just amazing."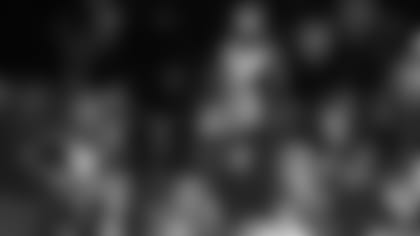 All members of Team Elijah, which included the entire defensive line as well as more than a dozen more players and their families, sported t-shirts with Elijah's drawing of a soldier fighting against the bad cancer
 
"It's good cells vs. bad cells," explained Elijah. "Bad cells are dying and good cells are winning."
Fellow defensive end Travis Kirschke, whose wife Amy organized Team Elijah and a pre-walk tent party with all of Elijah's favorites included, couldn't have been happier to be a part of it.
 
"It's exciting to see how excited Elijah is about tonight," said Kirschke. "It's a way for him to have the feeling he is doing something to help the cause. It's a blessing to be a part of it. When it's your family, guys are excited to be a part of it. It's nice to see. Everyone's family is excited to be a part of it. My kids are excited for Elijah to give him a smile. It's a fun night, a great night."
 
With the bright lights of the downtown Pittsburgh across the river as their backdrop the walkers lit up the area near Heinz Field as over 4,000 strong walked for their loved ones holding balloons with flashing lights.
 
And right at the front of the line of walkers was a proud Elijah, holding hands with his mom for a while and taking in everything around him on his dad's shoulders down the home stretch. His sisters Ellaina (7), Elysia (2) and Emilia (1) were also there, proud of their brother and what he has battled.

"When Elijah was in the hospital he was smiling," said Ellaina. "When he gets his checkups he is smiling and that is all because of God."

Having Smith and his Steelers teammates involved in the walk has helped draw attention to the battle against Leukemia and their fund-raising efforts.
 
"It was an amazing night," said Tina Massari, executive director of the Pittsburgh Leukemia and Lymphoma Society, who said the walk raised $600,000, with Team Elijah as one of the top fundraising teams. "Whenever you have someone like Aaron Smith saying this can happen to anyone and our family is involved and we want to be a part of it and join us it's always a huge call to action. People think he is a Steeler, he is involved and it can happen to him it can happen to anyone and we want to help out."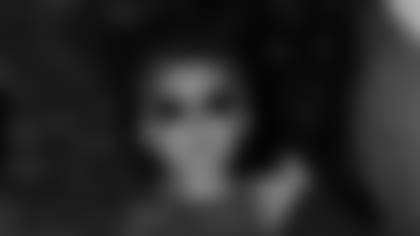 While the evening was all about Elijah and those who are fighting the battle against Leukemia, it's also about those who help them fight that battle and to a man, every one of Smith's teammates and coaches are impressed and amazed at the way he handled the past year.
 
"What Aaron had to go through all last year, being a Super Bowl year, having to leave work and go home to this was hard," said wide receiver Hines Ward, wearing light up glasses for the walk. "We are a close knit group. Elijah has 52 uncles on the team. He is one of ours. When one family is affected and having to go through something like this then we are all affected. They have our thoughts and prayers. As a father myself, our sons are around the same age, I couldn't imagine being a father and not being able to help protect your child. It could happen to anybody at any time. That's why we are out here to show our support for the Smith's and others who have to go through the same thing."
 
Defensive line coach John Mitchell knows better than anyone the effort Smith put in at work last year with all he was dealing with, and he can't sing his praises enough.
"He was unbelievable. I don't know if I could have handled it," said Mitchell. "Here is a guy who learns his kid has leukemia and he comes to work every day dedicated, he has not let the off the field problems affect the way he comes and prepares every week. I have tremendous respect for this man. I don't know many people who could do that – have their kid in the condition he was in and come to work and do the job he did."

But for Smith, coming to work was the easy part. The battle that Elijah went through, that is what being a winner is all about.
 
"It you would have told me a year ago at this time we would be here I would have thought you were crazy," said Smith. "I basically lived in a tunnel day to day. To tell me we would all be out here celebrating, coming together to fight this I would have never believed it.
 
"Now he is doing unbelievable. He started kindergarten. He is an amazing boy."

To view the full photo gallery by Mike Fabus, click on Team Elijah and go to the Off The Field section.