In celebration of Black History Month, we take the time to recognize and reflect on some of the members of the Steelers family who made significant contributions to the organization, the game of football and our community at large.
Today students from the Pittsburgh area visited the Pro Football Hall of Fame where they took part in a program with Steelers Hall of Famer Donnie Shell, who attended South Carolina State University, which has recently been ranked as one of the nation's most influential Historically Black Colleges and Universities (HBCU).
Good things come to those who wait, and for Steelers Hall of Fame safety Donnie Shell, that was certainly the case.
Shell had to wait 33 years after his retirement from the NFL to be selected to the Pro Football Hall of Fame as a member of the Centennial Class of 2020, celebrating his enshrinement in 2021 after the pandemic delayed it one year.
And on Tuesday, he shared his story of perseverance, of never quitting, and of always holding out hope with students as a part of Heart of a Hall of Famer, a program through the Hall of Fame.
"It's a character-based education program where we focus on the Hall of Fame's use of commitment, integrity, courage, respect, and honesty," said Nathan Martin, Youth and Education coordinator for the Pro Football Hall of Fame. "It makes these players feel more real and relatable. Sometimes we either watch the highlights or saw them on TV and they seem unattainable. But they are a human being just like you and me. They have learned through the years how to overcome adversity and trials. Football taught them some of those lessons and some of those lessons they learned from their own life experiences. I think students sometimes relate to that."
Students from the Pittsburgh area, including those from the Bishop Canenvin High School football team, as well as students from the Canton region, took part in the program, touring the Hall and then taking part in a Q & A with Shell, learning about his time in the NFL and how that perseverance paid off.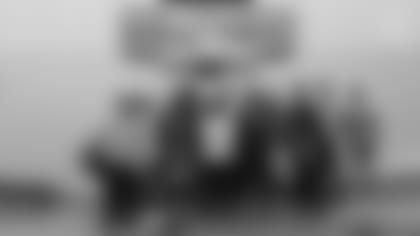 "I wasn't drafted. I played linebacker in college, and they switched me to defensive back. I came to a team on the cusp of being great. And they had an All-Pro in the secondary. That was a challenge to me not only to make the team but to try and unseat somebody that had been an All-Pro before. Perseverance sticks out to me in my mind.
"When I went up (to Pittsburgh) I had to persevere. I ended up being one of 13 rookies to make the team in 1974. You have to persevere. Sometimes the Lord gives you talents and abilities, and you don't have success right now. Don't quit, don't give up. If I would have quit, I never would have been an NFL player. Not only an NFL player, but an All-Pro player.
"When I was in high school and college, I never sat on the bench. When I got to Pittsburgh the likes of Mel Blount, J.T. Thomas and Mike Wagner were All-Pro and I had to sit on the bench. Don't be afraid if you don't start, don't make the team the first time. The Lord is trying to teach you about perseverance and your attitude."
The program with Shell was part of the Hall of Fame's celebration of Black History Month, and as player who came from South Carolina State University, a Historically Black College and University, he understands the progress that is being made with putting the spotlight on those players.
The Black College Football Hall of Fame, of which Shell is also a member, is now housed in the Pro Football Hall of Fame in Canton, and the first ever HBCU Legacy Bowl took place last weekend in Louisiana.
"If it wasn't for an HBCU, I probably wouldn't have had an opportunity to go to college," said Shell. "I got a scholarship. I got my degree. When you get your degree, you create options for yourself.
"I never would have thought the Pro Football Hall of Fame would have the Black College Football Hall of Fame. It means they respect the history and what it stands for. (The Legacy Bowl) is giving players opportunities. Most people who come from Historically Black Colleges and Universities just want an opportunity to show what they can do."