When you mention the name Art Rooney Sr., you think of Pittsburgh. You think about sports, football and the Steelers in particular. You think about giving back. And you think about faith.
It is from that combination, that love for what is close to him, that a passion was born.
Rooney, whose Catholic faith was in the forefront of his life, saw that a local organization, the Catholic Youth Association (CYA), was struggling financially back in the 1970s. He knew he needed to step in and help one of his favorite charities, ensuring that they would be able to continue on with their mission.
It was with that passion that the Art Rooney Award Dinner was born, an annual event that benefits the CYA. It's an event that has embodied what Art Rooney Sr., lovingly known as "The Chief," believed in and his grandson, Steelers President Art Rooney II still oversees.
"It's been going on for a long time," said Art Rooney II. "My grandfather was one of the founders of the dinner many years ago. It's great to be able to carry on a legacy he started. The Catholic Youth Association has been helping people in our community for many years. It's great so many people in the community are willing to get together to make a difference."
The dinner was held on Monday night, bringing together Pittsburgh's leaders in business, education and sports to combine efforts to help the CYA serve the most vulnerable in the community…children and the elderly. The dinner honors "Pittsburgh's Champions," those that have made a difference in the community and have a passion for Pittsburgh.
Ryan Shazier was among those honored, receiving the Bob Prince Award. The award is named after Prince, the late Pittsburgh Pirates radio announcer and honors someone who embodies his enthusiasm for Pittsburgh sports.
Shazier is a prime example of that, someone Art Rooney II refers to as a 'remarkable person.'
"To me it's truly an honor to have Mr. Rooney think of me for this award" said Shazier, who was placed on the PUP list on Monday. "I am thankful. I have been working my tail off through the good and the bad. They have been there for me. I thank them for all of the support they have given me. I am thankful they even thought about me for this.
"I consider myself a Yinzer. It means a lot because I know the whole city has my back in every form, when it comes to sports, life, on a daily basis. I am thankful he thinks I represent the city, and the sports here."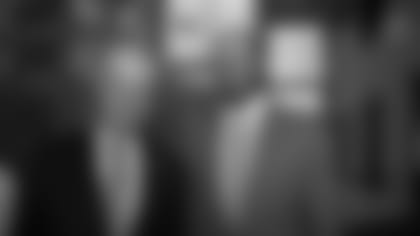 Going into the 2017 season one of Shazier's goals was to just be healthy, to get through his first season without having to battle the injury bug.
"That is one of the most painful things," said Shazier during the 2017 offseason. "It's not like people get hurt on purpose. I know I have the ability to be one of the best linebackers in the league. I just want to do the best I can to stay healthy, do what I can to help this team and show everybody what I really can do."
Shazier was doing just that as the 2017 season was rolling along. He led the defense in tackles numerous times in the first few months of the season, had three interceptions and 11 passes defensed. He was on his way to doing what he wanted to do…showing everyone he was one of the best linebackers in the NFL.
On Dec. 4, 2017, everything changed.
Shazier suffered a spinal injury against the Cincinnati Bengals that night and underwent spinal stabilization surgery two days later.
He has been an inspiration since that day, taking a positive approach to his recovery. He didn't sit around feeling sorry for himself, instead getting out and doing everything he could, first coming to Heinz Field for a game, then standing at a Penguins game, walking across the stage at the NFL Draft to announce the Steelers No. 1 pick, and walking across the practice field on his own during training camp much to the delight of Steelers Nation.
When the Steelers played in Cincinnati, he visited the University of Cincinnati Medical Center, the facility he was taken to immediately after the injury, to say thank you to the staff.
Shazier walked on the field at Paul Brown Stadium under his own power, led the linebackers before the game, and inspired the team in their comeback win over the Bengals.
While Shazier has been there for his teammate's day in and day out, from practice to games, it hasn't always been easy for him.
"It's very difficult for me just being there," said Shazier. "It motivates me and pushes me more and more every day. I am not going to lie. Before every game I hear the National Anthem, knowing when I hear the National Anthem it's time to play. It eats me inside. Sometimes I might start crying when the National Anthem is on. It's tough sometimes.
"I know I am still motivating those guys because they see me pushing every single day. It pushes them too. Sometimes it hurts because I might see our defense went on a slump and we didn't have any turnovers and I knew I could have gone out there and made something happen or made a play. At the end of the day I just have to give them the knowledge I have and try to help them every single day I can."
Shazier has made incredible progress since the injury, to the point now where he is walking on his own, lifting weights, and making strides many never could have imagined.
"My doctor said I am further than they expected me to be," said Shazier. "The rehab, the recovery and the pace I have been doing, there are no doors closed. He said you have to keep working, keep grinding. How hard you work is a possibility if you can make it back or not."
Shazier said his goal is to 'definitely' play football again, and he is working daily on fulfilling that.
"I try to tell people at the end of the day, just because I got hurt, doesn't mean I lost the love of the game of football," said Shazier. "I love football so much. I just care about the game. I really feel like the game has taken me places I never expected to go. I am putting my everything into it. I feel like I was the best linebacker in the league. I don't want to leave that as my legacy. I feel like I have so much to show.
"From where I was at to where I am now is a testimony to God. It also tells you never give up on your dreams, never give up on what you want to be. Always keep pushing. It feels great to be back out there able to lift weights. Just to get back to where I was, lifting weights, doing football type of things, feels great.
"I always have a positive mindset. Always stay positive. No matter how bad the situation might be, there is always a window of opportunity to always get better, always keep pushing. A lot of people never thought I would be walking again. I just trusted myself, trusted the Lord, kept pushing and I am here."
Shazier, whose fiancée Michele recently gave birth to their son Lyon, said he still gives kids the same advice he did before about playing the game he loves so much.
"I tell kids the same thing I told them before," said Shazier. "Just because I got hurt doesn't change things. You go out there and play the way you love the game. The game gives you what you deserve. I don't feel like I deserved this. At the end of the day the Lord had a message for me. I am reaching out to a lot more people than I probably would have even if I won the defensive player of the year award or anything like that. I tell them if you go out there every day and play like you love the game of football, football is going to show you the love back."
In addition, this year they introduced the Patricia R. Rooney Award, the first award in CYA history named after a woman. The award, that honors women who work tirelessly to make Pittsburgh better, was presented to Sister Louise Grundish, who has helped with the dinner for 45 years and is on the CYA board.
Also honored were Eva Blum, Chairperson, University of Pittsburgh Board of Trustees who received the Art Rooney Award, presented to an individual who is a 'Pittsburgher' and is devoted to the community and Pittsburgh the way Art Rooney Sr. was. In addition, Sally Wiggin received the Bill Burns Award, Dr. Susan Manzi the John McGrady Award and Mark Lewandowski the Cardello Award.
About the CYA: The CYA is a true neighborhood community center, operating in five sites and providing social, educational and health-related programs. Among the programs are a summer residential camp for over 200 boys and girls ages 7-14; Meals on Wheels; health and wellness activities for seniors; transportation programs for the elderly; and an intergenerational program that brings seniors and pre-school children together to form a bond.