A sign at Kelly & Nina's Daycare Center says it all.
"Where the place is small, but the love is big."
Right now, the love has never been bigger.
Buffalo Bills safety Damar Hamlin, who suffered cardiac arrest after a hit in the Bills-Bengals game on Monday night, adopted the McKees Rocks, Pa. daycare center in his hometown as his pet project when he played at the University of Pittsburgh.
Hamlin, who according to doctors is making great progress, started a GoFundMe to raise money for toys for the kids served there, the same center where his mom, Nina Hamlin, is the director. His goal was to raise $2,500 in 2020 to help the kids there who were impacted by the pandemic.
Since Monday, the GoFundMe page, which is through his Chasing M's Foundation, has generated more than $8 million in donations and continues to grow to help support Hamlin's efforts to help his hometown, which is just outside of Pittsburgh and the daycare located less than 15 minutes from Acrisure Stadium.
On Friday, Steelers players stopped by the daycare to deliver toys, books and supplies to aid Hamlin's wish of helping his hometown. And they went with their hearts a little happier as he is continually showing positive progress.
"It's just a way that we can give back," said cornerback Levi Wallace, who played with Hamlin in Buffalo in 2021. "Just to be able to give back to kids that he works with and his community he loves so much. We're doing it just to honor him and show our love for him that we're supporting him here in Pittsburgh.
"Just hearing the great news that he's doing better, I think comes just from a grateful place. I've seen how hard he works on and off the field and so anything that I could do here in Pittsburgh, I'm here to do."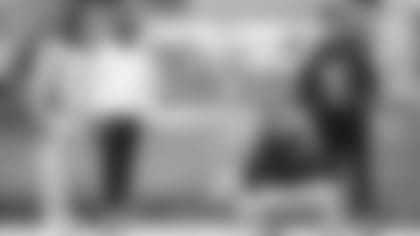 According to the Bills, Hamlin was able to FaceTime with his teammates during a team meeting on Friday, telling his teammates, 'Love you boys.'
"First I am walking around with a big smile because I just saw everything, that his is able to talk and all," said defensive back Tre Norwood. "That's a huge step that he is progressively getting better.
"Doing this means a lot to me. Damar and I developed a friendship over the past couple of years through football. Being here in Pittsburgh, you see how much the city loves him, how much he gives back to the city. With all his family is going through right now, we just want to help out a little bit. I am smiling because of the good news that he is getting better and still sending prayers to him and his family each and every day."
The players walked in with armfuls of toys, trying to bring some joy after a difficult week for everyone.
"It's doing anything I can to just show my support," said safety Terrell Edmunds, whose brother Tremaine plays for the Bills. "That's my dawg. I had him in my prayers and everything. Any way I can support him or his family, show them that I care and that I'm there for them, I want to do."
The rallying around Hamlin is a sign of the relationship NFL players have across the board. When you hear 'football is family,' this is a sign of how true that rings.
"This is beyond football. It's bigger than just the game," said cornerback Cameron Sutton. "This is truly a brotherhood, regardless, if you know the individual personally or just came in contact with him across the league. D. Ham is affiliated with this community having played here. His foundation, not just his work, but his foundation individually, everything that he has done here, and cities elsewhere as well. Just doing something special as an organization in the sense of giving back, coming together, and just offering a positive uplift. That's all we can do right now. Just keep doing the right things to push him in the right spirit."