By Teresa Varley
Steelers.com
For a while the aches and pains were forgotten about. The beeping from the IV machines was drowned out by laughter. And the fear of being in the hospital was replaced by excitement.
 
It was a chance for kids who are undergoing treatment at Children's Hospital of Pittsburgh at UPMC to get a break from the reality they face every day and enjoy some fun time in the hospital's playroom with the Steelers rookie class.
"It's cool for the Steelers to come out and hang out with the kids," said Keith Foster of East Liberty, who brought his young daughter Jordyn from her room to meet the players. "They cheer for the team and it's good they give back to the community. It's good for the kids to meet them and learn who they are. The kids that are down it brings them up a little bit."
 
Players pitched in and helped with art and crafts, played games with the kids and some went room to room to visit patients who were unable to make it down to the playroom.
"Its fun just seeing the little kids," said wide receiver Mike Wallace. "They are excited to see us, but I am excited to see them. They are fighting through a lot of adversity right now being in the hospital, but they are still happy and it gives me something to smile about.
 
"They are battling a lot of things I don't know if I could make it through. It gives you a sense of hope when you see little kids, five and six years old, battling through things and they are happy so you have to be happy. Their challenge is a lot harder than mine. If they can make it then I've got to make it in football. They are challenging life."
 
But don't think that just because they are kids that the players went easy on them when it came to the games. After all, this is a competitive group, and pride was on the line especially for number one pick Ziggy Hood when it came to tic tac toe.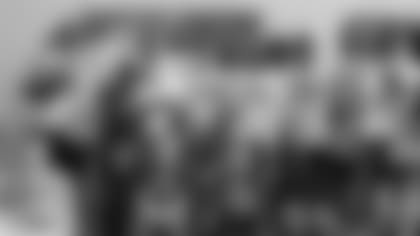 "I just lost to Mark and he is from Cleveland and I think I let the people of Pittsburgh down," said a smiling Hood. "Right now I am trying to reclaim my title of tic tac toe king. I lost and I hate losing. I am ready to reclaim the title. It's real fun."
As Hood looked continued to talk, and much to his dismay lost again, he got serious for a minute, seeing the pint sized patients who were so thrilled to spend a few moments with him.
 
"It makes you feel a whole lot better that you can liven someone's day up," said Hood. "It not only makes them feel better, it makes you feel better. It's a feeling that is hard to explain right now. It's emotional, I can tell you that."
Emotions were something that did run high, especially when it came to parents who were seeing their kids smile maybe for the first time in a few days. And while it was all about the patients, their siblings also got to meet the players, something that was a blessing for Brandie Bandi of Butler, whose daughter Alyssa Ament is in the ICU unit but her three sisters were able to enjoy some fun, drawing pictures with cornerback Joe Burnett and doing crafts with David Johnson.
 
"It is a wonderful thing," said Bandi, her eyes tearing up as she spoke. "It's so nice for them to have some them time. They come down to the hospital, there is not a whole lot to do, they are upset and they get a little time away to have their spirits lifted. It really is a wonderful thing they are doing.
"I have been here since Sunday and we are in for a long haul. It's a nice thing to have your mind taken off for a couple of hours."
Derek McCarriher, a 15-year from Ambridge proudly got the helmet he has to wear after having part of his skull removed signed by each one of the players. He also showed off pictures of himself before the surgery to wide receiver Tyler Grisham, who has the same curly hair McCarriher had before it was shaved off for surgery.
 
"Whenever my mom told me the Steelers were here I was laying in my bed about to fall asleep, but whenever she told me I was about to go run a marathon I was so happy and excited," said McCarriher. "It's awesome to see the Steelers. I never met any before. It's a great pick me up. Look at me. I am grinning from ear to ear."
 
The visit is one of the projects that the Steelers Rookie Club does throughout the season and for all of them it truly was a moving experience as you could easily see how it touched their hearts.
 
"It's fantastic just to come out here and see the smiles you can put on the kid's faces," said A.Q. Shipley. "Get them doing something different than their normal routine. Getting out here and seeing their smiles, hanging out with them and having fun is an awesome opportunity for all of us. There are times when we think we have it tough and you come out here and it puts things into perspective."