B.J. Finney may have played zero offensive snaps in a 2020 campaign split between Seattle and Cincinnati, but he's counting on being much busier this season now that he's back with the Steelers.
"With (guard) David DeCastro really being the only returning starter everything's open, everybody's competing for a spot," Finney said following today's OTA. "It doesn't matter where it's at on the board, it's always up for grabs.
"I'm coming in with a vet presence and the experience that I have and I'm going to do my best to be a starter come Day One."
Finney started 13 games in his first four seasons with the Steelers, from 2016-19.
And whether he was starting at guard or center, the offense seemingly never missed a beat.
But after he left for Seattle via free agency following the 2019 season, Finney soon found himself in the wrong place at the wrong time.
"With COVID everything kind of got shut down, and the gyms around me got shut down," he said. "I was in communications with Seattle, they couldn't get me out there, get my physical. It was the one time I had finally seen some money and I wasn't going to risk losing all of that money and that opportunity by training and getting hurt away from the (team) facility. What goes along with that is you show up to camp overweight and out of shape and I got beat out, there's no way around it.
"When it comes to the mid-season trade, they needed a pass rusher and they needed to free some cap space and Cincinnati wanted offensive linemen so they traded me. Got there to Cincinnati, they got guys back that they liked, that they were comfortable with back from injury and they didn't need me. So they just kind of put me on the shelf and at the end of the season I had a hernia, so I had to have that repaired. The rest is history, they released me in March and here I am.
"I'm getting better now. Now that I'm here training at the (Steelers') facility my weight's coming down, I'm feeling good, feeling like my old self and moving better."
Finney has returned to a team that finished last in the NFL in rushing last season and one that's determined to run the ball much better in the season ahead.
"That's the talk, not just in our (offensive line) room but across the whole building and across the whole NFL," Finney said. "Everybody's like, 'What is the Steelers' run game gonna look like?'
"We know we have to come out with an edge. We have to be nasty about it. We have to re-assert that run game and get back to what Pittsburgh is known for. We take pride in it, we're hungry, we know we have something to prove and we have a chip on our shoulder."
One thing Finney and the rest of the Steelers' offensive linemen will have to do without this season is the daily presence and influence of former player and broadcaster Tunch Ilkin.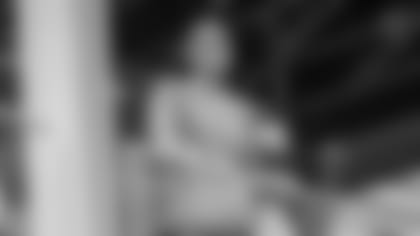 Ilkin, who watched Thursday's OTA session at the UPMC Rooney Sports Complex with Art Rooney II, Kevin Colbert and Craig Wolfley, spent 13 of his 14 NFL seasons as an offensive tackle for the Steelers (1980-92).
It's an association that will be sorely missed.
"I don't know if you can really put a value on it," Finney said. "Tunch is a titan, man, he came in, worked with all of us when we wanted work. He's always taking to us about what we're doing, techniques and things that he's learned, and has just been a great guy, a great mentor to anybody and everybody that's asked him for information or help.
"It stinks because I love seeing him around the place. Now, I'm going to have to go visit him at his house on Mt. Washington. He and 'Wolf' (former teammate and broadcasting partner Craig Wolfley), always together, now we're kind of wondering what that's gonna look like ourselves. But love Tunch, wish him the best in what he's going to have to fight and go through, and hope he knows that we all have his back and we'll do anything for him every step of the way."