The Steelers will have a huge presence in Canton, Ohio later this summer, with Bill Cowher, Troy Polamalu and Donnie Shell being enshrined as members of the Class of 2020 on Aug. 7, and Alan Faneca as a member of the Class of 2021 on Aug. 8. In addition, Bill Nunn was enshrined in April as a member of the Class of 2021 and will be recognized during the ceremony as well. Leading up to the enshrinement, we will feature some Hall of Fame stories and moments as part of the Countdown to Canton. With the Hall of Fame enshrinement just '43' days away, we are starting with Troy Polamalu's presenter.
Before he got a phone call from Troy Polamalu, all Dick LeBeau was hoping for was to be in Canton, Ohio, on Aug. 7 to witness one of his prize pupils get enshrined into the Pro Football Hall of Fame as a member of the Class of 2020.
Once his phone rang, he found out it would be a whole lot more.
Polamalu asked LeBeau, who was his defensive coordinator with the Steelers, to be his Hall of Fame presenter.
It didn't take even a second for LeBeau to accept. Because Polamalu is family to him.
"I am very honored. I can tell you that," said LeBeau. "I was so thrilled and happy for Troy when he got selected. I thought it would be unbelievably great if I was there just to see it. It was just so important to me that Troy go in, and that he got in with the first opportunity that was available to him. I had been telling everyone for five years that Troy would go in on the first chance he had because he was that great and certainly deserves it.
"Troy has a lot of people in his life. I would have understood wherever he went. I was over the moon when he did call and say he would like me to present him.
"Our players were like my sons. You saw it, you know personally how close we were as a defense. It's going to be great putting your son in there."
A father-son relationship truly is how things were with LeBeau and Polamalu, as well as the other players he coached during his two stints with the Steelers, the second one from 2004-14.
"I think there are many situations like that on that defense where we were so close to each other," said LeBeau. "They were extremely talented and were so successful. That 2008 defense, I don't know if anybody will put numbers up like that ever again. It was such an honor and a blessing to be a part of that.
"I think in the situation with Troy, his particular talent and ability matched up perfectly with the way I like to attack on defense. I think it was just a perfect union."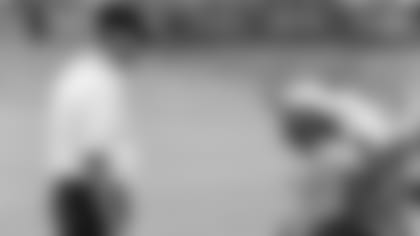 LeBeau said he doesn't plan on writing anything ahead of time, instead speaking directly from the heart, something that doesn't come as a surprise.
He admits that it will be the moment when he helps Polamalu unveil his Hall of Fame bust that it will really hit for him, something he remembers well from when he was enshrined into the Hall of Fame as a member of the Class of 2010.
"I couldn't think of a happier moment. It will be ever bit as happy as when we were unveiling my bust," said LeBeau. "I think there may be some more Steelers off of that group going in there one day.
"The popularity of Troy was nationwide, probably worldwide, but I can't substantiate that. I do know he was famous and well known and a favorite player of people across this country. That is where great, great stars end up. They end up in the Hall of Fame of their sport. In Troy's particular case, he is every bit as good a man, husband, and father as he is a football player. That is a great combination.
"I can't wait for it. That is one of the neatest things about getting to be there, have the honor to be there by his side, is to see his friends and teammates. I know when I went in in 2010, the franchise took the whole team there and they all sat back in the left together. I couldn't look back there at them. I would have started crying.
"It's going to be so neat to be back in that arena and see the guys that were there when I went in, now there to support one of their own who is going in. It's going to be great. A family reunion without a doubt."