By Teresa Varley
Steelers.com
The Steelers commitment to breast cancer awareness month was on display when players took part in a healthy cooking demonstration for breast cancer survivors at Magee Women's Hospital.  
Deshea Townsend, Max Starks, Dennis Dixon and Tony Hills all tried out their cooking skills in preparing healthy fare, something that is stressed as a part of the proper nutrition for cancer survival.
And they scored big points with the ladies who were all decked out in black, gold and of course pink.

"I think it's great people like them care enough about us," said Tasha Hall, who is still undergoing treatment. "They have family members who have gone through it so it's nice they take time out of their busy schedules to come and spend time with people like us who have gone through what they have."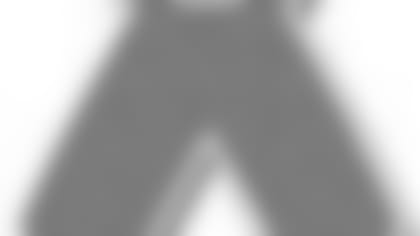 All four players have a personal reason for being there. Townsend and Dixon both lost their mother to breast cancer, Hills lost his grandmother and Starks is the lucky one as his mother Elleanor is a 17-year survivor.

"It's my way of giving back and appreciating all they go through and trying to help them have a better quality of life," said Starks. "I can't but help in that process."
Townsend wishes his mother, Lena, would have had the same guidance he helped provide. When she was diagnosed she kept it to herself, not revealing what was wrong until it was too late for her to get the help she needed.

"For her to know about it and keep it to herself, the opportunity she could have had to beat cancer, she might be here today," said Townsend. "If one person can gain something that (my mom) might have missed, then this is so worth it. That is the blessing that it is."
 
Each player took their turn preparing one of the items on the menu, showing off some pretty impressive talents in the kitchen.  
 
"Being a professional athlete you have to watch what you eat," said Starks. "As with life you have to watch what you put in your body to help your body efficiently run and not slow down over the years. I think it's important they watch their diet like we watch our diet."
 
The cooking class is part of Magee's Live Well Survivorship Program, and the involvement of the players brings attention to an issue that many survivors might not be aware of.
 
"It's so neat to see how they are participating and trying to get the word out to everybody that there is help and there is a life after cancer," said Susan Colson, a six-year survivor. "I think having them participate in the program puts the word out for everybody."
 
Each one of the players hopes that the healthy lifestyle message has an impact on the survivors who took part in the class, and any others who learn about the program.
 
 "I want to do the best I can," said Dixon, who along with his teammates signed pink Terrible Towels for those attending. It takes a lot of dedication. I am quite sure the women in this room have that. It's all about maintaining that and I think they can do it. I have been affected and I don't want anyone else to have to go through what I did."
To view the full photo gallery by Mike Fabus, click on **Cooking Class** and go to Off The Field