Baron Batch was smiling and laughing as he attacked the foosball table with all his might, all the while encouraging 10-year old Lucas Sumney to do the same. But it was Sumney that was the star, the one who led him and Batch to a big win.
"I discovered I am not very good at foosball and Lucas is a ringer," said Batch. "He carried the team to victory and I appreciate it. It's fun to come out here and hang out with him. These are the types of events I love to do. You interact and get to know the kids."
Batch was one of four Steelers' players, along with Kelvin Beachum, John Malecki, and David Paulson, who was a part of the Muscle Team, an event held at Heinz Field that benefits the Muscular Dystrophy Association. Local sports figures, as well as Pittsburgh firefighters who raise funds for MDA, are teamed with a young MDA Goodwill Ambassador living with the neuromuscular disease for an evening of fun and games.
"This means a great deal," said Lucas' mother, Kimberly Sumney. "They have so much fun doing this. I walk around and just watch him have fun. It's great. They have fun, they meet these athletes and just get to be a regular kid and get so much attention."
While some might be confined to wheelchairs, and others have struggles that aren't as visible, they are just like any other kid. They love playing games, laughing and joking, and soaking up the excitement of the night.
"It's one of the most exciting events we have all year," said Cathy Majka, MDA director of business development. "It's a chance to make the kids feel like a hero, feel like a celebrity. They get to come out and have a good time. That interaction touches everyone here. And with the business leaders of the Pittsburgh community here too, it helps us raise a lot of money to help our cause."
This year's Muscle Team event honored Joseph F. Lagana, founder and CEO of the Homeless Children's Education Fund, with the Guy Buzzelli, Jr. Champion of Spirit Award, and Mike Dunleavy, business manager of IBEW Local No. 5 and Rich Riazzi, President and CEO of Duquesne Light, with the Team Coaches Award, for their support of MDA.
But the true stars of the night were kids like Kendle Haught, 10, who was teamed with Beachum to play games all evening. Beachum loved her spirit and enthusiasm, not allowing her wheelchair to slow her down or dampen her enthusiasm.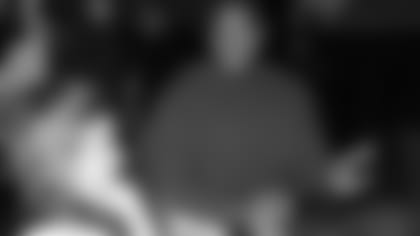 "It's almost like a family type of connection we have already made," said Beachum. "You learn about the kids, she just had surgery two days ago. It feels like it's your family already, it's very intimate. I look forward to the bond her and I are going to have moving forward. I have already embraced her as someone I am going to see often."
Malecki and Paulson had the pleasure of hanging out with 17-year old Danny Markel, playing games, having a caricature done and just quickly becoming friends.
"It's always fun to be able to interact with them," said Paulson. "They have a good time and we have a good time getting to know each other."
There was a live and silent auction held to help raise funds to support the fight against MDA and to help fund an annual camp for the kids. And while that was an important aspect, the main focus was on the kids whose lives are impacted by the disease.
"I love interacting with these kids and being around so many people with such high spirit," said Malecki. "There are so many fun games to play, and it puts a smile on their face and that is what it's about, coming out and helping somebody out. You get to know the kids on a personal basis, and that sticks with you for a long time. That is what it's all about. They are no different than any other kid. They like the same things we do. I have a lot in common with Danny. We know some of the same people. We are really bonding. When he leaves here I hope he feels like he made a friend."