By Teresa Varley
Steelers.com
It was a picture-perfect opportunity for those enrolled at Communities and Schools of Pittsburgh and Allegheny County when they were able to visit the Heinz History Center and explore the *Behind the Scenes with the Pittsburgh Steelers: Photographs by Mike Fabus *display and learn about a potential career in photography.
Fabus, the team's photographer, guided the group through the display and gave them insight on a career that many might have thought was out of their reach.
The group is part of a diploma retrieval program, given the chance to obtain that diploma from a school that they either dropped out of or left for various reasons.
"It's incredibly valuable to do this," said Daniel Nehrer, the school's Social Studies teacher. "They don't often leave neighborhoods and get around the city, let alone come to the History Center. When we get a chance to do it, they jump at it. We took them on a tour of Heinz Field too. They don't get to go to games."
The students, who range from 16-22, are going through the program in an effort to have more potential in the future. The school tries to expose them to as many different careers to keep their options open and let them see what the world offers.
"We try to do as many of these things as we can so they know what they can do when they leave, whether it's a traditional job or a non-traditional job like photography," said counselor Bill Winston. "A lot of them don't realize they can do this. They have creativity. They have imagination. Their vision of what life offers them is very shallow and small. We go to different places so they get a chance to try different things."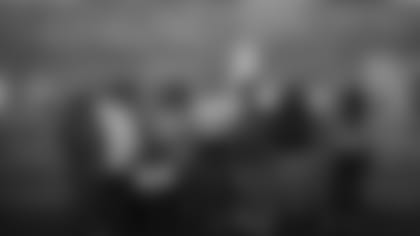 The group gathers around photos.
Showing students a lens used on game day.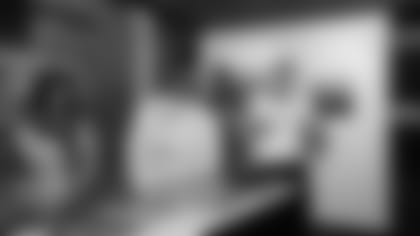 Covers from Game Day Magazine and Steelers Digest explained.