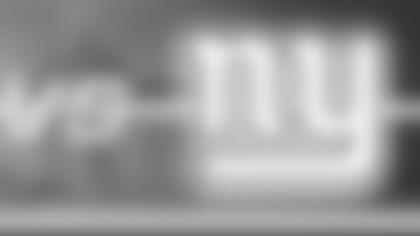 STEELERS vs. GIANTS SUNDAY, OCTOBER 26, 2008 KICKOFF -- 4:15 P.M.  GIANTS CONFERENCE CALLS
What is it like coaching Plax (Plaxico Burress)?
Plax is a very, very gifted and talented athlete who can play the vertical game. He is up high; he is a tremendous guy who shows up for you big in the green zone. He just has so much athleticism going for him. He is really an outstanding receiver and an excellent target.
 
Is he a challenging player to coach?
On occasion there are issues, but I am not going down that road.
 
What is the secret to the success of your defensive line, especially after losing two key guys?
We have good players and have made the necessary adjustments with (Mathias) Kiwanuka playing down. The guys work hard and they are committed. We have tried to accept the fact that we lost a Pro Bowl player in Osi (Umenyiora); we have to move on and the guys have done a good job.
 
Are you worried that a precedent has been set with players openly disrespecting you?
What is the next question?
 
How have Eli Manning and Ben Roethlisberger developed as quarterbacks?
They have both won a Super Bowl and I think that that bodes well for two young quarterbacks who had an opportunity to play as young guys and experienced a lot going through the first couple of years. They stood tall and accepted whatever challenge was thrown in their way. They have each in their own right made outstanding contributions to the game and to their franchises. I know that, speaking of Eli, our thoughts have always been with the arrow pointed up.
 
What is the key to the low number of sacks that you guys have given up?
I think that there is a combination there. Our offensive line has done an outstanding job of protecting him. Eli is very much aware of what is happening with the defense; the ability to get rid of the ball and get it into somebody's hands very quickly, all of those things come into consideration.
 
Does having a good running game help as well?
That is where it starts.
 
How does the play of your secondary help the pass rush?
Obviously it is not all zone blitz so you do have some people who have to be engaged in single coverage; they have to hold up and be in good stead long enough to get people home so certainly that is a factor.
 
Does your running backs coach, Jerald Ingram, have what it takes to maybe be a coordinator one day?
Jerald Ingram is an outstanding football coach that has been with me for a long time. If he had that opportunity then he certainly would be ready.
 

What are your thoughts on playing with Plaxico Burress?
He is a tremendous player and a tremendous athlete; a guy who wants to be good. He works hard; he is such an athlete out there that he presents mismatches with cornerbacks just because of his size and his ability. He makes plays and he has done a great job making big plays for us over his career here.
 
Is he challenging to play with as a teammate?
We get along great; we work hard. We talk about the game plan and what we expect from each other. We have gone through certain stuff with him. Obviously last year he was injured and he couldn't practice but he was always committed and was always around me trying to get as prepared as he could before a game, even though we weren't getting the practice and the looks. He doesn't say a whole lot, he is kind of quiet. We talk so I know that he prepares and studies and takes notes because on game days he knows exactly what is going on.
 
Is there any sort of rivalry with the other quarterbacks from your draft class?
No, there really isn't. As a quarterback you try to get your team prepared. Early on you are just trying to learn as much as you can to become a better player each game, each week and each season. All you can really do in this league is try to improve your own ability and help out your own team to win games for your own organization.
 
So you and Ben (Roethlisberger) don't get together in the offseason and show your Super Bowl rings to (Philip) Rivers?
No, we don't do that. I have a lot respect for Ben and I have a lot of respect for Philip and for the job that they have done and for the way that they have competed and played over the years. I have enjoyed watching both of them play and respect how they compete each week.
 
Was the last matchup versus Pittsburgh in 2004 important for your development as a quarterback?
I remember that game because I was coming off of an awful game at Baltimore; it was early in my career and I was going through some struggles. We came to play Pittsburgh, a team that had won a bunch of games in a row and was hot; they were playing great football; their defense was one of the best in the league at the time. We came out and we played well. I finally played decent for the first time and managed the game pretty well and made some big plays. At the time it was important for me and for my confidence and the confidence of my teammates that I could go out there and compete, and put us in the situation to possibly win the game.
 
Has Plaxico ever talked with you about his time in Pittsburgh?
Yeah, he has talked a little bit about it but nothing serious about it or nothing that I can recall.
 
Did you like Plaxico's book?
I haven't read it yet because I don't get much time to get reading in during the season so I haven't got to read it yet.