By Teresa Varley
Steelers.com
The sunglasses hid the teary eyes, but there was no way to mask the quiver in the voice of Wendy Miller as she walked across the field at the Steelers UPMC Sports Performance Complex and saw her 10-year old daughter Heather stretching alongside the defensive line. Heather has been fighting and battling Ewing Sarcoma, a rare disease where cancer attacks the bones and soft tissue, for the past eight months and this was a day for her to just be a kid. It was a day without doctors and nurses; a day without needles and pain. A day for her to have fun and have a dream come true thanks to the Steelers and the Make-A-Wish Foundation. And for her mother Wendy, it was an emotional blessing.
 
"It leaves me speechless," said Wendy Miller. "There are a lot of tears. I get really choked up to see a lot of people go out of their way for our daughter. It's humbling. To be able to share a day like this since Steelers football has been a huge part of our family life is amazing. We have never been to a game at Heinz Field, but we have been to games in our living room cheering loudly. For her to see they are real people and have hearts and their kindness is inspirational. Just seeing that they care about her…"
 
Her voice trailed off, the quiver returning, but when she looked out and saw Heather and could hear her laughing, she couldn't help but smile.
 
"The Steelers are doing things for her today that we can't do for her," said the happy mom. "Make-A Wish has made a dream come true for her."
 
Heather Miller has been a Steelers fan, as she said, her "whole entire life." Her family lives in Bedford County, about two and a half hours away from Pittsburgh. A year ago she was leading the life of any kid, playing sports and hanging out with friends. But on October 1, 2008, on a third trip to the doctor because they though she had asthma, they learned a lot more. She had a collapsed lung and it filled with fluid. She was immediately sent to Children's Hospital in Pittsburgh and that is when the family got the news.
 
"The doctor came in with the worse words, saying you need to sit down," said Wendy Miller. "You never want to hear that."
She was diagnosed with Ewing Sarcoma on her second rib. They started chemotherapy right away, which thankfully started to shrink the tumor. But it wasn't that easy. There was time in the hospital. There was weakness. There was weight loss and hair loss. And it was all happening to a happy-go-lucky 10-year old. Life sometimes just isn't fair.
 
But sometimes, when things seem there worst, a ray of sunshine can come along. That happened for Heather in the form of Steelers safety Troy Polamalu. Polamalu is a frequent visitor to Children's Hospital and one day stopped by Heather's room. He was quiet and soft-spoken and at first glance they thought he was another doctor. But they soon knew who he was and an immediate bond formed. Polamalu shared his phone number and would text and call Heather. He made sure she did the same, letting him know when she was in for treatment. He would spend endless time with her playing the Rock Band video game.
 
When she underwent an intensive surgery to have several ribs removed in January she was frightened and worried. But Polamalu called and told her not to worry that he had a surprise for her. When she got to the hospital, waiting for her was the jersey he wore in the AFC Championship game signed.
 
"He diverted her attention from the fears of surgery," said Wendy Miller. "I called and thanked him and was just crying. He gave her something positive to think about."
 
He also asked her if she could meet one of his teammates who would it be. She quickly answered Casey Hampton. Polamalu smiled, telling her that "Big Hamp" is a teddy bear. Heather loved the sound of that and when she had the opportunity to have a wish granted by Make-A-Wish, meeting Hampton was her wish.
 
So on Wednesday, she not only met him, but sat in on his defensive line meeting, helping during the defensive line drills during the team's OTA's and had lunch with Hampton and James Farrior.
 
Heather rode Hampton during the drills, making sure he gave 100% just like she is fighting her disease.
 
"She was little bit bossy," joked Hampton. "She did a good job. Coach Mitch (John Mitchell) had her on us hard. She talks a little too low, though. I told her she has to yell more."
 
Head Coach Mike Tomlin welcomed Heather at the start of practice, giving her the honor of sounding the horn to begin practice. At the end he called her over and the players put her on the shoulders and she gathered them together to end practice with a resounding "team" shouted out.
 
She met every player, up and down the roster, with each of them seeming to enjoy meeting her as much as she enjoyed meeting them. Hines Ward spent a portion of practice with her, giving her his do-rag and taking control of the family camcorder and making a video for her.
 
"To be threatened with something like this and her wish is to come see the Steelers and meet some players, that is what it is all about," said Ward. "Maybe this will be a lasting memory for her and her family. That is what it is all about.

"We are in the position to be very blessed. It is unfortunate kids her age are put in the situation. For one day our job is to help her forget what is going on in the real world. She had the chance to hang out with big Casey Hampton."
 
And she had a chance to smile all day long.  
 
"It's been neat, real cool," said Heather. "It's great that they are all just right here. It was neat going into the meeting. I learned that they don't just have to play football, they have to learn what they do out there. I didn't know what to expect. It's great.

"When I met Casey he said he was happy to meet me. He gave me a big hug. He is like a teddy bear."
 
All in all, it truly was a day that Heather, her mom and dad, and sister Hannah will never forget. It's a day Hampton won't either.
 
"It was fun. It was a good time," said Hampton. "It was humbling. It put a smile on her face. To see her have a good time is a great feeling. I love kids. I love to see them smile and have a good time. Any time I can help out is definitely a plus.
 
"For us to see people who have these things going on in their life it makes you enjoy the things you have more and be humble."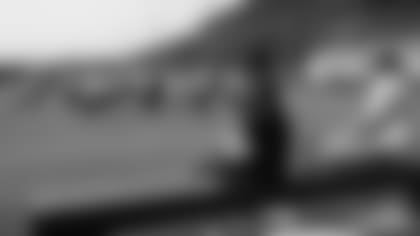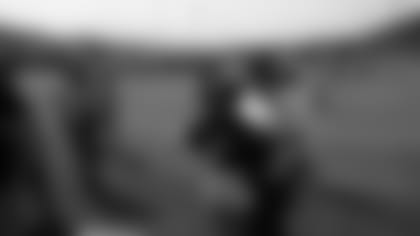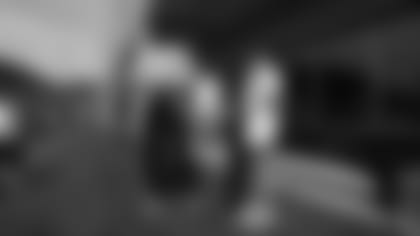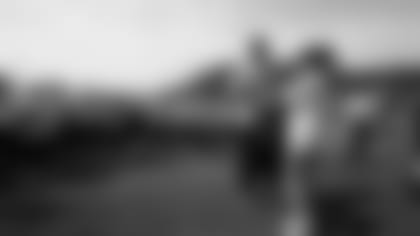 Hanging out with Hines Ward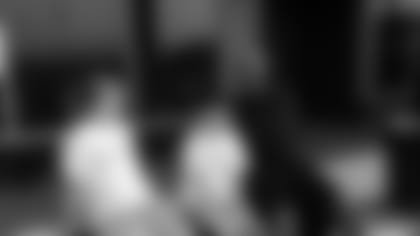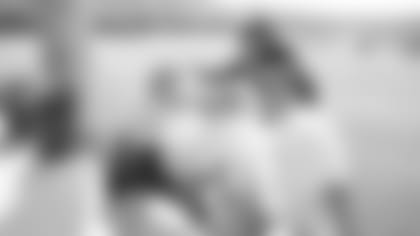 Showing off Super Bowl XL rings