Safety Minkah Fitzpatrick hosted a bike giveaway for kids who are serviced by KidsVoice, an agency that represents abused and neglected kids who are in foster or group homes.
Fitzpatrick handed out the bikes to 35 kids, ranging in ages from 7-12, in a drive-up giveaway at the Carnegie Science Center. He also gave them bike helmets, a pair of new shoes and even some signed Steelers items, all things to help kids as spring has arrived and getting them active and outdoors is a huge focus.
"It's just something simple, something fun," said Fitzpatrick. "Hopefully these kids will go home, ride their bikes with their friends, pop some wheelies and just have fun."
Fitzpatrick took time to visit with the kids, pose for pictures and then helped load the bikes into cars for them, with smiles abundant, even behind all the masks that were being worn.
"Minkah is an extremely genuine person," said Scott Hollander, executive director of KidsVoice. "To have him say this is a cause that is important to him, that he wants to help foster kids, means so much. He hasn't even been in Pittsburgh that long, and for him to want to do something for foster kids, at risk kids. He is interested in the kids. He relates to the kids. He relates to my staff. He is just a genuine person."
The pandemic has been a tough time on the kids served by KidsVoice as they have been faced with isolation and remote learning without all of the resources other kids might have at their fingertips. For them to get to enjoy something like the pleasure of a new bike is something they appreciate more than you could imagine.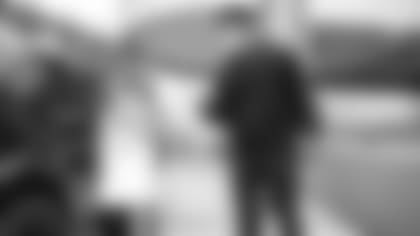 "Children in foster care didn't sign up for the isolation the pandemic brought, remote learning without parental support, with the mental health challenges of being a foster child during the pandemic," said Hollander. "To get a bike and new shoes from a Steelers player they look up to, it makes them feel lucky, really special. It's not something that happens for them every day, especially during a pandemic. It's pretty cool that someone like Minkah, who plays safety for the Steelers, is doing something to keep kids safe during the summer, with a new bike, helmet and giving them a fun way to enjoy summer and do something they have missed out on. It gives a physical and mental break to kids who need it the most. Everyone is hit hard, but they are especially hit hard. Some don't have wi-fi, they don't have enough devices to go to school. They don't have the support. Many have mental health issues they can't have attended to during the pandemic.
"Everybody was happy at the bike giveaway. Our staff hadn't been able to have an event for the kids yet, so they were radiant. The kids had the biggest smiles of all, getting a new bike, new shoes, getting a picture taken with Minkah. They felt so lifted and it gave them a boost.
"There were huge grins. It was raining but it felt like the sun was shining on everybody."