By Teresa Varley
Steelers.com
Steelers fans are not shy about expressing their love for the team and over 1,200 people did so in an essay contest titled "Why I Love the Pittsburgh Steelers."
And while there were plenty of fantastic entries, only one could be the winner and that was Cole Hughes of Pittsburgh.

Hughes wrote of how his love of the Steelers stemmed from his father and the lessons he learned about life and doing for others on a December day in 1972 when he insisted his father use the one ticket they had for the AFC Championship game against the Miami Dolphins at Three Rivers Stadium.

"I convinced him to use the ticket, which he did, and I took the bus home and listened to the game on the radio with my buddies," Hughes wrote in his essay. "We always had a great memory of that day with the one ticket. It was my first genuine act of thinking of someone else first. Ironically he had taught me that. That was a great day with my dad and why I love the Pittsburgh Steelers."

The contest was the idea of Pennsylvania Governor Edward G. Rendell as a part of a bet with Arizona Governor Janice Brewer from Super Bowl XLIII. The wager between the two required the state with the losing team to provide a three-day vacation to a resident of the state of the winning team.

With the Steelers defeating the Arizona Cardinals 27-23 to win their sixth Super Bowl, Gov. Brewer had to provide a trip to Arizona, including airfare and all accommodations, which were all donated.

"It was a fun contest," said Gov. Rendell, who along with Steelers president Art Rooney, II was at Heinz Field on Wednesday to honor the winners. "Most of them were serious and poignant. One common theme of all of them was not only the love of the town for the Steelers, but the faith they have in the organization and the Rooney family and the fact that the Steelers more than any other NFL franchise embody the heart and soul of the town. That was the common theme."

Hughes will receive roundtrip airfare for two to Phoenix courtesy of US Airways and three nights at the Wigwam Golf Resort and Spa. He will also receive two tickets to a home game of one of Arizona's major league sports teams and an assortment of Steelers merchandise.

"It was a lot of fun," said Hughes. "I am very grateful to Governor Rendell as well as the Steelers organization. It's a great experience. It was a great experience for me to write about my dad and remember that day. It brought back a lot of great memories. It was a nice experience to write about that day with my dad. And I have gotten to three AFC Championship games since and I have been able to take my sons. It came full circle there."

In addition to Hughes, four runner-ups were selected by the committee, which included Steelers fans on the Governor's State Police detail, and each will all receive two tickets to a Steelers home game as well as Steelers merchandise. The first and second runner-ups also will receive a weekend at the Hotel Fauchere in the Pocono Mountains. The runner-ups in order are: Amie Shannon, Mars; Jessica Kruise, Mechanicsburg; Maggie McGuigan, Wexford; and Lisa Loftis, Oakdale.

"I think they expressed a lot about being a Steelers fan in ways I couldn't put into words myself," said Rooney of the winners. "At times I have been asked why is our team so successful. There are a lot of reasons, one we have been fortunate to have some great coaches and players. But I think at this point most of our players would agree they are inspired to work harder and play harder because of the passion of Steelers fans that they see everywhere around the country."



Winning Essays for "Why I Love  the Pittsburgh Steelers"


Cole Hughes Pittsburgh, Pennsylvania
First Place Winner

**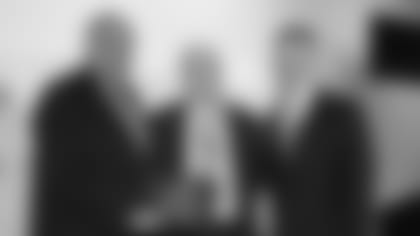 *
* *
I love the Pittsburgh Steelers because it provides me with a special memory, a connection to my Dad who was the Best Man in my wedding and the best man in my life as my father, who passed away 23 years ago. When I was 13 years old the Steelers played the Miami Dolphins in the AFC Championship game on New Year's Eve in 1972. My dad who was a steelworker somehow came up with one ticket. We went down to Three Rivers with the hope of getting another. Not one single ticket was even being scalped that day so it didn't happen. He wanted me to use the ticket. I wanted him to use the ticket. We went back and forth for 15 minutes outside of Gate A each insisting the other use the ticket. At 13 I knew enough to insist he use it as he had gone through many losing seasons with the Steelers. I reasoned that this was the beginning of something good and I would get to my share of AFC Championships. I convinced him to use the ticket, which he did, and I took the bus home and listened to the game on the radio with my buddies. We always had a great memory of that day with the one ticket. It was my first genuine act of thinking of someone else first. Ironically he had taught me that. That was a great day with my dad and why I love the Pittsburgh Steelers.

 *
Amie Shannon
**Mars, Pennsylvania First Runner-Up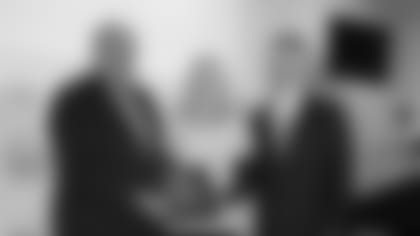 I am a stay at HOLMES mom who spends most of my time cleaning, SWEEPING and looking for the occasional SPLIT END. I also apply FACE MASKS to keep myself looking good for my hubby TROY (Yes that really is his name). When my three kids get home I become the chauffeur, DRIVING them to all of their activities. Then my second job comes into play – REFEREE. Most of the time it just comes down to UNNECESSARY ROUGHNESS due to UNSPORTSMANLIKE CONDUCT. Sometimes I feel there are just TOO MANY MEN ON THE FIELD. It had BEN a long winter already and I WILLIE need a break. FOOTE-ball in general is not my strong side, but this BATCH of guys I won't miss. So why do I love THE STEELERS? They bring our family together in harmony. There is nothing better than HOLDING my kids on a cold Sunday and taking a TIME OUT to watch the Steelers play. To top it off, watching football also SCORES me EXTRA POINTS with my husband. In HINES-sight, I wish the Steelers played every night.

X's and O's.



Jessica Kruise Mechanicsburg, Pennsylvania Second Runner-Up

**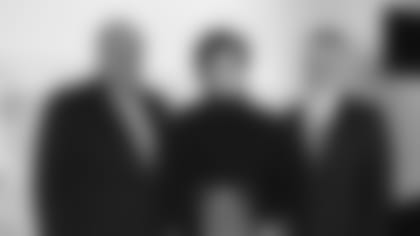 *

I love the Pittsburgh Steelers because of the Black and Gold values that they represent. Growing up the daughter of a Western Pennsylvania coalminer, I have black and gold running through my veins. I grew up watching my father toil in the mines, long brutish hours with few accolades or praise. He came home darkened by coal dust, exhausted from hours spent in spaces no bigger than an attic's crawlspace. However, on Sunday, I saw a man no longer tired from the backbreaking work of the week but rejuvenated by the hope, determination, and pride of a team that represented him, us, and every hardworking blue-collar Pennsylvanian. I see the same qualities in the team that I see in my father: grit, courage and determination. The Steelers do their jobs with a sense of duty and pride. They are seeking neither fame nor glory for the individual, but a lasting legacy for the organization. They do not forget where they come from, who they are, or what it means to be a Pittsburgh Steeler. It is this attitude that bonds me with the men in black and gold, to a city and to a region that once was my home. Now I know what my father was trying to teach me. Each game, each down, each minute that these players toil in the trenches, they truly represent the people of the region and the state. We are all Pittsburgh Steelers.



*Maggie McGuigan Wexford, Pennsylvania Third Runner-Up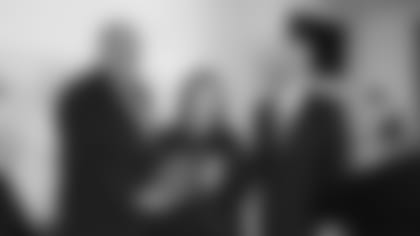 The Steelers for me are more than just a hobby or team I root for. They represent who I am, where I come from, and how I was raised. The Rooneys have established a franchise based on humility and respect, where showboating and selfishness are not tolerated on or off the field. These are the values the people of Pittsburgh teach their children. The tradition of hard-hitting, smash-mouth defense mirrors the blue-collar work ethic of our parents and their parents before them, in the steel mills and coalmines of Western Pennsylvania. Just as children resemble their parents, the Steelers resemble the ethics and values of their owners and more importantly, the people of Pittsburgh.

I've watched every game religiously since I was a child, surrounded by family, friends and even strangers who somehow felt like family in our love for our team. I've screamed my head off and hugged and high-fived people I don't know in Steelers bars in Syracuse, New York City and all over the steel city. With every first down, touchdown, playoff win and Super Bowl victory, this team becomes more and more a part of me. And with every interception, fumble or loss, I never lose hope. Just as the organization is fiercely loyal to its head coaches, I am loyal to this team. I have been since birth and will be until the day I die. I am the Pittsburgh Steelers.



*Lisa Loftis Oakdale, Pennsylvania
Fourth Runner-Up

*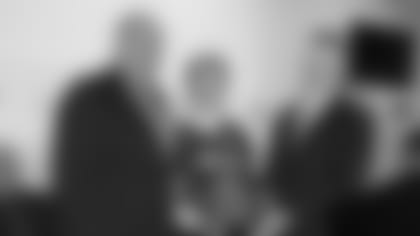 **

I love the Steelers because in them I remember: Myron Cope whose exuberant spirit lives on in every wave of the towel; Dwight White whose selfless charity off the field outshines his memorable career on it; Art Rooney, Sr., the founding father of our beloved Steelers, universally admired, synonymous with Pittsburgh. I love the Steelers because through them I feel: pride in both team and city; joy at championship trophies and last minute victories, awe for shoe string catches and punishing hits; anticipation of game time camaraderie; pity for nonbelievers who lack our enchantment.

I love the Steelers because watching them I connect to those far away who matter most: to my Arizona parents who proudly fly the Steelers flag in enemy territory; to my Atlanta brother who sleeps his Cleveland in-laws in the Steelers shrine; to my Seattle sister whose family in 2005 donned black and gold in a city of blue; to my Switzerland sister who lives in a land where the football is round.

I love the Steelers because they provide soul and substance to our city. They strengthen the ties that bind us. Our unabashed support for them pinpoints us as spiritual denizens of steel town regardless of how far we wander. Even the language of the Steelers knits us together. Unique and fanciful, part of our secret code, our Pittsburghese, each phrase convokes the Steelers Nation – Yoi, Steel Curtain, Immaculate Reception, Mad Dog, Mean Joe, Big Ben, Terrible Towel – these are music to my ears.