By Teresa Varley
Steelers.com
The need has never been greater and that is why so many in the Steelers locker room have stepped up this year to help those in the community who are in need this Thanksgiving.
Linebackers James Farrior and LaMarr Woodley, tackle Max Starks and wide receiver Santonio Holmes all hosted Thanksgiving turkey giveaways this year, doing their part to help those who are struggling.  
Farrior provided turkeys for 150 families through the Tree of Hope organization. He was joined by teammates Keyaron Fox, Casey Hampton and Deshea Townsend, as well as his brother Matt and girlfriend Jen Seretti at the Crossroads United Methodist Church in Pittsburgh to hand out the turkeys, as well as treat 350 people to an early Thanksgiving dinner.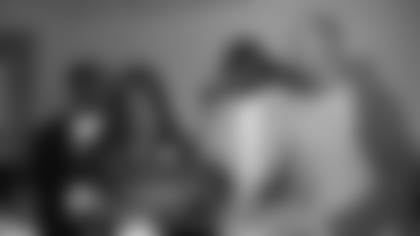 "It's a good feeling," said Farrior. "It gives us a warm feeling in our hearts to know we can help people at this time of year. It's a time of giving and praise and we want to help out the community as much as we can.

Those receiving the turkeys are families whose lives were shattered by violence, many losing a loved one to a senseless act.
 
"We see people that are broken, people that have lost loved ones," said Adrienne Young, executive director and founder Tree of Hope. "These guys stepped forward and said we want to give them hope. I think it's a wonderful time to let them know we are thankful for them too."
 
It made Farrior even more thankful for what he has knowing those he is helping have had so much suffering in their lives.
 
"I am thankful for my family. I am thankful that everybody is healthy," said Farrior. "I am thankful I can do things like this at this time of year when some people are less fortunate than others and don't have the opportunity to eat a good Thanksgiving meal and this is something I can do to help out."
 
Starks has been a staple for the Greater Pittsburgh Community Food Bank, hosting the annual Max Starks & His Home Team Thanksgiving Celebration which provided 200 needy families with the makings for Thanksgiving dinner. Each family received a turkey and all of the fixings, with Giant Eagle teaming with Starks to provide the items.
 
"He means a million words to us," said Phyliss Johnson, senior agency relations coordinator for the Food Bank, of Starks. "It's hard to put in words what he does mean. It is people like him giving of their heart, their time, coming out and seeing the families, being a part of the solution of the hunger problem these families deal with."
Starks was joined by his wife Tiffany and Dennis Dixon, Jeff Reed, Trai Essex, Doug Legursky, Tony Hills, Isaac Redman, Greg Warren and Justin Vincent at the old site of Filene's Basement, a space the management of the Waterfront donated for the event.
"My teammates come out and help," said Starks. "They know how much it means to give back to the community. Being able to give back to families in need is awesome.
 
"I hope it shows that not only the community cares about them, but also the Pittsburgh Steelers organization cares about them and wants to put smiles on people's faces and help them in times of need. It is a tough time. Money is strapped. People are in a crunch. To be able to help families out that are in need is important. It makes you feel good when you can do something and give back."
It was a wide range of families being served and it was easy to see that while getting the necessities for Thanksgiving dinner was paramount, meeting Starks and his teammates was special.
 
"People look forward to meeting the Steelers and at the same time they need food assistance," said Johnson. "It's a great opportunity for them to be provided for. The people feel happy to know someone cares about them."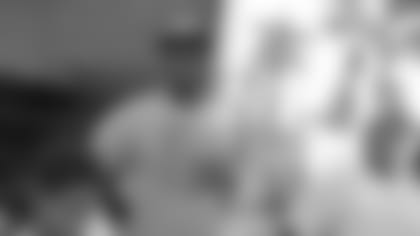 Holmes returned home to Belle Glade, Florida where he handed out turkeys and all of the trimmings to 200 families through the Boys and Girls Club, a place he used to frequent when he was growing up. It's the second year that Holmes has given back to the community, a place where economic struggles are commonplace and Holmes is one of the lucky ones who was able to fight through those struggles.
 
"It was fun to be able to go home, see some families smile, have a lot to be thankful for this Thanksgiving and to just give back," said Holmes "I am always going to be a part of my community and do whatever I can to give back to the less fortunate.
"It means a lot to be able to give back to them. I was able to help my family so they don't struggle for the rest of their lives."

 
For more on LaMarr Woodley's Turkey giveaway, which was previously published on Steelers.com, please click here.
 
Be sure to check out the Thanksgiving Day Greetings from our players on the Multimedia Section.
 
To view a full photo gallery by Teresa Varley of the Farrior, Starks and Woodley Turkey giveaways, and also of the Holmes Turkey giveaway, go to  Steelers Turkey Giveaway and look under Most Recent or Off the Field.