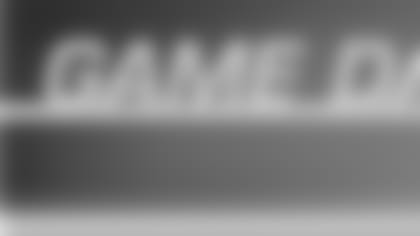 STEELERS at JAGUARS SUNDAY, OCTOBER 5, 2008 ALLTEL STADIUM -- KICKOFF -- 8:15 P.M.  JAGUARS CONFERENCE CALLS
What's been the difference for guys the last couple of weeks after turning things around from losing the first two?
We've been in a lot of close games. We were a play away in the first two and able to make the difference play in the second two. We've been in four straight tough battles and this one really should be no different. We've played a lot of good football teams to start the year and we have a real good football team coming in here Sunday.

Does some of that have to do with the injuries you have had on your offensive line?
There are always different issues that you are fighting through as a football team and we've certainly has an early season storm having to deal with some issues of injuries across the board and not just in one area. But we are doing the best we can to fight through that and remaining competitive and playing hard, preparing hard each week and that is the most important thing for us.

Does it look like Pittsburgh has stepped up their pass rushing?
They continue to present a lot of problems. For years they have been very active in the front and they've throw a lot of fire zone blitzes and they bring their backers a lot. They've got some talented guys who are coming and getting after you. It looks like what they have been doing, they will. They've been one of the elite defenses in the league, they've been doing that well for a number of years and they continue to do that.

Re: Pittsburgh and Jacksonville rivalry:
I don't know that we rank things like that. I think from our standpoint it is a great organization. It starts with ownership, the Rooney family, very classy family. It has been a great franchise for a number of years with a lot of tradition. We just know that when these football games come around they are very intense, very physical confrontations. It is one of those situations where you better come prepared to hit somebody because you know that Pittsburgh brings it every time they play. We are getting prepared to give a good effort Sunday night and go do battle.

How hard hitting was the Pittsburgh and Baltimore game?
A lot of physical confrontation there. It was some really good physical football, both sides got after it. Pittsburgh made enough plays to win the ball game.

With Parker and Mendenhall out – what do you expect to see from running game?
We are going talk about that. They've had various running backs plug in. Willie Parker goes down last year and it seems like whoever is running the ball back there has been good. I know they are pretty good about scouting talent, bringing in guys and just plugging them in to the things that they do well. I know that whoever they line up back there is going to be a threat and we are going to have to account for it.

How is your running back rotation working?
We are doing ok. We are working at it and plugging along.

Re: Jones Drew's health:
Yeah – our guys are ok.
*
* *
*Is there a special feel for primetime game?
I think it is always fun to be under the lights and to play in front of your peers. I know the guys have always enjoyed that and I don't even know is that is necessary with this football team because the one we are facing Sunday I think we respect and admire what the Steelers are about and the way they play football and the way they get after you. We know it is going to be a very physical football game.

What is the secret to getting after Ben Roethlisberger?
Ben does a great job of keeping plays alive and prolonging and extending plays and making big plays down the field. I think we charted it last year that he is the best quarter back in the league after contact. Good things happen. He has somehow shaken a guy off and found someone running down the field. With the arm strength and mobility, he is able to do those types of things to hurt you. We have a lot of respect for him. He has won a Super Bowl. He is a very talented player and he has a lot of weapons. We just have to make sure we do all we can to slow him down.

Your quarterback David Garrard can do that to, right?
Garrard had a nice year last year and he has for the last two weeks lead us back for some come back victories. So it has been very nice for us to see.

Would you like to get more out of your passing game?
That will come. I am always careful to draw conclusions from early, small samples. We feel good about the work we are putting and we recognize that there are some things we want to do better and need to do better. Those types of things will come.

At the quarter pole – your division looks as tough as ever:
There is no question. It is a tough division. We played three divisional games in the first four games of the season, along with Buffalo. We've played some real good football teams and like I said, when we first started, another one this week. So we have a heck of a gauntlet of real good football teams that we are facing. We have to get battle ready and go compete.

Do you think the conference is overall like that too?
It has been strong. I think obviously there are a lot of good football teams throughout the league. It doesn't surprise me. I think every year is a new year and you get your opportunity on gameday to go out and put it all together and compete. People like to think they know and can predict, but really you just have to go play the games. I think you have seen maybe some surprises in so called experts' eyes about where teams have started and how the first quarter is going, but the bottom line is that it is very competitive and you go out there and get after it and then you have to live with the results.

QUARTERBACK DAVID GARRARD
Can Byron Leftwich tell the Steelers any of your secrets?
I am not sure. You guys would know that.

You have won four in a row against Pittsburgh. Has your team figured the Steelers out?
We definitely don't have it figured out. We just try to compete every game and try to do what we have been taught all week long. It's always a two-chin strap game as the coaches like to say. It is really just trying to be as physical as possible and whoever squeaks out enough points in the end is the winner.

Did they blitz you a lot in the two games last year and do you expect them to blitz a lot on Sunday?
Yeah, I don't remember the Steelers ever not blitzing, they definitely always bring somebody. Whenever you have a 3-4 scheme you have to blitz; you have to bring those backers to bring extra rushers so they do it all the time; it is something that we have to get ready for. They have so many looks that it makes it really difficult for you to prepare for every look that they give you during the week. You try to get the ones that you expect to see the most and hope that you can just rely on your technique when you see some of those one-blitz shows that they only bring a couple of times.

Do you take a notice of the beating that Pittsburgh took on Monday?
Yeah, definitely; but we are just as beat up. I think that every team out there has to deal with some injuries. We had to deal with ours early on and we still had some in the last game; our last game was very physical and we went into overtime just like you guys. That is how the league is sometimes and you hate for it to happen to your team but it does and you just have to move on with the guys that are stepping in; you have to be able to rally around them.

No sympathy for Pittsburgh then?
No. Nobody showed us any sympathy early on so we are plugging on just like you guys are going to have to.

When you lost your two starting guards did you see the pass rush come more up the middle?
I think that with the guys that were added, when they first got in there, it was a little tough for them because they hadn't seen that level of competition. Then we had a guy who was brand new to the team; he just got here that Wednesday before the first game that he started. I just think that everything was just going fast for them but everything has settled down now. They have played good football for us and we are definitely pleased with the way that they have been performing.

Do you expect a lot of Steelers fans there on Sunday?
Sometimes it is hard to tell if we are at a home game or an away game when you guys come to town. There are a lot of towels waving in the air but I really expect our fans to definitely come out in droves for this game and be there to support us. You guys always have a great following; you have plenty of fans around the country and you guys have been around for a long time now. I'm sure your fans are going to come out just the same.
*
*Is that disappointing when you see that kind of fan turnout for the opposing team?
No, not at all because we still have a majority of our fans there. I think that it is just interesting because we have not been around as long as you guys have so there are a lot of fans here that grew up as kids with the Steelers so it is hard to pull away and root for the home team when you have so much tradition with a particular franchise. I understand how it is because I grew up a big-time New York Giants fan so I definitely understand the loyalty and the way that the fans operate; that is part of being a fan.

Can you talk about Fred Taylor?
He is playing really well for us and he has been for a couple of years now. He really has been doing it for his whole career but I am just talking about the time that I have been quarterback. We really rely on Fred a lot, not just on the field but in the locker room and on the practice field. He is just there for you and one of the biggest leaders that we have on this team; he just has a wealth of knowledge for everybody. Whenever Fred is talking everybody makes sure that they are paying attention to him because when he does speak up in front of teammates, it is usually going to have some great information and nuggets for you to take away from it. What better person to learn from than a guy who has been around for a while and he has been through the ups and the downs; he has been through a lot in his career so he definitely is an intricate part of our team and we definitely appreciate Fred very much.