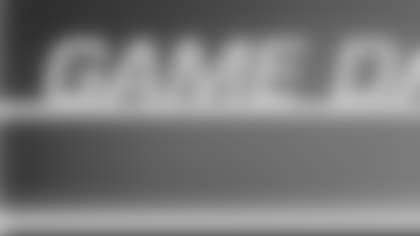 STEELERS vs COLTS SUNDAY, NOVEMBER 9, 2008 KICKOFF -- 4:15 P.M. CONFERENCE CALLS
You are coming home in a way.
I am. I am looking forward to it. They have a very tough football team and they are playing well. That part won't be so pleasant but it will be great to see the stadium, see everyone and get back there.

*Talk about the job that Mike Tomlin has been doing here.
It has really been incredible and one of the toughest things to do is take over a successful program and do what he has done. He has put his imprint on things and was able to keep a lot of the good things they had going on there. They are playing very, very well. They are playing with the passion and energy you are used to seeing. It has been something to watch.

Do you see any of Mike Tomlin's imprints on the defense?
They are doing a lot of the same things that they have always done, but the energy and the hustle, that is the same thing we saw in Tampa and in Minnesota, the attention to detail. They do a lot of things that you have to prepare for. I don't think it is so much what they do but how they do it. The physical style and the hustle is what I have seen from all of the teams he has been with.

Do you think it is more scheme or personnel?
I think it is a combination of everything. They have a good system for the guys that they have. They utilize some very special guys, Harrison, Woodley, Polamalu, and Foote. They do some unique things and they take advantage of what they do well. I think it is probably similar to us here on offense where you have a system that has been in place for a long time and you can draft certain guys that fit those roles. You can tailor it to the unique guys that you have. Every year they do some things different and seem to get better.

Are the Steelers attacking and blitzing more?
It is probably what they do, but it is probably the guys that are coming. It's not that they are just getting free guys all of the time. Those guys are beating blocks, and beating offensive linemen. It is a combination of both, they have some good guys coming.

Is it a problem for you that the Steelers don't know who will be at quarterback?
It is a little different, but when you saw the game the other night they did the same thing. They didn't really change their offense when Leftwich was in there. Obviously Roethlisberger is going to get out of the pocket a little bit more and move around, but the plays that they run, the run game and the play action pass, it is all the same. I thought Leftwich gave them a really big lift when he came into the game Monday night.

How do you gauge sacks and what you lose there vs. holding the ball longer for the chance of a big play?
Every offense is different and Pittsburgh is built on the big play and they get the ball up the field, they have a lot of deep routes and they throw those play action passes. To get those 50-yarders that they are getting to Nate Washington, you can't throw them in 1.7 or 1.6 seconds, so it is a trade off. Those big plays scare you on defense.
* 
*Avoid the sack at all cost – why is that your philosophy?
Yeah, we are trying to get rid of the ball, especially against a team like Pittsburgh. It is tough to face that fact because they are so good and they get you in long large situations. So you have to get rid of it and take two or three yard gains if that materializes. Of course you are going to try to set up some things to get the ball up field and get your maximum protection if you can. It is just a different style. They are definitely going for more big plays.

If Leftwich does play, is it an advantage to you or him since you have played each other?
I think it negates each other. He knows us very well. We played against each other a ton in the past and he played well against us. It won't be someone who is seeing is for the first time, so it is probably an advantage to both sides.

Do you feel your offensive line is coming around?
Yeah, our offensive line, we have been intact now for the last three weeks and that certainly helped when you have the same guys playing together and we'll have a test for sure. But all in all probably the last two weeks against Tennessee and New England has been as good as we have been.

Are you 4-4 because of your injuries to the offensive line?
Well no, not really. We are 4-4 because we've had way too many penalties and too many turnovers. We've given up too many big plays on defense. We had a chance to win some of those other games but we haven't played as consistently as you need to play to win those close games. That is not like us. I don't think it can be traced to one area that has been hit by injuries. We just have to play a little sharper. The other night we had one penalty and no turnovers and no sacks. We didn't give up any big plays on defense and that is what we have to do to be affective.

It was a historic moment when you and Lovie Smith squared off in the Super Bowl; how do you feel about Obama winning?
This is way beyond that, you can't even compare it to that Super Bowl. That was exciting in the sports realm but this is something I never thought I would see in my lifetime and to see it come through fruition to watch last night and see all of the people in the crowd in Chicago and all of the young people. It just makes you think that our country has come a long way in 40 years.

How important is Bob Sanders to your defense?
He is important like anyone else. He brings a lot to the table. Melvin Bullitt played really well in his absence. Sanders helped us, made some big plays, fought through some things. He can chase a lot of things down. He is a very good player. Some of the problems that we had earlier in the season were due to more than just him being out of the lineup.

Was there any point when you first thought that Mike Tomlin did have the good to be a head coach in this league?
It was kind of like when Lovie Smith came to us. Mike, I didn't know him that well when I first met him. He was very impressive in the interview and we hired him, but after about a week you say here is a guy who really has his feet on the ground, he knows what he is doing, he has great confidence without coming across as being cocky and he has a great way to relate to the players. So it didn't take long, within the first couple of months he was with us. It felt like he was destined for some really good things.
* 
**Who do you expect to see, Leftwich or Roethlisberger?
I would expect to see Roethlisberger. It seems like that has been a history, playing without practice. If he missed a few practices he will still go in and play. I don't know what the extent of the injury is but my sense is that if there is any way he can play, he will.

Can you talk about the challenge of coming to play Pittsburgh?
It is going to be a huge challenge for us. We are definitely excited about it. That is a great team that we are coming to play; they are physical. Right now I think it is about getting back and practicing well and getting this thing rolling and trying to make some plays this week. It will definitely be a huge challenge for our offense, defense and special teams.

Did you watch the game on Monday and if so, were you impressed?
Yes. They did some good things. They kind of started out shaky but they did a great job and made plays when they needed to make them. A couple of guys went down but they still pushed and got the win; that is what is most important.

Do you expect to see Ben Roethlisberger on Sunday?
We are not sure. I guess that we are going to prepare to see him but we will have to see. Ben is a great quarterback and he has been doing a lot of great things. This will definitely be a big challenge for us.

Does it help you having played against Byron Leftwich before or does it help him more?
I think that it will help both. I think that he knows us pretty well; I think that we still have guys here who have played against him and he has played against us. I think that both sides will have an advantage because we know how he throws; his releases. We know the types of plays that he can make down the field because of his arm so I think that it is all about execution. Whoever makes fewer mistakes will win.

Is there an attribute or two about Leftwich that you can recall?
He has a strong arm that can get the ball down the field. He can also move around; he can make plays with his feet if he has too. He has been trying to stay in the pocket a little bit more but he is a guy who can make plays with his feet so we have to be aware of that. I think that he will give us some opportunities but we have to make plays when we can; we can't leave those plays out there. We have to keep fighting for a full 60 minutes.

If Ben does play, will you guys, as a defense, try to hit him harder?
We are going to try to hit whoever is playing. That is what we do; play physical, hit hard, and put some pressure on him. Our main goal is to put pressure on him and not let him get comfortable because he is a quarterback who if you let him get comfortable, he will have his way with you. We have to keep fighting and put pressure on him to keep him from getting out of the pocket.

How much tougher is it to stop the Steelers' running game with Willie Parker healthy?
We have to be physical. He is a great back who we have played before. He can beat you outside; most of their running backs, if you do not contain them, can race you to the sideline and turn it up. They can also take it up the gut. We just have to be physical, be sound in our technique, and play our gaps. If everyone just does their job it will be a great opportunity for us, but it is going to be a great challenge all the way around.
*
*Does Roethlisberger hold onto the ball longer than Leftwich?
I think that they both hold the ball a little bit but Ben, he is not really trying to run it. He can run it to try to make plays but I think that he really wants to get the ball into his receivers' hands. He will hold it and look to his second, third and fourth option sometimes; he really holds the ball and tries to move around in the pocket. He can make plays when he is out of the pocket so we have to keep the pressure on him and keep him contained.

Do you expect Hines Ward to be physical with your secondary?
Oh yes, definitely. He is all-out every play; you have to know where he is even if he is not by you because he will creep up behind you and lay you down if you are not paying attention. In the run game he is very physical; they use him in the run game blocking inside the tight end and the tackle. You definitely have to know where he is and take on his blocks and not be blocked all the time because he will block you until the whistle or until you give up. We definitely have to be physical and keep fighting.

Coach Tomlin sees you guys as having the potential to being very good – why hasn't that happened yet?
I think that we have the potential; we have had injuries but we do not use those as excuses. The guys that we have; we have to go with those guys. Everyone is expected to step in and do their job. Who is to say what will happen; I think that we just have to take it a week at a time; a day at a time. We have to practice well and prepare every week to go and try to execute on Sundays. Hopefully things will go our way if we keep on fighting.