If you search for the qualities of what an individual who serves in the military has, there is a list a mile long of admirable ones.
Courageous. Honorable. Loyal. Leader.
The list goes on, but you get the idea.
There is however one word you don't often see to describe them, most likely because that isn't how they look at themselves.
The men and women who served and continue to serve in the United States Military are the true heroes in this country, something that doesn't get lost on those in the Steelers organization.
And tonight, as the Steelers take the field, against the Chicago Bears, the team will be honoring the men and women of the Armed Forces as a part of the team's Salute to Service game.
Among the activities will be 28th Infantry Division Band divisions performing, military charities on display on Art Rooney Avenue, a United States Joint Service Color Guard, the United States Air Force Singing Sergeants performing and the Salute to Service 100-yard Challenge at halftime with all five branches competing to win a donation for a military charity.
For the team, it's not just a one-day occurrence, as honoring the military is something that is near and dear to those who wear the black and gold.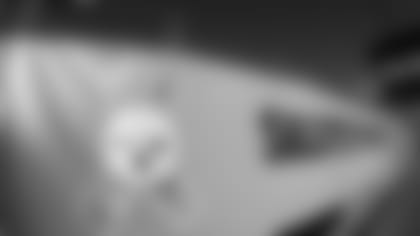 Standing on the sidelines and wearing camouflage Salute to Service apparel is something quarterbacks coach Mike Sullivan takes great pride in.
It touches him deeply, because his roots, including his football roots, are deeply seeded in the military.
Sullivan is a 1989 graduate of the U.S. Military Academy at West Point, where he also served as an assistant coach and recruiting coordinator after his time in the service.
Following his graduation from West Point, Sullivan served as an Army infantry officer, graduating from Ranger, Airborne and Air Assault schools. He was awarded the Expert Infantryman's Badge as well as the Army Commendation Medal with Oak Leaf Cluster.
It was his time at West Point where he learned so much about himself, molding him into the person he is today.
"I think a place like West Point, that's a premiere leadership institute in the country, teaches you so much about hard work, self-discipline, commitment, teamwork and how going through that process whether it's the military component, the academics or playing football there you can't go through it alone," said Sullivan. "As future leaders, those young men and women who go there have to realize that they have to set that example and it's going to require them to provide the leadership to get their group together. I think that teamwork kind of starts there at the Academy.
"It was invaluable. One of those things that you enjoy more after the fact then during because of the discipline and the restrictions and so forth, but just really an invaluable experience."
One of Sullivan's reasons for going to West Point was to play football, but it grew into something more once he arrived, and left him with a sense of pride that will last forever.
"I always have been drawn to challenges and I knew that would be something that if I could make it through, it might leave a mark on me that might separate me from others and would test myself and prove that I could overcome those obstacles," said Sullivan. "And then of course the first-rate education was one that you couldn't pass up. And a chance to play Division I football."
Sullivan said representing Army on game day on the gridiron is something he will never take for granted.
"The thing that jumps out about that is you're not just representing your family and friends, the name on the back of your jersey," said Sullivan. "It's not just the Military Academy, but the Army as a whole. It's so many people who are either serving, or they have relatives or friends or family who served.
"It's such a global impact that you have. All those soldiers across the world deployed, they identify and say, that guy out there is going to be one of my future leaders, one of my officers. You realize what an awesome responsibility that is, and what a privilege it is.
"I love West Point. I love Army football. I love the military. I have such great respect for all the men and women that have served and that are currently serving that do things that allow you and I to do what we're doing. It's their selflessness, sacrifice and willingness to put the good of our country above themselves. It's not a coincidence. Like Coach (Mike) Tomlin always says, there nothing mystical about it. It's all about those men and women, both those that go to the Academy, but also those who serve, who enlisted, the noncommissioned officers, enlisted soldiers. Everyone that makes that sacrifice. I have such great respect for all those men and women."
And on a night when the team is honoring the men and women of the Armed Forces, that respect grows even deeper.
"I love this month," said Sullivan. "It's always been my favorite month. The fact that all the teams have the camouflage on their gear. When I was serving, and it's no different than when I was recently back there last year working in the recruiting department, our soldiers are huge fans of pro sports. There's some soldier in our country deployed, or deployed overseas, who's from Pittsburgh and is a huge Steelers fan. They're waving that Terrible Towel and they have such loyalty. Pro teams remind them of home when they're deployed. They're in this difficult place. They're away from their family and friends. They are working hard. They're doing very difficult, strenuous things. Yet they watch the Steelers, and it helps them escape. It helps them remember the good things at home. Remember why they're fighting.
"It's so great to be a part of it at this level and see what the NFL has done and just to see how our players have such a great respect for our military. It just warms my heart and I'm so grateful to be a part of it."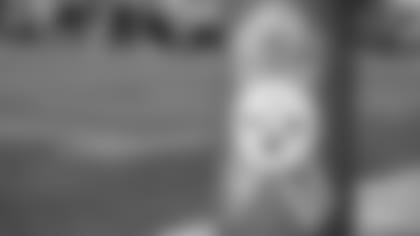 The Steelers locker room is filled with players who have a deep appreciation for the military. Many of them have family members who served, or are currently serving, in one of the branches, and their admiration for the men and women who protect our country runs deep.
Eric Ebron is one of those people.
Ebron's grandfather, United Stated Marine Corps Staff Sargent Oling Jackson, served his country proudly.
Not only did the late Sgt. Jackson serve in one war, but he sacrificed so much, serving in three wars, World War II, the Korean War and the Vietnam War.
For Ebron, he was more than a war hero. He was a family hero, the glue who kept things together for all of them until his death in 2003 after battling Parkinson's disease.
"It's been a while," said Ebron quietly. "I never really went back when he passed away to try to bring up old memories. I was fairly young. We were trying to figure out what his sickness was and why he was sick. He passed away from Parkinson's disease. And that's what I try to do now. Most of my charity work is because of him."
While he never shared stories of his service with his grandson, his daily actions spoke of the man he was, living a life reflective of a man committed to helping others, giving of himself.
"He never really told us any stories about the battles he's been in and the things he had to do," said Ebron. "It was always you just felt the structure with everything he did and why he did it. Everything he did or said usually had a big purpose. It was understood with his background, his accolades and the person that he was. I think that spoke more than any story he could have ever told us."
While Ebron would have loved more time with his grandfather, him passing when he was just 10-years old, he also knows how blessed he is that he survived serving in three wars, something that earned him a special nickname.
"We were blessed and lucky because obviously, if anything happened to him, there is no me or my mom, there is no legacy after his passing," said Ebron. "For him to serve and not only serve but to come back home and live out the rest of his time after three wars. I mean, it was insane. His nickname was Lucky. That's what everyone called him because of his service and how he managed.
"Our grandfather was like our statue. People put the Peyton Manning statue outside of Indy, the Shaquille O'Neal statue outside of the Staples Center. When you talk about our family, that's who you see first when you talk about us. That's how we were raised and brought up to understand."
Ebron has honored his grandfather's memory on his cleats in the past, and honors him daily with his name, Oling, tattooed on his left arm, next to an Eagle and the words, 'Courage, strength and endurance.'
"The first name I had tattooed on my body was his name," said Ebron. "That's the amount of respect I have for him and the things that he brought to our family. I remember the cookouts we had with him, and they are very vivid memories, and they were always the best memories when he was around. When he passed away, our family kind of crumbled and you felt that.
"I have a major amount of respect for who he was, and I feel like I am now what he was to our family. I have the utmost respect for my grandfather. He was an awesome guy."
While he might not have war stories to share of his grandfather's service, he has something more. He has life lessons that he carries out daily.
"He had so much strength. You could tell he had the strength because when he was dealing with Parkinson's disease, there wasn't anything he wasn't able to try to do," said Ebron. "He would struggle to do things, but he wanted to make sure he did it on his time and how he wanted to. That's just who he was.
"It was the structure of which the service put him in. He never forgot anyone's birthday. He never forgot to call on holidays. Everything in his house was organized and mapped out. You knew what you were walking into or what kind of vibe you were in when he was around.
"Growing up, I have two older brothers and our father wasn't around a lot, but we spent a lot of time with granddad, and he was everything. Every time he called us, he started off with the same line. What's the good word and the good word always was good morning, good afternoon or good evening. That's how he wanted to start every conversation. That's rubbed off on me. When I have conversations with my wife, whether it's the first thing in the morning or late at night, it's always starts with good morning, or good night. It's a basis for any conversation with positivity and that's what he tried to bring."