Cameron Heyward is an 80s baby, okay barely though having been born in 1989, but he somehow managed to nail the decade when he hosted his annual fundraiser for his foundation, The Heyward House, on Monday night.
Heyward's annual gala has taken on a fun theme over the years, and this year was no different when it was dubbed a "Straight Outta the 80's" celebration.
From the music, to the activities, to the attire, Heyward was spot on with bringing the energy to Coop De Ville in the Strip District.
Decked out in a No. 34 Heyward jersey that represented his father, Craig 'Ironhead' Heyward's time at the University of Pittsburgh in the 1980s, and his dad's NFLPA jacket, Heyward got into the theme along with his wife Allie, who sported a 'Ghostbusters' look from the 1980s movie hit.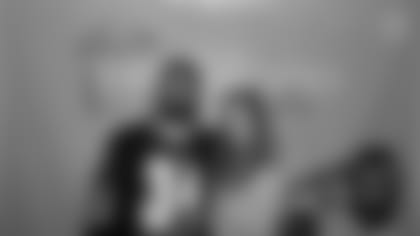 "This is the only '80s thing I had in my closet," said Heyward. "My mom gave me this jacket. It was my dad's old jacket. It's pretty special to me.
"I made the cutoff for '80s kids. I think this is more for my mom. She loved the '80s. I was more of a '90s kid. We like to have fun themes at these, and '80s night is finally here."
Heyward's mom, Charlotte Heyward, is the executive director of The Heyward House, and definitely had a role in picking the theme.
"I wanted it to be about the year 1989 when he was born, and Cameron said he didn't want it to be about him," said Charlotte Heyward. "He said he wanted it to about the '80s overall. I understood that, so we are just here having fun. Living life like I did back in the 80s.
"Him not making it about himself, that is totally him. He is a very humble person."
The event serves as the main fundraiser for The Heyward House, an organization he started in 2015 that allows him to reach out to others in need, those who could use a helping hand. It also serves as an opportunity for Heyward to say thank you to those who give back to him, something he is extremely grateful for.
"It's a big thank you to everyone who participates in The Heyward House," said Heyward. "And the money we raise goes back to great kids and great people that need our help.
"I am not the most social person, but I do cherish these moments. I know it's for a great cause. I am thankful. We started this in 2015 and to know it's still alive and kicking is special. I have a lot of great teammates who support me and it's pretty special."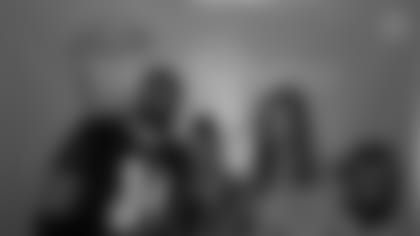 When he first kicked off the foundation, he did so with a birthday party, not for himself, but for kids served by local agencies who often don't have the opportunity to celebrate their own birthday.
Heyward grew up dealing with the challenges of severe asthma, requiring numerous hospitalizations that resulted in some close calls. His own challenges had him reach out to kids who are dealing with asthma, letting them know they can reach their dreams as well.
And that doesn't even touch the surface. From installing Little Free Libraries beginning in 2020 to help underserved communities in the Pittsburgh areas, to turkey giveaways, and supporting frontline workers with food and PPE equipment during the pandemic.
"I don't want to stop giving back," said Heyward. "I appreciate it. I am in a fortunate situation where I am able to help a lot of people. I don't take it for granted."
Heyward is one who rarely says no when asked to help others, something that brings so much pride to his mother's heart.
"What he does on the field, everybody knows. What he does off the field is more important. It doesn't get noticed enough," said Charlotte Heyward. "He doesn't say no. Every once in a while, I will have a suggestion and he will say, mom, slow down. He just wants to give back as much as I do. It's a blessing to be where he was born here in Pittsburgh, where I was born, and to be able to give back to the community."