Throughout the 2008 season, Coach Mike Tomlin will answer questions exclusively for Steelers Digest and Steelers.com. The following is one of those sessions. For the complete interview, pick up the latest issue of Steelers Digest.
Also check out the Ben Roethlisberger![](/team/roster/ben-roethlisberger/54dda34e-9e43-4c57-9397-1143ddced5d6/ "Ben Roethlisberger") Q & A Q. What's the difference between regular season football and playoff football?
 
A. Ideally, you like to think there is no difference but that's naïve. It's one-and-done. It's like March Madness, but you only get a chance to play once a week. The anticipation building up to the game is awesome. The atmosphere is awesome. It's special. If you could bottle it and sell it, you would.
 
Q. This franchise has a history, and with that history comes expectations. How do you treat that with your players?
 
A. You can't put a price tag on tradition, a legacy. It's an honor to be a part of it. It's something I want our guys to embrace. It's something that we openly talk about. It's about respecting those who have come before us, and making the black-and-gold special. We want to honor them with how we play. It's something we openly talk about, and not that our intentions are to ever be better than anybody from the past. We just want to honor them with how we play.
 
Q. The idea of wanting to be a part of carrying on a tradition is somewhat common in football. In terms of players, are there what you might call tradition guys, and do you look to add those kind of people to a team like this?
 
A. Our group does a nice job of taking people in when they get here. We have a good group of core leaders here, veteran football players, Steelers. They do a nice job of taking people in. When you have that kind of solid leadership, it's easy for people to assimilate into the group, regardless of what their personality might be.
 
Q. Is winning the 2008 AFC North title, winning two division titles in a row now an accomplishment, or is that an example of necessary things along the way to the ultimate goal?
 
A. It's steps along the way for me, not that I don't appreciate it. It's been fun, but you know what we're measured by here, in this city and in this organization. That's what we pursue. We make no bones about that. We're not bashful about that. There can only be one, and we understand that. We understand what's required to be that one. That's where my head is, and that's where it always will be.
 
Q. You haven't gotten much in terms of on-field contributions from the 2008 draft class. Have you seen anything from those players to make you think they're progressing?
 
A. They're humble, and they're blue-collar workers. Very similar to last year's class, that really had the same kind of contribution about a year ago. You didn't hear much from a Lawrence Timmons or LaMarr Woodley and guys like that, but very humble, very blue collar in the way they approach their business. To be quite honest, I expect the same kind of leaps and bounds for this year's class that we got from last year's class.
 
Q. Humility likely is formed by them not being able to get onto the field. Is it better long-term for the team to have rookies sit and watch, or is it true that the best experience is playing?
 
A. It depends on each individual player. In the long term, I think it benefits a guy to have to earn his way onto the field, as opposed to a guy having to play out of necessity or a lack of depth. Each individual guy is different. If somebody is capable and mature and ready, and they're needed, then it's a non-issue.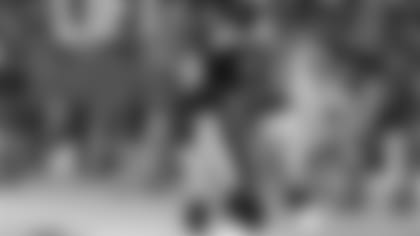 Looking to get Steelers Digest the traditional way - you can subscribe by calling 1-800-334-4005 for credit card orders.