Throughout the 2008 season, Coach Mike Tomlin will answer questions exclusively for Steelers Digest and Steelers.com. The following is one of those sessions. For the complete interview, pick up the latest issue of**Steelers Digest**.
Q. This franchise has maintained a level of excellence for quite a while, and you contributed to that in your first season as coach by winning a division championship. Do you feel a personal accountability to keep that going?

A. I feel personal accountability, not necessarily to maintain that – although that is a privilege and an honor to be a part of. Even if we didn't have that rich tradition, I would feel a level of accountability to deliver for our team, for our organization, for our fans. It comes with the job, and it's something I embrace.

Q. Regardless of the particular scheme a defense might play, what type of personality would you like to see from that unit?

A. A unit that runs to the ball, hits, and doesn't make mistakes. If you can play assignment football, and you can hustle, and you play the game the way it's supposed to be played – in a physical manner – you can have a pretty good defense. I think that's why we've been consistently good over an extended period of time, because we have those all of those three things. You don't take them for granted. You've got to re-tool and re-tool and re-tool to keep them in the forefront of everybody's mind, because the minute you take it for granted, you slip and not just in one area but in all areas.

Q. What about chippiness? Is that part of the personality, too?

A. You got to play this game with a little edge. And while we've got some guys who do, they channel and fuel their energy in the right way so it doesn't work against them. More than anything, that's the appropriate approach to take. Yes, you have to have a little edge to play this game, but it can't be counterproductive, and I think we walk that tightrope pretty well.

Q. Do you encourage that, or allow it?

A. As many ways as I can, I encourage it. It's what makes football football. I don't shy away from that. It's an emotional game played by emotional men. It's a physical game. It's a game with energy and adrenaline, and to deny that would be to deny football.

Q. As the season is about to open, the Cleveland Browns have been the sexy preseason pick to win the AFC North Division, and a lot of prognosticators have tabbed the Jacksonville Jaguars as the upcoming power in the AFC. Can you use that combination disrespect-payback element as a tool?

A. Absolutely, and in every way possible. But the reality is that we are truly a right-minded football team, that we have a level of understanding in that regard that we're fighting battles to stack up against our competitors. But that won't stop me from using some of those things as motivational tools.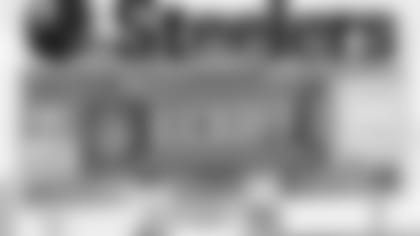 Looking to get Steelers Digest the traditional way - you can subscribe by calling 1-800-334-4005 for credit card orders.