For a decade they have shared a commitment. A commitment that has brought joy not just to those they have given back to in the community, but joy to themselves as well.
And they have done it without a lot of fanfare, without attention and cameras capturing every moment, even though they deserve accolades for the work they do.
It's not what they look for, but on Friday night, it's what they finally received.
The 'Ladies of Steel,' which are the wives and significant others of the Steelers players and coaches, were honored by the Women's Center and Shelter of Greater Pittsburgh (WC&S) with the Ted Craig Humanitarian Award at the Celebrating Survivors virtual event.
"They have been amazing," said Nicole Molinaro, President and CEO of the WC&S. "There are wives who have been with us for a while. There are wives who the players have left the game, or the team and they still reach out and help us. There are new ones that come in. They have been so consistent. They do so many programs and events for our wives and kids and they are always the highlights for our residents. Throughout the year they do wonderful activities and gestures for the women and kids. They are incredible partners.
"What we love the most is not that they do these events and provide meals, but they really talk to the women and kids. You look at the group of people when they are there, and it looks like it's old friends talking to old friends. They get right in with our residents, talk and get to know them, and give them the hope they need. The people at our shelter get encouraged when they see outside people supporting them. It really means a lot to them. To have the partners of the Steelers, who everyone loves and cheers on, to have them come in and show them they are special is incredible. Their work is so meaningful."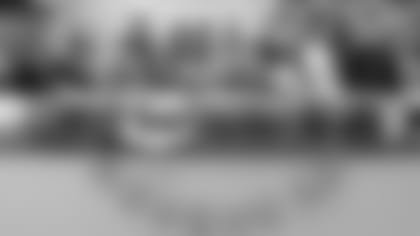 The relationship between the Steelers and the shelter has been a long-standing one, and the team has given to the shelter the last few years through their Social Justice Grant program. The wives and girlfriends began their relationship in 2010, when the ladies wanted to do more in the community. It was an easy choice for them to get involved, and the tradition of spending time there has been passed down through the years, with more ladies taking part every time they go.
"It's very easy for us to continue to the mission the wives before us started and pioneered," said Maddy Muldoon Villanueva, the wife of Alejandro Villanueva, who has spearheaded the group of ladies. "When we are there at the shelter, it's so easy. You really sit and listen to the women and see the kids who are escaping their unfortunate reality. The women have the night off and talk about things other than their situation. It also brings the wives together. Once you see your fellow wife serve someone, you see their heart and it brings us closer together.
"When you are there, it's powerful. You see how brave the women are. How strong the children are, to be happy and have a smile. And you see the volunteers and the staff and what a difference they make in the people's lives. We have to do our part and help whatever way we can."
The group organizations multiple events for the shelter each year. It started with a Halloween party, and then it grew to a 'Friends-giving' at Thanksgiving and a Christmas party. They have activities, bring gifts and provide meals at all of the parties. They also take part in their annual Children's Festival and with the COVID-19 pandemic limiting interaction they have sent meals to the shelter from area restaurants.
And the ladies get as much out of it as those staying at the shelter do.
"The strength you see in them. The power you see in them. They are inspiring," said Villanueva. "You have never seen someone with that much strength. We do events throughout the season and there are women who have been there for three months. They talk to you, share what they have went through and the things they have overcame. They are stronger for it. Not only that, but you hear about survivors going back in their community making a difference. They are an inspiration. I would say they are heroes.
"Some of them don't even know we are player's wives and that is cool. They are just talking with us. Some ask how we know to face paint and we are like, we don't. It's cool to form the bonds, the relationships. We are women serving women, but you become friends. You have conversations. That wouldn't happen if the guys were around because you have the element of celebrity there. The guys have such a platform they can go out and change the community. The wives and girlfriends on the team before us really gave us a pathway to continue this and help make a change."
One of the things that has changed somewhat for Villanueva and several others over the last few years, including Allie Heyward and Bonnie DeCastro, is the impact the kids at the shelter have had on them. From the get-go it touched all of them deeply to see what the kids go through, but it's even deeper now that all of them are mothers.
"Some of the women who are still doing it, the friends I am serving with, have been on the team for a while," said Villanueva. "We always talk about this. We started when we didn't have kids. Once we had kids it really hit. At first you go in and see all the kids and you are like how cute and precious they are, and you just love on them. Once you are a mom, you hug your kids tighter and kiss your husband. You come home and are so grateful. But you see the strength and resiliency in the children and how strong the moms are for them. It's crazy to be that strong in that situation because you know you are doing the right thing for your kids. The survivors who are moms are doing it for their kids. They know they are putting them in a better situation."
While in-person visits are currently on hold at the shelter, the relationship between the ladies and the residents definitely will never be on hold.
"It's hard because people aren't able to come in, we can't have any guests," said Molinaro. "The women aren't able to come in and have parties. We still tell our residents who has donated a dinner or lunch, so they know the ladies made the lunch or dinner possible for them. I think it's more important than ever now. It's that emotional sense that helps them to be connected.
"They feel special. They feel a connection. They feel hope. There are people who are taking the time and want to get to know them and talk to them. It's an overall feeling of being special is what we hear the women and kids say. The kids will say they bring all sorts of fun with them. We just appreciate everything they do so much."