Steelers' cornerback Will Gay understands how domestic violence can tear a family apart, leave children scarred and have an emotional impact so deep people never fully recover.
Gay experienced that pain when he was just eight years old and his mother, Carolyn Hall, tried to escape an abusive relationship she was in with his stepfather. When she tried to leave the relationship, his stepfather shot her to death and then shot himself.
The experience impacted Gay then, and still does. The pain will never go away, but what he is doing now is helping others who are victims of domestic violence, in particular intimate partner violence.
"The pain doesn't go away, but I can cope with it better now because I am more mature," said Gay. "I know how to let my feelings go towards something positive which I know my mom would want me to do."
Gay spoke on Wednesday at the Women's Center & Shelter of Greater Pittsburgh (WC&S) Celebrate Survivors dinner at the Colony Restaurant.
"Will Gay is such an amazing advocate for WC&S and the women and children here," said Shirl Regan, President/CEO of WC&S. "Through sharing his family's tragic experience with intimate partner violence (IPV) and the loss of his mother, Will shows how IPV can impact children and he conveys a message that with strength, courage and perseverance, it is possible to move forward, heal and accomplish anything.
"It is critical for others dealing with IPV to hear the stories of survivors and witnesses like Will, because it provides a sense of hope for a brighter future and allows others to know that they are not alone. As a Pittsburgh Steeler, Will has brought national attention to IPV and he shows survivors everywhere that he truly cares. We appreciate Will so much and are very proud and grateful to have him as a supporter of our mission."
The dinner honors those that have been impacted by domestic violence and have done something to make a difference. Gay himself has become an advocate against domestic violence, speaking out whenever he can and sharing his story to help others.
"I look at those that have survived domestic violence as heroes," said Gay. "It's a good thing they are seeking help. There are people out there willing to listen and help. It's a dangerous situation. I respect those women that are so strong and don't allow this to continue to happen to them.
"I just want those impacted to know that someone cares. I have been through it. My mom
went through it. You want them to know there are people out there to help and they care."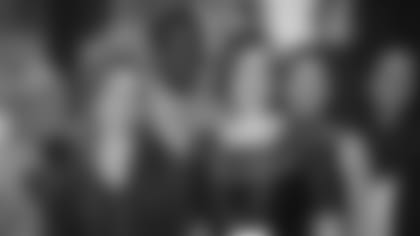 Gay thanks those that help in the fight against domestic violence.