The sights will be plentiful, landmarks that are on the top of the list for any tourist coming to London. From Big Ben to Westminster Abbey, the London Eye to London Bridge, and even Buckingham Palace and the Tower of London. No tourist goes home without seeing at least a few of these historic treasures.
Steelers' players, however, aren't likely to see much of anything unless it's on the bus ride to and from practice or the game at Wembley Stadium. Because one thing the Steelers, who departed for London on Thursday evening, aren't going to be this weekend is tourists. They are going for one reason and one reason only, to play the Minnesota Vikings.
"We have to win a game and we are hoping our trip to London will bring us that win," said defensive end Brett Keisel. "We are approaching this like a normal week, but it's going to be different and everyone knows it's going to be different. We just have to focus on winning the game, even though we are going across the water.
"I think everyone is aware of the importance of getting a win, but I will definitely be in guy's ears."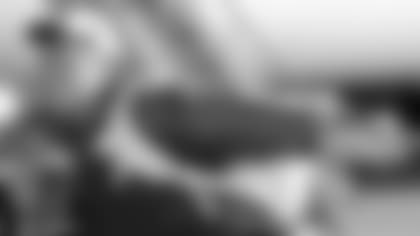 As the team gathered at the airport for a flight that will have them traveling throughout the night, there wasn't any talk about plans upon arrival to hop aboard a double-decker bus, instead the focus was on checking into their rooms and getting ready for meetings that precede Friday's practice.
"It's just another Sunday," said cornerback William Gay. "We can't control where we play or at what time. All we can control is showing up and playing. That is how we are looking at it. Flying through the night is going to help us as we get ready for the game."
The players, many who dressed comfortably in Steelers sweat suits for the long flight, don't mind their short stay in London. As the home team the Vikings arrived on Tuesday, but getting in on Friday kept things normal for the Steelers' players throughout the week.
"It's definitely a business trip," said linebacker Chris Carter. "Everybody on the team gets the gist of that when you see the schedule. This isn't a vacation, the game just happens to be in London. At the end of the day we are still playing the Vikings and have to get a victory and bring it back.
"Everybody is able to stay in, stay focused and keep your eye on the prize. When you go for a longer time you get free time and you want to do things. But we are going to be focused on the task at hand which is the game. We have to stay focused on the things we can control and need to do."
With both teams heading into the game with matching disappointing 0-3 records, one team is going to walk away with their first win of the season. Steelers' players want to make sure it's them.
"Everyone knows the sense of urgency now," said Gay. "They feel the urgency. But we as leaders will make sure they know it's a business trip."