---
It's not an easy life those in the military face, being far away from home, away from friends and family, in a foreign land where your mission is to protect others while putting your life on the line.
The comforts of home are few and far between, a care package here and there that can take weeks to arrive. Pictures of family are precious. A razor, shampoo, toiletries, the everyday necessities are special.
Despite the limits they have on what they can bring with them, many in the United States Armed Forces have an item they keep near and dear to them while deployed. One of the few reminders of home, one of the things that bring a smile to their face and they display with pride wherever they go, is a Terrible Towel.
"There are still tractor trailers driving around Afghanistan and Pakistan to this day with Terrible Towels hanging off of them and stickers on them," said TSgt Stephen Williams, who hails from Pittsburgh and is currently a reservist in the Air Force's 911th Airlift Wing. "I've put Steelers stickers on a lot of our vehicles as well. One of the local village chiefs in Bagram has a Terrible Towel hanging up in his home.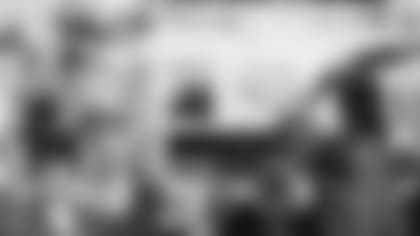 "It really means a lot to us to display our pride. After all it is where I'm from. It's where my unit and home is. It is extremely important to me. I'm proud to be a Steelers fan and even more proud to be from Pittsburgh."
TSgt Williams has always had the Terrible Towel with him, from being stationed at Wright-Patterson Air Force base in Dayton, Ohio and Volkel Air Base in The Netherlands, to deployments in Kandahar and Afghanistan. He left the Air Force in 2010, but is still a reservist with the 911th security forces squadron and a Pittsburgh firefighter as well.
No matter where he goes, including his current deployment in the Middle East, he follows the Steelers.
"I follow everything they do," said TSgt Williams, who said he goes to all of the home games when he is back in Pittsburgh. "Any one of my friends back home will tell you I'm a Steelers addict. I've been to Afghanistan twice and where I am now it is usually pretty hard to watch the games. You usually can only watch if Armed Forced Network (AFN) was showing the games. Otherwise I would have to go to the tent that had computers with internet access and hope the slow internet could keep you updated on what was happening. I've also made phone calls home during games to get updates from my friends for a few minutes. While stationed in the Netherlands for two years I had to buy the games and have them streamed over the internet unless AFN was showing the Steelers."
Watching Steelers games while deployed has made for many sleepless nights, trying to catch a game that is on at crazy hours in foreign countries. But he said it's well worth it, as it brings the troops joy and closer to home.
"It gives you something to look forward to and it helps break up the monotony," said TSgt Williams. "Life in the desert is just like Groundhog Day sometimes. Getting to watch the Steelers is a big break from all that and what's going on over here. It's a big boost to morale. Anytime your thousands of miles away from home it can be very demanding and stressful. I won't lie. I still get homesick here and there. So getting to see a game here and there on deployment brings a little bit of Pittsburgh to where you are. I know there are guys out there that have had much rougher deployments and really can appreciate being able to have a little bit of normalcy, keeping tabs on the Steelers and on Pittsburgh sports in general can really help them achieve that."
This Sunday when the Steelers take on the Buffalo Bills at Heinz Field they will celebrate the NFL's Salute to Service, honoring the men and women of the Armed Forces as a part of Veterans Day observance, recognizing a veteran from various wars as a part of it. TSgt Williams said the veterans appreciate what the team does, and that it goes a long way in keeping up the morale.
"I'm sure I can vouch for other local vets by saying we greatly appreciate anytime someone shows us any type of support," said TSgt Williams. "It's always a great thing to know what you're doing is appreciated, especially by such a great organization like the Steelers. It's the fans too. I usually have a tailgate at every home game and have at least 10-15 veterans there. I guess we're easily recognizable and always get thanks and appreciation from our fellow fans, even the away team fans. I definitely thank the Steelers for that."