During an unprecedented time in our country everyone has adapted to new ways of working.
For James Washington, who spent a lot of his time social distancing at the 26-acre farm he bought this year before recently returning to Pittsburgh, that included meeting his new boss over the phone.
This offseason the Steelers hired Ike Hilliard as the team's new receivers coach. Washington was hoping he would have had the opportunity to work with him by this point. But due to guidelines because of COVID-19, keeping NFL players working virtually or with a small group of teammates on their own away from team facilities, that hasn't come to fruition yet.
Instead they have only talked over the phone, and via zoom meetings, but those calls have meant the world to Washington.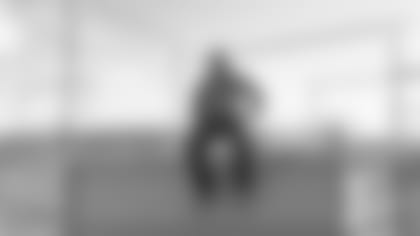 "What I really enjoyed about it was the first time he called he didn't call to talk about football," said Washington. "He called to talk about family and try to help me understand the kind of person he is. Coach (Darryl) Drake was one of my favorite coaches. The thing about him is I feel like Coach Ike is kind of like Coach Drake.
"He seems like a family man first, and then a football coach. I feel like he really cares about the player. He wants the best for us. He isn't just there for the job. He wants to make sure we are good men and good players."
The last year has been tough for Washington after the sudden passing of Drake, who died during the team's 2019 training camp. It was a shock. It was heartbreaking. It was something he never envisioned having to deal with.
"It was a rollercoaster for sure from the get-go," said Washington. "Keeping Coach Drake in our minds helped us keep that faith and maintain a competitive attitude all last season."
The Steelers virtual workouts have replaced the workouts that were originally set to begin in April at the UPMC Rooney Sports Complex. It has given Washington more of an opportunity to speak with Hilliard, and letting the relationship grow.
"The way he is, it makes you feel like he isn't there for the wrong reasons," said Washington. "For a coach to say he cares about you more as a person than as a player, that is a check mark right there in my book. I can't wait to get to meet him and work with him and all of that when the time is right.
"The time on the phone, meeting is really helping a lot. I give people the benefit that way. The first impression was really good. I have a lot of faith in him and I am glad to work for him."