It was three words from Coach Mike Tomlin that gave everyone in Steelers nation an instant idea of what seventh round pick Tre Norwood, a safety who played at Oklahoma, could provide for the defense.
That is how Tomlin described Norwood when he announced his selection during the NFL Draft from the UPMC Rooney Sports Complex, and it fits Norwood to a 'T.'
"I take a lot of pride in that," said Norwood. "That is one of the main things I have always prided myself on in college. First, it's the mental aspect of understanding every position in the back end, what is going on there. Just being able to have the ability and mental capability to not only go out there and play the positions, but do it at a high level, be productive, and contribute to the team is something I take huge pride in and I will continue to take pride in.
"I feel like it helps me a lot that I am not a one-dimensional guy. Any position on the back end I can play and do it at a high level. Any position I need to play on the back end to help the team get to the ultimate goal of winning the Super Bowl, that is what I am there for."
Being versatile is a huge asset for any athlete. It makes them more valuable, gives their coaches options. But it also can be a challenge. Just not for Norwood.
"I don't look at it as challenging," said Norwood. "It's something I intentionally wanted to do when I got to college. Once I had the opportunity to do it, I took pride in it. I look at it as more opportunity. I am blessed to be able to do that, to be able to move around on the back end and play all of the positions."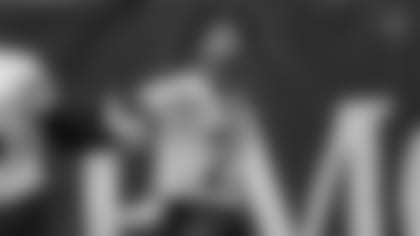 Doing it at the NFL level now, well let's just say it's something Norwood always wanted.
"It's something I dreamed of since I was a little kid," said Norwood. "I know the other guys did as well, the hard work we put in, for it to come to life means so much.
"I love playing football. It started when I was young. Both of my parents played sports when they were young and introduced me to sports at a young age. My parents never forced me to play sports, they just supported me. It's something I loved, and it grew as I got older.
"The love is out the roof and will only continue to grow. I just love playing this game."
When you love something that much, having it taken away from you can be painful. That is exactly what Norwood experienced. Norwood's love of the game was taken away in 2019, when he suffered a knee injury and missed the entire season.
"It was tough for me," admitted Norwood. "I never missed any games, let alone an entire season. The first few weeks were tough, but I just attacked it. That is how I handle adversity, I attack it.
"I feel like everything happens for a reason. I look at it as a blessing. I learned more about myself. I learned the mental aspect of things. I had a role, and I took it seriously on the team. I was not out there physically but I was on the sidelines, encouraging my teammates, lifting them, getting them hype.
"I learned a lot of patience. I think that is where my love of the game got even stronger. When you have it taken from you for an entire season it's a humbling experience. I realized how lucky I was to be playing at the top team in the country, at an elite level. I just had to learn about patience because patience is everything. It's trusting God, his timing and knowing everything will work out in the end. That is another thing I got to do during my recovery time, get closer to the man above. My faith means everything to me. Without him, I wouldn't be in this position, I wouldn't be talking to you right now. All of the success I have right now is a blessing from him. Faith is the main focal point in my life."
Along with his faith, another thing that helped get him through the struggle of the injury was his father, Michael Norwood, who suffered the same injury when he was a freshman at Ranger College.
"My dad helped me out a lot," said Norwood. "He went through that when he was playing ball. He had been there. He knew what it was like. He was that ear to listen. We have a close relationship. Being able to talk to him about how I feel, you have your days that are better than others, days that are worse than others. Having him to lean on meant so much.
"He would tell me you know who you are, you are going to come back from this even stronger. That is something that resonated with me, just knowing attacking the adversity, attacking every day in rehab like it was game day, that was one of the things that stuck with me so much.
"He told me trust it and be patient because you will come back stronger."