With election day just one week away, the Steelers continued their commitment to voter education with a non-partisan virtual seminar held for registered voters in the Pittsburgh area, which included everything from students to community leaders.
The seminar, done in conjunction with Rock the Vote, YWCA, Urban League of Greater Pittsburgh, Latino Community Center, and World Affairs Council of Pittsburgh was a final opportunity to share information on voting by mail and community resources like getting transportation to local polling place. 
Steelers Coach Mike Tomlin welcomed the group, thanking them not just for participating, but also letting their voice be heard on election day.
"I am honored to be on with you guys," said Tomlin to the group. "More than anything I just want to thank you for exercising your right to vote, being an active participant in our political process. I want to congratulate you for that, thank you for that, and just to encourage you to continue to be active participants in the development of our more perfect union. I thank you for that.
"Next Tuesday is a big day. I am appreciative of carving out some time to participate myself, alongside with all of you."
Carolyn DeWitt from Rock the Vote reviewed the voting history timeline, educated the individuals on the different areas they are voting for, which doesn't just include the presidential election, but also includes representatives, senators and more.
DeWitt also shared information on how to do the mail in ballot, especially in Pennsylvania where a 'secrecy envelope' is also required, and shared ballot drop off location information.
Josiah Gilliam, who runs My Brother's Keeper within the City of Pittsburgh Mayor's Office, shared information for those who need a ride to voting polls on election day, where to drop off your ballot in Allegeny County, with the Allegheny County Courthouse the main spot right now.
"If you live in Pittsburgh, Allegheny County, please be a part of the team," Gilliam encouraged everyone. "Make a voting plan. Check in on others and they have barriots, point them to resources to make sure their voice is heard too."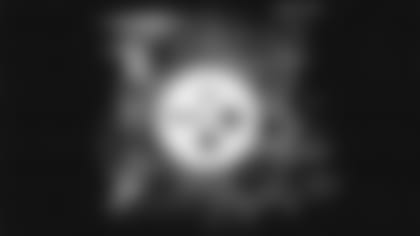 The Steelers also partnered with Citrone 33 to donate 5,000 masks to Allegheny County to be distributed at polling places for Tuesday's election The donation will allow elections officials to safely perform their duties amidst the COVID-19 pandemic.
The NFL is also doing their part as far as voter education goes. The NFL and NFLPA combined to encourage voter education, registration and activation. Since they began the program in August, every NFL player and team and league personnel too part in voter education. NFL players have gotten more active in the voting process, with 90% of all active players now registered to vote. All 32 teams have also promoted the voter initiatives and continue to do so.
About NFL Votes
NFL Votes is a league-wide, nonpartisan initiative that supports and encourages civic engagement among NFL players and Legends, club and league personnel, and fans. Borne out of ongoing conversations with the player and Legend community, the non-partisan initiative has three focus areas: voter education, registration, and activation. According to a recent survey, nearly half of fans said they were more inclined to vote and encourage someone else to vote as a result of the initiative.
About #AthleteAndVoter
AthleteAndVoter is a non-partisan player-driven initiative by the NFLPA that builds awareness around voter education, amplifies our player members' voices against voter suppression and helps activate grassroots efforts to increase voter registration. Its mission is to continue driving the message that NFL players are more than just athletes; they are voters, activists and leaders in their communities.