Terrell Edmunds recently released a children's book, 'My Brother's Keeper – What This Means to Me,' along with his brothers, Trey and Tremaine Edmunds.
Little did he know how the book would touch lives that he never could have imagined it would.
Renae Johnson, who lives in Pittsburgh but is the CEO and Founder of My Brother's Keeper Outreach Center in Houston, Texas, heard about the book and thought it would be a perfect tie in to buy as a gift for the children they serve for next Christmas. She reached out regarding purchasing books, and the conversation turned to what her organization is doing to help the people in Houston and throughout areas of Texas, who were devastated by the effects of winter storm Uri, which devastated the area, ruining many people's homes due to burst pipes and other issues.
My Brother's Keeper Outreach Center held a 'Pack a Truck for Texas' event in McKeesport, Pa., this weekend, and when Edmunds learned about it, he wanted to help.
"It's all about giving back, for me and my family, just because we know we are blessed to be in the position we are in today," said Edmunds. "The more you give back, the more you help people, that is more than anything you can give. All the time, trying to help and give back, is something my family tries to pride ourselves on."
On Saturday, Edmunds joined other volunteers packing two trucks full of water, non-perishable food including can goods, pasta, microwaveable items and snacks, as well as diapers and baby wipes and personal hygiene items, which will leave the Pittsburgh area for Houston on Sunday.
"I know a lot of people in Texas," said Edmunds. "You don't want to see that happen to anyone's home, to have anyone have their home destroyed like that. Nobody wants to see that. If that was you, you would want someone to help you. To have the ability to be able to give back and help the best way we can, anything can help. I just wanted to help out."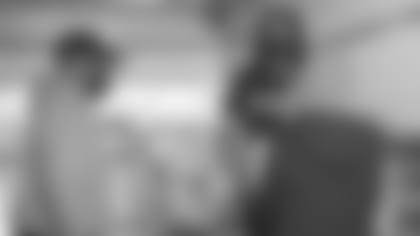 Having Edmunds lend a hand was more than Johnson and My Brother's Keeper Outreach Center could have imagined would have come from the first phone call about purchasing books.
"We told them about what we were doing this weekend, and he wanted to be a part of it knowing the need is so great in Houston and all over Texas," said Johnson. "I can't even put it into words what it's like there right now. It makes me cry every time I go there. It's heart wrenching knowing I can't do anything there. You want to go and fix it and you can't. It takes time. The storm was almost three weeks ago and trying to put this together, knowing it's an immediate need, I had to step back and say, tomorrow the need isn't going to be gone, the devastation is going to be there for months to come, so let's take our time and do it right.
We started wanting to pack one truck. We now have two full trucks.
"It means the world to have Terrell a part of it. Terrell, out of the kindness of his heart, immediately wanted to be a part of it, what he could do to help us. I am humbled he considered, acted on it, and showed up and dug right in packing and moving boxes. It was such a blessing to have him be a part of what we are trying to accomplish.
"He just wanted to be able to help and provide whatever we needed. He wanted to just partner and help. He wasn't worried about if we were going to have media there. It means the world to know someone would provide for people they don't even know, people in a different state they will never meet, it means the world."
The need for help from out of state is stronger than ever because many stores also sustained damage from the storm, making it difficult to find the necessities to provide from local vendors. Combine that with an ongoing pandemic, and the need for help is even greater.
"I am not sure there are words that are adequate to describe it," said Johnson. "It's gut wrenching when you have this pandemic, and you have people who come to you day after day and have complete devastation in their home. Hurricane Harvey did a different kind of damage. This storm, it burst pipes in the home. It flooded first floors and second floors because the pipes are above. To see them go through that and know I can't even purchase food in large quantities in Houston right now and to have someone of influence join in with us and know the meaning of being able to give someone else something to eat and not consider themselves, it means the world."