It was a trip David DeCastro had been hoping to make for some time, going back to South Africa where his parents Jennifer and Colin DeCastro are both from. He had been there when he was 17 years old, on a family trip during winter break, but like a typical teenager didn't have a full appreciation for it.
But last month he finally was able to make a return trip, in part to celebrate his grandfather Jake Crompton's 90th birthday and also to explore and enjoy the country's beauty.
"Your perspective changes from the time you were 17," said DeCastro. "I always wanted to go back but never had time when I was in college. It was pretty special to be able to go back and see everybody. I have an uncle and aunt that live there. It was pretty neat."
From a family birthday party, to a safari where he got up-close and personal with the wildlife, to oceans and mountains, DeCastro saw it all during his 16 day excursion.
---
His parents decided to meet up with DeCastro and his girlfriend Bonnie Butler in South Africa, where it all began with his grandfather's birthday party in Johannesburg.
"He is my last grandparent that is left," said DeCastro. "And celebrating his 90th birthday, that's why we thought this was the perfect time to go. He is pretty good for 90. He picked us up from the train station and we stayed near him and hung out with him for a couple of days, and my parents met us there."
While in the general area, DeCastro and Butler spent time exploring the amazing wildlife terrain at Kruger National Park, one of the largest game reserves in Africa, going on a safari that was an experience of a lifetime.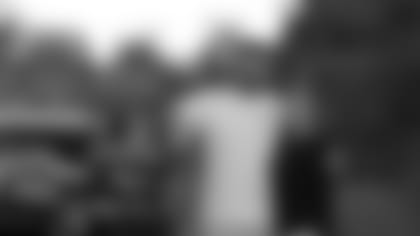 "It was insane. I was nervous at first," said DeCastro. "Where we were staying there were animals roaming around. It wasn't a hotel. There was a building with the main area and a dining place and reception area. There were huts around it that we stayed in, thatched roof housing and elephants roaming around. You have to be on guard.
"The animals come up close to the cars in the safari. The rangers know what they are doing and they have become accustomed to the vehicles. There are lions six feet away from you and they just don't mind. They are just hanging out. They look at you and as long as you don't get out of the car you are fine. The freedom of it was amazing. You really respect the power of animals."
One thing that caught him by surprise was illegal killing and poaching of white rhinos in South Africa, particularly in Kruger Park because of the growing demand for rhino horns.
"That was the saddest part," said DeCastro. "The rangers help spot animals and call people over the radio to see them. They do it with all of the animals, except the rhinos because poachers can be on radios listening in. Last year over 1,000 rhinos were killed. People come and jump the border (from Mozambique) and to do it because they are making nothing. We saw a lot of rhinos, but it's sad they are being poached for no reason at all."
---
DeCastro's parents met while living in South Africa, where his father played rugby at the University of Cape Town. They moved to the United States for Jennifer to pursue her Masters at the University of Washington, but when DeCastro was just 18 months old went back to South Africa where his father wanted to pursue a law degree in his hometown of Cape Town. After just a few months his mother received a job offer near Bellevue, Washington, and that is where the family settled.
"We were having dinner one night and my uncle mentioned to me if my dad had gotten a specific position at his job that he didn't, I would have been raised in South Africa," said DeCastro. "I was kind of taken aback by that. That is life. There are always things that can make a big difference one way or another. It would have been interesting growing up there probably playing rugby instead of American football."
During the trip DeCastro got a little taste of rugby, visiting the Cape Stormers professional team's facility with his father and watching practice.
"It was a cool experience going to see the rugby team over there," said DeCastro. "I got a little bit of the gist of it. I watched it before. I don't understand it nearly how I do football. It's similar in that you move the ball into the end zone, or try. It was cool watching practice and the intricacies they have like we do. It was cool to observe."
---
While in Cape Town, in addition to celebrating his father's 60th birthday, DeCastro also took in the mandatory tourists sites, including Table Mountain, which offers some of the most breath-taking views in Africa.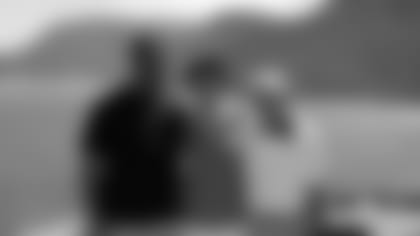 The group took the Cableway up the mountain, a round, spinning gondola that gives sweeping views of the mountain and ocean as it goes over 3,500 feet above sea level.
"It was a little shaky, and I felt a little queasy," said DeCastro. "You don't feel as secure as you would want to. You rotate to see everything, but it makes you queasy. It's pretty cool. It has a great view of everything."
DeCastro also visited Cape Point, the southwestern most point of Africa where the Indian and Atlantic Oceans are said to meet.
"There is some discrepancy if it's there, but it's cool because you can see the waves meeting at a diagonal point," said DeCastro. "When we were there it was windy, we hiked to the top and it almost blew us off our feet."
---
It was a long trip home for DeCastro, almost 30 hours from the time he left South Africa until he arrived in Pittsburgh. But it was worth every minute; especially seeing the joy it brought his father to show his son his hometown.
"It's funny when you go back and see how proud he was to show off his old stomping grounds," said DeCastro. "I enjoyed that. It's a world away. I don't think he could have picked a further place from South Africa to Seattle, so it's always nice for him to go back there.
"It's a beautiful country. The scenery, seeing all of the animals and visiting the coast were amazing. At Cape Town you have the beach and then right up to the mountain. The geological features are impressive. It was amazing. I would do it again."