By Teresa Varley
Steelers.com
There will be plenty to entertain fans on Thursday night, even before things kick off at Heinz Field between the Steelers and Titans.
As part NFL Opening Kickoff 2009 a free concert will take place at Point State Park featuring country superstar Tim McGraw and chart-topping The Black Eyed Peas.
Both were in Pittsburgh on Wednesday, talking about the excitement of helping to kick off the NFL season.
"It's such a built in energy for something like this, especially being outside in a football city, opening night of football, the fans are rabid, Steelers fans are pretty crazy," said McGraw, who admitted that he is a Titans fan, but does respect the Steelers. "There is that whole built in excitement there is for a show like this. It's going to be a lot of fun."

Gates will open at 4 p.m. at Point State Park and the concert will start around 5:30 p.m., with McGraw taking the stage first, followed by The Black Eyed Peas.
"It's going to be a great show," said Will.i.am of The Black Eyed Peas. "To be rocking in Pittsburgh, in front of real diehard football fans, Pittsburgh Steelers fans, there are more Pittsburgh Steelers fans than there are football fans. There are two scary fans, and that's Raiders fans and Steelers fans. They don't mess around when they get enthusiastic. It's going to be a great game and great concert."
They will take the stage for a second time at 8 p.m. and perform live on the NBC and NFL Network pregame shows.

"It's going to be a great game," said Fergie, the lead singer for The Black Eyed Peas. "People are going to be excited for the game. It's going to make the whole night bigger and more exciting."

McGraw and The Black Eyed Peas plan on heading to Heinz Field after the concert to join the fans to watch the game. They will be able to watch a message they taped to be used during the game, including a shout out from Will.i.am, Fergie and The Black Eyed Peas to Steelers fans.

"What's up y'all, this is the Black Eyed Peas. I know the Steelers won last year. Congratulations. I wish you all a good year this year. Thank you to the black and yellow. "

Other pregame entertainment will include Harry Connick, Jr. who will sing the National Anthem.

There will also be some touching moments pregame when family members of those lost in the crash of Flight 93 in Shanksville, Pa., on September 11 will be honored, all of them wearing Steelers #93 jerseys with the last name of their family member on the back.
Fans can begin to enter Point State Park at 4 p.m. on Thursday.
Tim McGraw will take the stage first, followed by the Black Eyed Peas. Both will return to the stage for a live performance televised on NBC and the NFL Network beginning at 8 p.m. Harry Connick, Jr. will sing the National Anthem at Heinz Field to conclude the pregame performances.
** SECURITY All backpacks, packages and persons will be subject to inspection. Security checkpoints and entry points for the public will be established at the corner of Commonweatlh Place and Liberty Ave.
PROHIBITED ITEMS**
All weapons
Alcohol
All glass containers
Fireworks
All chairs
Tents of any kind
No barbecue grills of any kind
Umbrellas
Service animals only
Blankets of any kind
Food of any kind
Beverages of any kind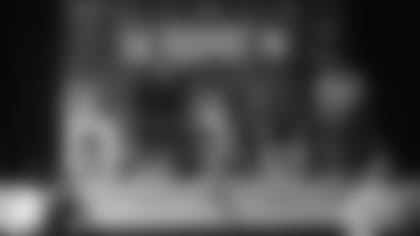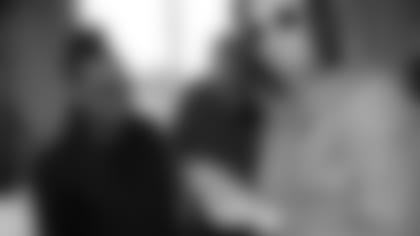 Checking out a Super Bowl XLIII Ring.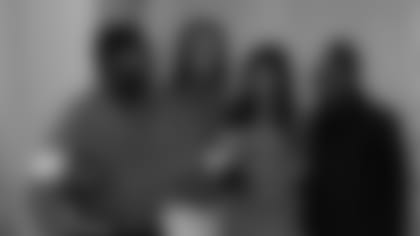 Giving a shout out to Steelers fans.