---
Safety Ryan Clark hosted his annual Cleats for a Cure on Monday night at Engine House 25, benefiting sickle cell disease research at the University of Pittsburgh Vascular Medicine Institute through Clark's Cure League.
Cleats for a Cure features autographed cleats from Clark's teammates which are painted and presented in unique manners by local artists. Among those whose cleats were available were Ike Taylor, Troy Polamalu, Le'Veon Bell, Brett Keisel, Ben Roethlisberger and Antonio Brown. LaMarr Woodley's cleats were encased in a clear wax box, while Clark's was the most fun of all, with a full size cutout of him wearing the cleats.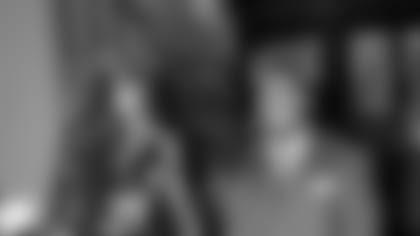 "There are so many different events and things we auction off and get our teammates to sign," said Clark. "I wanted to find a new twist to put on things to make it interesting for people that want to support the cause. Everybody involved loves it. The artists get to make a one-of-a kind piece using game used cleats from amazing players on this team. It's exciting. The players like it and they even try to get some of their own stuff."
The event has personal meaning for Clark as well in addition to the fun side. Clark carries the sickle cell trait, something that was discovered in 2007 when he became seriously ill after playing in the high altitude in Denver. He also lost his sister-in-law, Kim, to the disease when she was just 27.
Having Clark on board to help the cause definitely has increased awareness of the disease, but he has also committed himself to giving back and finding a way to help others who suffer from the painful disease
"That is what the awareness is about, letting people understand this is a fatal disease but an illness that can be controlled if you understand it, know you have it and the ways to go about handling it," said Clark. "It's been taboo in the community to let people know you have sickle cell, or the trait, so by putting my face on it and letting people know you can still do these things I am still so blessed to do, that may encourage people to stand up and say I have it to and I am doing great things.
"It's exciting to get the awareness out but also raise money for research that gives these people that suffer from this illness a better way of life, a better way to deal with daily pain and hopefully one day find a cure."