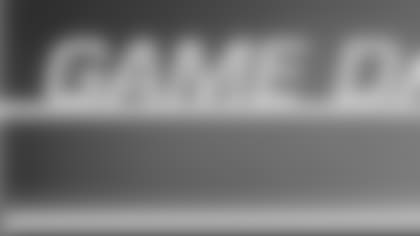 STEELERS vs. CHARGERS AFC DIVISIONAL PLAYOFF GAME SUNDAY, JANUARY 11, 2009 AT HEINZ FIELD KICKOFF 4:45 P.M. CONFERENCE CALLS**
What were your impressions after Darren Sproles' last game and can he continue to be that kind of a factor throughout?
We tested him in terms of his stamina and he handled it, but he was pretty sore on Monday. He recovered and he is ready to go and I don't think he feels like he has any limits and we are going to have to help him because this is a very physical team we are playing and he is going to get banged around pretty good. We have a plan to help him if L.T. (LaDainian Tomlinson) can't play.

Mike Tomlin was asked about the difference in your run game when Tomlinson is in here verses Sproles. How do you view your run game with one back in there verses the other?
There is always so many plays you can run and it is very similar and the thing that most of our runs give the back options. A power run, if teams over play him one way, they can turn them into outside runs. That is one of the things that we would like to think is a plus – we can play a different back on different downs and not have to change what we are doing up front.

What are your impressions of the Steelers offense this year?
I think that through a 16-game season on offense you are going to go through different periods; I know there have been some ups and downs. I think that they are extremely talented; I think that they are very veteran and savvy and that they know how to play and make plays when they need too. I think there have been some games where they have been explosive and there have been some games where they are not trying to be explosive; they are trying to manage the game. They know the way that they are playing on defense and they are trying to win the game. That is certainly what they have done.

What are your thoughts on matching wits with Dick LeBeau?
The thing is, you don't get to this point if you are not doing things awfully well; both in the way that you guys are playing and in the way that they are being coached. That is the thing I am saying about how on offense they know how to handle situations and they know what to do when it is the most critical time. Defensively, Dick has always been that way; you know you are going to get a variety of things. You know that you are going to get multiple defenses. The thing that you get with his variety are people who are in the right place; they are very disciplined. His teams are always great tacklers and they are very physical. Playing the Steelers, and playing them there in Pittsburgh, is a challenge in all three phases.

Is Pittsburgh's defense most effective when they have a defense that is not trying to be explosive and is controlling the ball?
I think that they do a great job of keeping you from being explosive. There is risk and reward in every game that you play. You want to make plays and move the ball. You always want to weigh the consequences; when you have those guys rushing off of the edge, and you have Troy (Polamalu) running around there in the secondary; he can end up anywhere; you have to be smart in terms of what you do, when you choose to do it and how many chances you choose to take.

Does that offense compliment the defense in the way that they like to control the ball?
I think that they tailor it to fit. I think that you can see Mike Tomlin's influence on that. I also know that they have outstanding skill players and receivers. Obviously Ben (Roethlisberger) is great at throwing the ball deep. They can be as explosive as they want to be. I think that you just manage the game each week and do what you have to do to win the game. They have done that.

What are your thoughts on their running game?
We went through the same thing. I think that early in the year, we had uncertainty with our running backs; we had L.T. (LaDainian Tomlinson) banged up. We ran a variety of different games. We are a good running team that struggled with the run at times. I think that Pittsburgh is an outstanding run offense and they have had some things change on them. They have had some backs go down and they have had some people injured at different times on the line. We are preparing for them to come out and run the ball.

What has been the difference in your defense creating so many turnovers down the stretch?
Well, I wish that I could tell you and bottle it but that was the biggest difference in us from the first half of the season. We just couldn't create a turnover and now we do a great job in creating turnovers. I think that one of the things is that we have cut down on what we are doing on defense. I think that our guys are getting more reps doing the same things over and over again so that they can get back to reacting instead of thinking. I think that when you are reacting, you are playing faster; when you are playing faster then you have an opportunity to create more disturbances for the other team.

How does Philip Rivers compare to some of the other quarterbacks that you have coached?
To me, it is always based on performance, because they are all different. A guy that goes out and leads the NFL in quarterback rating, and I am not a big quarterback rating guy because they are saying that we won last week and Philip's quarterback rating was lower than it was in some of the games that we lost; but he played winning football. He threw for 4,000 yards and he has had some games where it hasn't been easy because we have been behind or the other team has been scoring a lot of points so we have been fighting through it. If you base it on production, he is right up there. He has a different way of doing it, but I think that everybody gets caught up in evaluating a lot of things that are not important. Philip is a winner; I look at Ben and it is kind of similar. He has won a Super Bowl and in the fourth quarter he has done everything that he needs to do to help his team win games.

How are you handling the Vincent Jackson situation?
The league has set out (guidelines) that are pretty well defined in terms of what you do. First of all, we issued a statement and Vincent issued a statement. Obviously I am disappointed that we are talking about it and I am disappointed that he put himself in this situation. After that, it is in the league's hands in terms of if he is proven guilty, and he is in a situation where he is disciplined. It certainly doesn't affect us now; that is the way that you have to handle these things.

What does it say about a guy like Hines Ward who always seems to come up big in the playoffs?
With 16 games, a lot of guys have to go play for you to be successful, but it is amazing when you get into the fourth quarter of those playoff games, like our game, the same guys get the opportunities. I know how Ben feels about Hines; I know how he competes and the things that he has done throughout his career. Certainly, he has our attention, and we know that there are certain guys that Pittsburgh is going to work hard to get the ball to.

*
*Have you played the underdog card with your team this week?
Whatever it takes; everyone gets caught up in what you have to do to get excited for the game. Both teams are going to be "out of their minds" excited for this game. What you have to do, is you have to talk about the things that you need to do on Wednesday, Thursday and Friday in terms of preparation. We have used a lot of different things that I think will help us prepare and create that sense of urgency. It is there, and I know that it is there for both teams. On Sunday, both teams are going to be extremely excited.
QUARTERBACK PHILIP RIVERS
What are you noticing different about the Steelers defense after a few weeks?
Well, a lot of similarities obviously. They were up there, just about the top, in every defensive category when we played them. We played them a couple weeks ago, however many weeks ago it was, and they're still right up there. Obviously they know what they do well and they stick to it and a lot of really good players and especially tough at home.

Was that your toughest game this season?
I think there is no question that it is the best defense we've played all year. Since Saturday obviously a lot of us having been preparing for them, but every Wednesday as our we, in the team meeting, go over offense, defense, special teams. When you throw that defense up there and look at those categories and see a one by almost every one of them, first in the league, obviously you already know what challenge you're against and you throw there and it sure is impressive.

What did they do in that game against you that made it really hard?
I think we did some good things. There were a couple drives where we went, I don't know if we had a 15 play or 17 play, something like that, we had a couple long drives and we just couldn't get in the end zone. They were obviously really, really good in the red zone and we obviously had the one turn over down there that was key, the silly interception that I threw and the safety sack fumble that James Harrison made in the end zone. Those were two things that stick out. Obviously it's not like we played great other than those two, but we gave ourselves a chance. It's gonna be that type of a game any time you are playing this type of defense in the playoffs. Both of these teams, those guys and ourselves, we feel like we match up. It's gonna be a heck of a game. You know, it's going to be a field position battle and go play and, you know, battle for the end.

Is the team's confidence level a lot better now than it was in November or even early December?
Yeah, there is no question about it. When you lost as many close games as we lost, sitting at four and eight, you're snake bit a little and you fight through it and you battle through it. But it's tough when you lose so many close games like that, Carolina, Denver, Indy, Pittsburgh. I mean we lost a bunch of tough games like that. As we got on this streak come from behind win in Kansas City, go to Tampa and win, obviously beat Denver in the division at home and coming off the Indy win just this last week, we certainly are playing a lot better and have a lot of confidence. Obviously going to Pittsburgh where we know it's gonna be tough, but playoff football, you can't really ask for anything else and we are excited about the challenge.

Was there ever a point in the Kansas City game where you said "we gave it a nice try but it's not happening this year?
Well, you know, I still remember it like it was yesterday. I think there was 5:56 on the clock. We were going to take the ball on our own ten or something. Our offense is kind of gathered down there on the 25 getting ready to go out and I just remember saying "hey let's go. Who knows what can happen. Let's go cut it loose now. No reason to be safe now." Six minutes later, or whatever, we ended up on top. It did a lot for our team to win a game like that. Just the type of joy and emotion we had in that locker room, we hadn't really experienced much that season because of how rough it's been. It did a lot for us and I think it showed the way we've played since then.

Were you surprised you got the onsides kick?
Oh yeah. I mean, obviously, you hope Mike puts one up there that gives these guys a chance. We know the type of guys we got going to fight for that ball, but you never know what type of bounce you are gonna get. We got a good bounce and then Applewhite (Antwan) got a good hit on Bowe (Dwayne). I think it was, and then Kassim (Osgood) recovered it. I had a good view though. I saw that we recovered it right away and once it was recovered I felt real good about our chances. You know we had a minute and ten left with three timeouts. You know we hit Vince (Jackson) on a big play early and we were able to finish it off.

What are your impressions of how Ben has played this year?
I think Ben has been a heck of a player in this league ever since he got there. Obviously, whether it be a Thursday night game, Monday night game, Sunday night game, I enjoy watching other quarterbacks in other games. Really the only time you get to see them is when they are on the night game, a Thursday night, when you're not playing. I think one way that you measure quarterbacks and see how successful they are is winning football games and that is something, obviously, that he has led Pittsburgh and those teams that win each and every year. I think that says a lot about him as a player and as a competitor and he has done nothing but that this year.

How does your game plan change when (Darren) Sproles is in the game compared to LaDainian (Tomlinson)?
It really doesn't change a whole lot. When LT (LaDainian Tomlinson) is healthy, obviously, you hear from every defense here comes screen, here comes draw, watch, something like that. I think this year, more than ever, Darren (Sproles) got more snaps on first and second down. He's got more carries on traditional run plays and then obviously last week, touching it as many times as he did and really being the work horse for us last week. He's gonna sit right in there and go. We are what we are offensively and I don't see us changing. I think Darren (Sproles) did a great job. We had our same game plan last week and he executed it great. A lot of the big runs he had are off tackle traditional runs and he certainly got the capabilities to make all those go.

Do you get the feeling that there are fans and opposing players that don't like you very much?
Yea, I mean, for whatever reason that perception or that reality I guess is out there. I don't get it and then there is a piece of you that is just gotta go be yourself and go play. The guys that know you, your teammates, your family, the people that know you, know how you are and what type of person you are and that's all you can really worry about.

*You don't lay awake at night worrying about it? *No. Again, I don't know how to explain it. I don't see anything. Look you have players, fans have players, or people have players, they like more than others or don't like and dislike and they all have their reasons. I don't see me as a hard person to like. Like I said, as far as the people that know me, that I am around, see me get along with just about anybody. Again, that perception has been created off of a couple camera shots on the TV, where had they had the audio or really a part of the situation there was no big deal. They get blown up into a certain deal.